Seems to be a Week of Vancouver Theatre Giveaways here and on Being Emme with Studio 58's gender bender of a Julius Caesar ticket giveaways here and on Being Emme, and a ticket giveaway for Intimate Theatre Production's I Love You Because … at Studio 1398 on Granville Island. Must say this rather tickles my fancies to be able to share some of the enjoyable theatre we attend with you, our readers.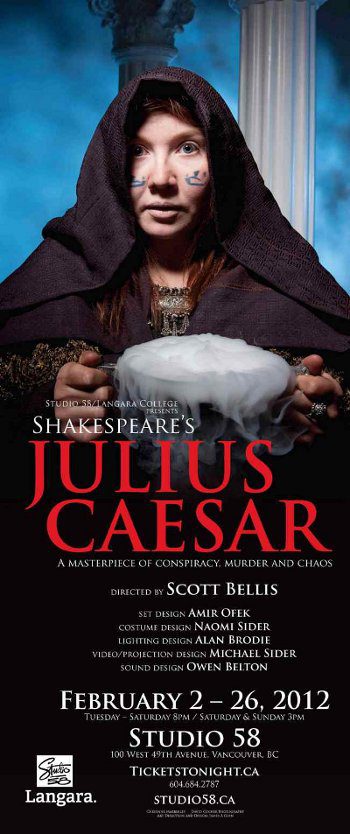 Langara's Studio 58 is putting on Shakespeare's Julius Caesar from February 2nd – 26th, 2012, but it is a Julius Caesar with a twist.  You see when casting for the play, Director Scott Bellis decided to break with tradition and offer the parts of Caesar, Brutus, Cassius and Octavius to women. A nice mix up for a Shakespeare play if you ask me, as traditionally men would play the roles of both the men and the women in his plays.  What this means for Julius Caesar according to Director Scott Bellis is, "In this alternate telling, we are discovering what it means for a male Mark Antony to avenge a female Caesar; what a same-sex marriage looks like in the house of Brutus;  and how being a 'man' can say more about your social status than your gender in this very different vision of Rome."
Not familiar with the story of Julius Caesar? It's Shakespeare's masterpiece of political power-play and manipulation, examining the conflict between one person's ambition and the good of the state, all set in a life-and-death struggle for control of Rome. A fine escape from the typical mushiness of the month of February.
So the Ticket Giveaway?  We have a pair of tickets to giveaway with your choice of Wednesday February 8th at 8 pm, Thursday February 9th at 8 pm or Saturday February 11th at 3 pm.  To enter:
Comment below with which Shakespeare play you would most love to see as a gender bender (ie. with men and women playing opposite gender role);
Deadline Sunday February 5th, 2012 at midnight PST.
To be entered a second, third and fourth time:
Tweet this post with @Roamancing and #VancouverTheatre somewhere in the tweet, so I see the tweet;
Share this post on facebook and include @Roamancing in the text when you post it (this should link our facebook page, so I'll see the post); and/or
Share this post on G+ and include @Roamancing in the text when you post it (this should alert me on G+ of your post).
I shall post the name of the lucky winner from commenters, tweeters, facebookers and G+ers, and announce the winner on Monday February 6th.  Very much looking forward to making somebody happy!
If sadly you don't win, the play is running at Studio 58 February 2nd – 26th, Tuesdays – Saturdays at 8 pm and Saturdays & Sundays at 3 pm, and tickets can be purchased here.
Kisses,
Emme xoxo
PS. You can also enter to win for a pair of tickets for: