*Updated with the answer. Congratulations to Christopher Allen of I Must Be Off and Tim and Nat of A Cook Not Mad for puzzling it out.  They posted their winning answers to us on facebook and twitter, respectively, so you won't see them in the comments.*
One of my fascinations in University and still to this day is anthropology, specifically the interesting artifacts and technologies that people throughout the world design to overcome a problem, meet their needs and make their lives easier.  With that in mind, I love trying to unravel the mysteries and uses to different objects that we discover in our travels.
Why keep all the fun within my own mind though, so I'm launching a periodic game here called Anthro … What?  We post a picture here of something from our travels and give you a hint, and you guess what it's purpose might be.  We continue to post hints on facebook, twitter and google+, until someone guesses the actual purpose of the object.
Here's the first object: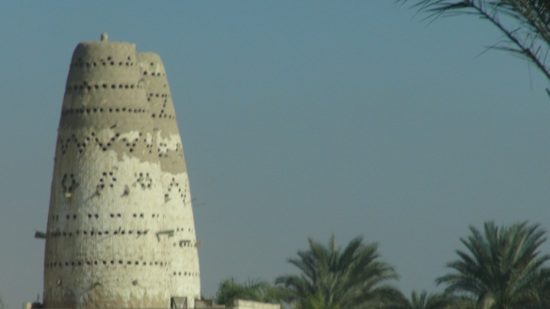 … and the first hint, there are a number of such structures in the Egyptian countryside, surrounded by farmland.
So any guesses?  What do you think this structure is used for?
Please Note: Dan and Audrey of Uncornered Market, Ralph Velasco, Deb and Dave of Planet D, and Jen of My Life's a Trip aren't allowed to play this edition, as they were with me when we figured out what the purpose of this structure was.
The Answer:
So what is the structure?  I too initially guessed many of the same things below.  Coming from Canada, my mind initially snapped to silos for wheat, but where was the wheat growing.  It was Audrey Scott that noticed the perches.  This had to be for birds, but why?  Her initial thought ~ to collect their guano for fertilizer.  An interesting idea, but really how much guano could they possibly be able to collect?
After debating this for a few minutes, our guide, Maha Mahmoud of Memphis Tours, filled us in on the structures actual purpose.  It was indeed for birds, and more specifically pigeons, and it did indeed have an agricultural purpose.  You see, just like we have chicken houses on farms here in North America, the Egyptians have pigeon houses, with much the same purpose.  Only it is not the eggs that they are collecting, but rather the young birds, as pigeon plays a starring role in the Egyptian diet.  I will have to be sure to try some on my next visit to Egypt.