When two of my friends were visiting from out of town, I took it as an excuse to eat everything Vancouver had to offer. I was eager to show my friends to Vancouver's diverse cuisine, though I'm not talking your typical sushi or dim sum. While we ate that too, I also wanted to introduce my friends to some of Vancouver's more unconventional delicacies.
We got started as soon as my friends landed in Vancouver – literally. Our first stop was at Japadog at their new stand in YVR, in between International Arrivals and the parking lot. Japadog is a hot dog stand that serves hot dogs with Japanese toppings. While at first a strange concept, Japadogs are incredibly popular (when they had only one location the queue would go down the block) and they were a huge hit with my friends. As one of my friends stated, "This shouldn't work… but it does." Even my vegetarian friend was able to find something, as all the Japanese-style dogs could be ordered with a veggie dog if needed.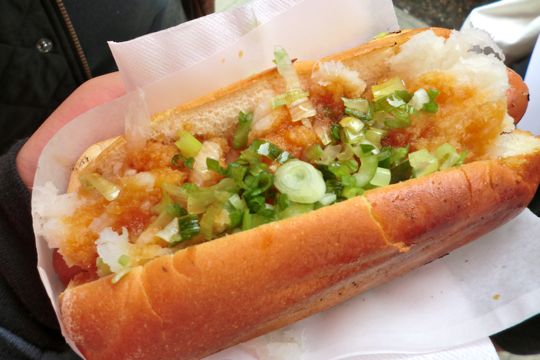 While we were in Richmond, we also took the opportunity to drop by Danny's Market, located on the corner of Francis Road and Garden City Road. What appears to be a typical convenience store in fact holds one of Vancouver's greatest inventions: screamers. For those unfamiliar with screamers, they are slushees served with soft ice cream. I venture into Richmond every summer for one of these babies, but for my British friend, this was a treat as, even plain ones, slushees can only be bought in movie theatres in the UK. In fact, he had a slushee almost everyday he was in Vancouver (since they are conveniently sold in just about every corner store and gas station in Vancouver).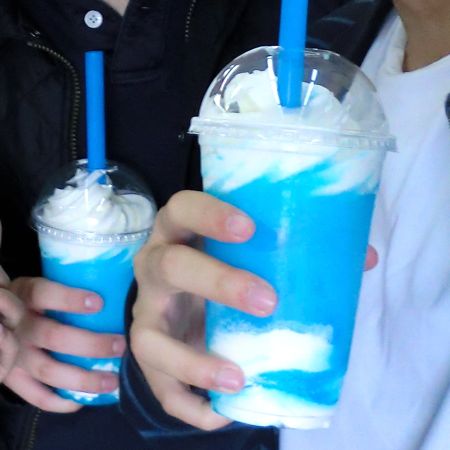 For our next stop, we got a classic Vancouver treat: Pirate Paks at White Spot. White Spot is a classic Vancouver burger joint that first opened as a drive-in in 1928. Kids meals, also known as Pirate Paks, are served in a pirate ship complete with a gold (chocolate) coin. Now I know what you're thinking, aren't Pirate Paks only for kids 10 and under? Well my friend, let me tell you how you can enjoy a Pirate Pak at any age. To obtain our Pirate Paks, we simply called in and did a take-out order. Of course, this meant we had to enjoy our kids meals on the grass across the street, but it was worth it to feel like a kid again.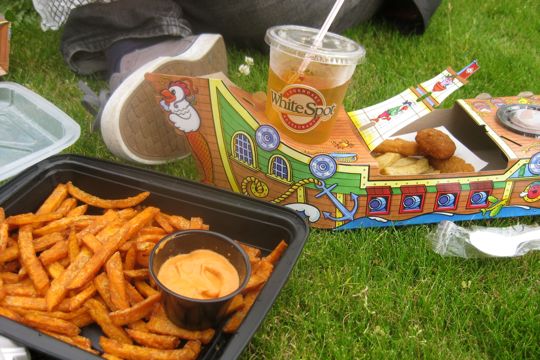 For some local beer, we ventured to Steamworks Brewing Company in Gastown. While I'm all about the summer Belgian-style Ipanema beer, my friends were eager to try a 24 oz. pint after hearing the story of how one of my friends, a tiny girl of 5'1″ stature, stunned the waiter by drinking two 24 oz. pints of Nut Brown Ale and walking out of the establishment sober. To the waiters of Steamworks: she's an engineer. She's trained for that sort of thing.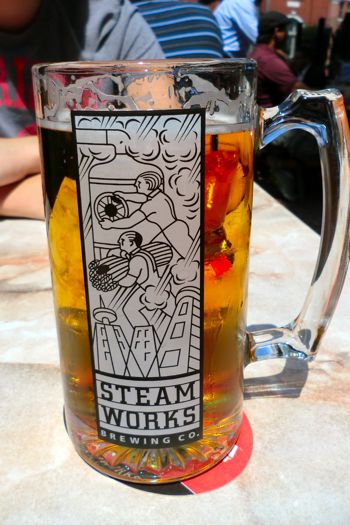 In the UK, "pancakes" refers to thin, crepe-style pancakes, rather than thick American ones. So to treat my British friend to some classic flapjacks (which also means something different in the UK), we went to Jethro's Fine Grub for a taste of their giant pancakes. At Jethro's, which was featured on Diners, Drive-Ins and Dives, the pancakes are as big as your face, with some of them even hanging off the plate. We ordered the plain buttermilk pancakes because really, it's all about the maple syrup, and split them three-ways. Unfortunately, when I took my portion, I doused it with syrup that wasn't real maple syrup – it turned out there were two syrup dispensers on the table, one with real maple syrup, the other with some impostor resembling syrup. I took one bite and declared it inedible like the true Canadian I am. Thankfully, I managed to solve the problem by overwhelming my pancake in real maple syrup (my stomach didn't thank me later).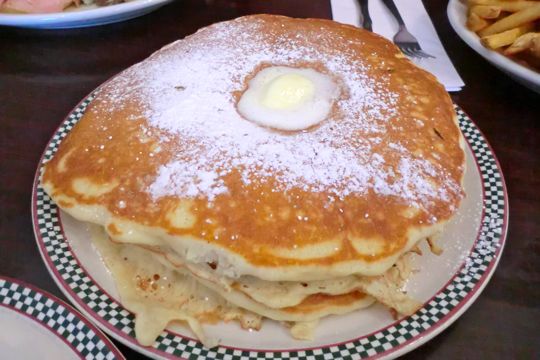 You might think we were stuffed after brunch at Jethro's but oh no. Just half a block down from Jethro's is a true Vancouver gem: Dunbar Pizza & Grill. You can get Indian food, pizza, Greek food, and pasta all at this marvellous place. I generally just go for butter chicken and pizza (I've never tried the Greek food or pasta) so later that day, when our stomachs were feeling a little emptier, we ordered in butter chicken, butter paneer (for our vegetarian friend) and a pizza with pepperoni (which he picked off). We ate until our stomachs were ready to burst – in fact, I don't think we ate much for the next few days after that!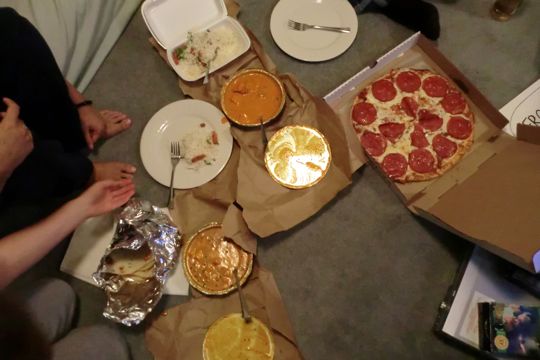 Lastly, while not a Vancouver delicacy, when your friend's birthday happens to fall during his visit, don't forget to make him a cake! We waited until our jet lagged friend fell asleep and then secretly made him this sponge cake with whipped cream and strawberries. We surprised him with it the next morning. And in case you're wondering, it is one hundred percent okay to eat cake for breakfast.