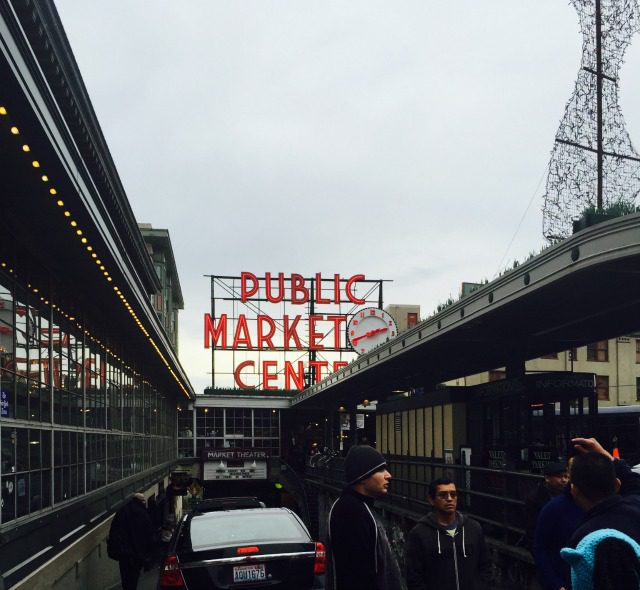 When you leave the sightseeing to your kids, you never know what you will get, but it most certainly will involve something intriguing.  That's exactly what I did on a recent weekend getaway to Seattle. My two teens talked to other people and looked up things they might like to see. They then discovered that we could get to their favourite choices all in one place; Pike Place Market. I had them look up the address on our GPS and off we went to see a gum wall, (not typically on an adults must-see list), a flying fish market, and the original Starbucks.
When we got to the Pike Place Market it was really bustling with activity. We had to ask around to find the Gum Wall and to the amazement of us all, it ended up being a whole gum alley! Apparently, people have been sticking gum on these walls since 1993!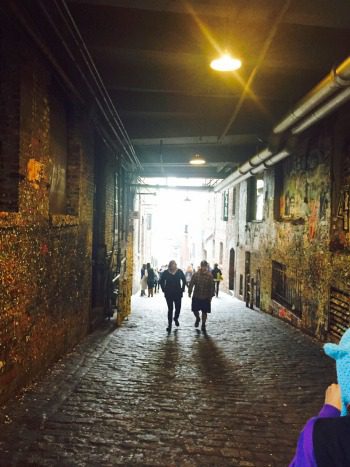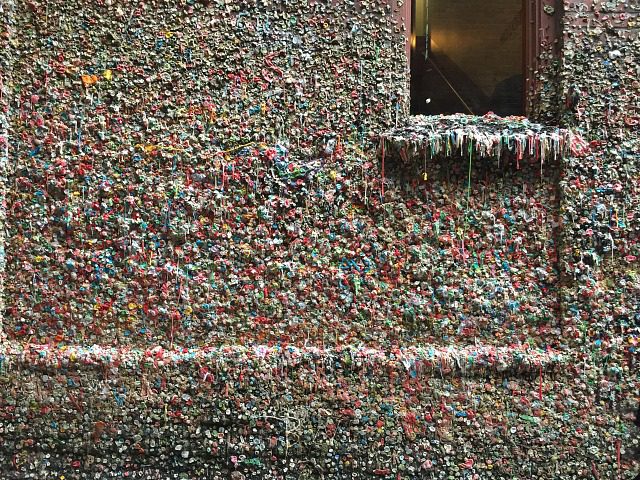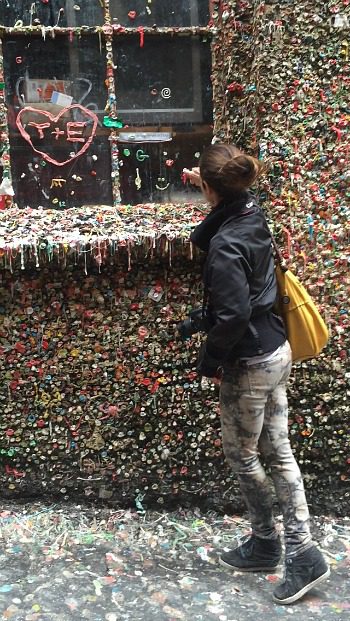 The market itself is full of many vendors, but one that has become very well known is the open air Pike Place Fish Market. Imagine walking by and seeing rather large fish flying through the air as the fishmongers throw them when they get ordered by customers! Unfortunately, there was a big tour group in front of us so we were unable to get a great photo. They were letting some of the younger children throw a big fish to each other, which is not one they planned to sell.  I was impressed to hear them explain that no fish gets thrown out.  Any fish that drops on the ground, or is used for demonstration purposes, gets shipped out for farm feed along with any that are no longer fresh enough to sell.  I don't think my kids were completely impressed, because I don't think it lived up to the hype.  I think they thought it would be bigger and that fish would be flying a mile high!
We had a little lesson on Googling when we set out to find the original Starbucks.  My daughter had Googled 'the first Starbucks' and had the address for us to walk to. As we stood in the store we were thinking how we thought it would feel different/special and that there should at least be a plaque notating that this was the first Starbucks.  I guess we were doing all that thinking out loud, because a lovely local came over and told us that this was not the right place and gave us proper directions. All we had to do was walk a block down and a couple blocks over and then it was quite obvious we were at the right place! My daughter's search had brought up the location on 1st and Pike as the first result instead.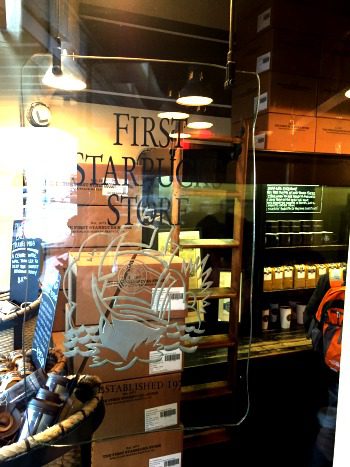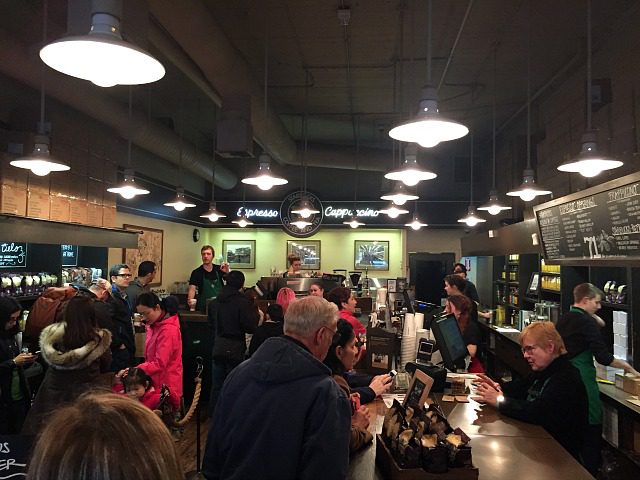 We may not have seen fish flying very high, but to our surprise, we saw cups flying around here! Cups are thrown from the cashier counter on the right to the Baristas behind the counter in the back.  We had a short wait until our turn, where we all planned to order Caramel Frappuccinos.  When I stressed to the girl to make them decaf she told us about a way we could have the drink without coffee! (I know, this will make some of you gasp, but coffee doesn't agree with me and I'd prefer my kids to wait a while before getting addicted.)  The new creation we got is called a Caramel Creme Frappuccino, and we thought it was very fitting to get a drink that blew our minds at this location.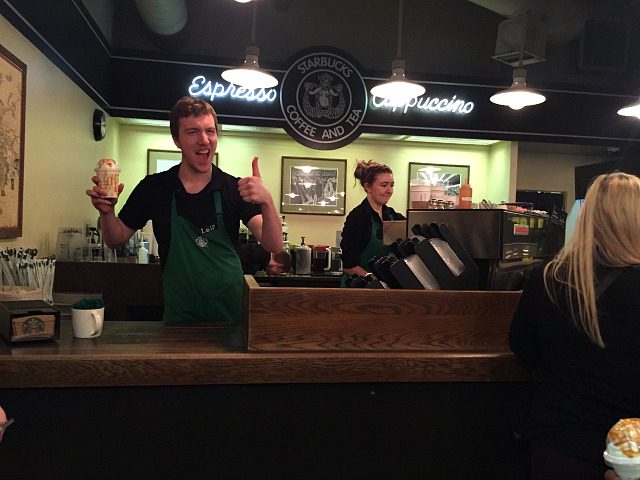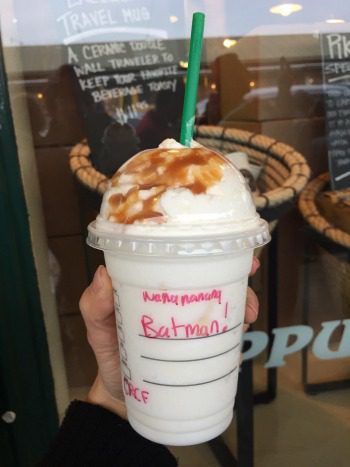 I'm not sure if they actually make things differently at this Starbucks, or if it's just because we felt the history, hype, love and innovation all stirred up in our cups, but one sip of this drink had us absolutely melting with joy!  Sips of pleasure could be heard all around the outside sidewalk, as well as whispers like, "It's true, it does taste better here!".
I was really impressed with the day the kids planned and I only wish we had longer to enjoy more of the market vendors.  The smells coming from the little bakeries were trying to reel me in, but alas, we had to make a made dash to make our flight.  Until we meet again Seattle!