The ultimate day trip leaves you feeling like you've had a complete escape.  Sharing that day with Emme Rogers adds a certain 'je ne sais quoi'.  The two of us road the Rocky Mountaineer up to Whistler and spent the afternoon at the Scandinave Spa.  We left feeling as if we had been gone for a week!
Just thinking back on it now makes my senses relax and I can smell the soul warming soup we started with.  There was a bit of a row though as the two of us doubted each other's ability to follow the rules.  Once we entered the hydrotherapy bath area there was to be no cameras, no cell phones and NO TALKING!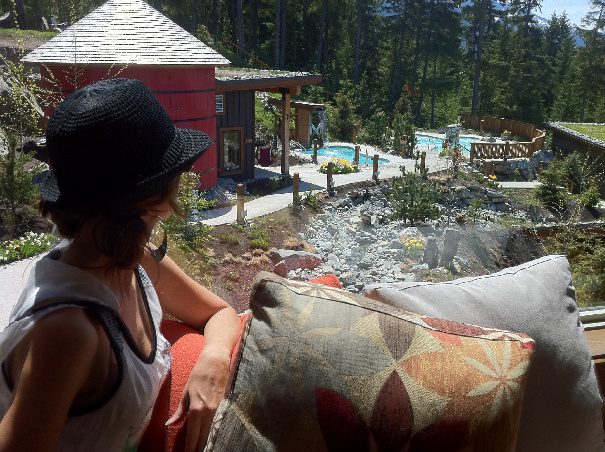 I felt so naked at first without my phone, but then I realized the only reason I would want it would be to take pictures so I could share this experience with others.  Being without it forced me to enjoy everything just for myself.  It's too bad they didn't include a rule to remove all your makeup before entering the hot steam room.  I completely forgot that I was wearing mascara, and it wasn't water proof!  When Emme caught sight of my raccoon eyes she let me know that I had something hideous going on.  It's amazing how loud a point and wide open silent laugh can be in an otherwise quite and still environment.
We both fell into a blissful routine of hot, cold, relax…hot, cold, relax…repeat.  I had never experienced anything like that before and combined with the breathtaking view, I could barely make my legs work to move myself out the door when it was time to go. Thank goodness I didn't have to drive!  Both Emme and I felt so content after our afternoon at the spa that I think we kept up the 'no talking rule' on the Rocky Mountaineer.  We just stared out the windows and at each other with permanent grins all the way home.