For every place I've been, I've got a clear memory of a magical glass, flagon, vessel, grail, tankard, whatever, that is specific to that place. I suppose that's not really surprising, since enjoying a leisurely bevvie or two (or more!) is par for the traveler's course.
With that in mind, I'd like to talk about three trips I've taken, and the wonderful beverages that marked those times and places.
Stella beer (Cairo, Egypt)
A good deal of the time, the libation of choice for me that characterizes a place in my memory is the local beer. Yet, sometimes, it's a drink with no booze in it at all. In the case of Egypt, it's kind of both. I went to Egypt during Ramadan, and during that time of the year, the locals drink a type of red tea called karkady, a hibiscus-derived beverage served hot. It's consumed in copious quantities in part to stave off the effects of fasting, which is a big part of Ramadan.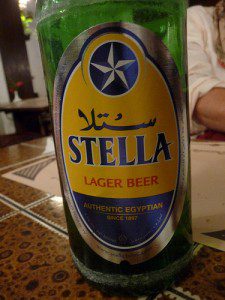 During this time of year, adherents to Islam don't eat or drink anything, except water and karkady, during daylight hours for a period of a month. The idea is that one spends the time reflecting on God, feeding one's soul rather than one's body. I had some karkady myself, since I was fasting too, in respect to the culture I was surrounded by while traveling.
The beer my fellow travelers and I had after the sun went down on a day of drinking karkady was Stella beer – not to be confused with Stella Artois. Since our group didn't indulge in much eating and drinking during the day in Egypt (except when we went to Coptic Cairo for Twinkies one time – true story…), our meals and our drinks tasted all the better for it at dusk. And Stella beer was a highlight.
It is said in ancient Egyptian mythology that the god Osiris gave beer to humanity, which I think was a pretty decent thing for him to have done, really.  Stella beer in particular is incredibly refreshing. It's a crisp lager that seems to feed the soul as well as the body and has since the late 19th century. When you're making a beer in a desert climate, it had better be good. And so it is.
If you get to Egypt, it's the go-to pint, friends. Until then, you can 'like' Stella beer on Facebook to learn more about its history!
Cava (Barcelona, Spain)
While living in Britain for a while, and being from an enormous country like Canada, it was sometimes hard to remember that many other countries with completely different cultures, histories, and languages were not very far away at all, and totally visitable over a weekend. At the time, there were lots of no-frills flights from London (out of Luton Airport) to the Continent. So, being admirers of architecture, my friends and I decided upon Barcelona one weekend, City of La Rambla, and of Antoni Gaudi and his famously wacko architectural designs.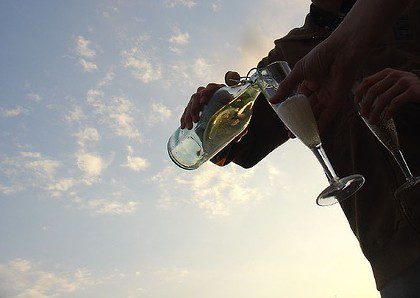 We spent a fair bit of time on the streets just looking around at the subtle beauties of the city, of which there are many. And after a long walk on our first day, and a late, late supper (that's how they do it in Spain, kids), we hit the clubs. Sleep was not really a priority at the time. But, it was that traveler's state of mind that kept us going  – "who needs sleep when there's so much to see!"".
We hit a little tapas place for around 11AM that morning, and ordered breakfast. Then, we went to another little place and decided to try one of the traditional beverages of that region of  Spain – cava.
Cava is a type of sparkling wine, produced in the Catalan region of Spain, of which the City of Barcelona is an important part. Cava is the rough equivalent to French champagne, being defined similarly by where the grapes are grown. But, cava isn't posh. It's meant to be enjoyed casually. Cava can be a rosé, using still reds blended in. But ours was white, and deeply refreshing.
As a North American, it's almost hard-coded into my genes to think that drinking booze before noon is weird, and arguably even wrong.  But, I figured that I'd done my time on the non-indulgence of booze front in Cairo during Ramadan. The cava we had in that little cafe, with blue mosiac tiles on the walls all around us, was the ingredient to lock down pleasant memories of one of the most beautiful cities in the world.
Rum Punch (Christchurch, Barbados)
My family on my Dad's side is Barbadian, or Bajan if you're local. A lot of people are surprised by that, given that I am an incredibly white man. But, white folk live all over the place including the Caribbean.  My dad emigrated to Canada in the '60s, where I guess he surprised a lot of people with his accent. Not everyone expects it. Anyway, since I had family in Barbados, I took it upon myself to spend a summer there when I was 18. I stayed with my cousin, who dutifully took me out on the town almost nightly to sample local customs.  One of those customs was the drinking of rum.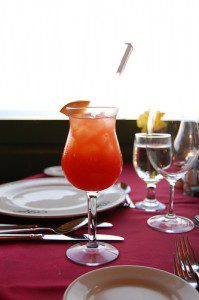 Rum production in Barbados is a staple export. This is true of the Caribbean in general, seeing as it is a product of the sugar industry that is vital to local economies. The locals drink rum straight. For tourists like me, and one who at that point had almost no experience with managing blood alcohol levels without becoming antisocial, my rum came in an opulent glass filled with crushed ice and fruit juice.
What I had was a rum punch. This drink is a popular choice among the white kneesocks, multi-pocketed shorts, sneakers, knobbly white knees, flowery shirts, and tilly hats set you see swarming about any Caribbean port of call. It's made using fruit juices, sugar, and (usually) dark rum. The one I had featured three kinds of rum, including white rum and gold rum blended with the traditional dark rum.
The taste of the rum was subtle, held in delicate balance with the fruit juice. That's the trick to making a good rum punch; you've got to make it so that no one particular flavour overpowers another, and by definitely avoiding making it taste too 'boozy'. Also something to take into account when drinking it is that Caribbean rum mixed to order with the other ingredients tends to have a higher octane than, say, a Bicardi Breezer. As a result, a common error among the uninitiated is that even if a drink like a tasty Barbadian rum punch goes down like Kool-Aid, it doesn't mean your bloodstream isn't keeping score.
While out at a local spot with my cousin and a few of his friends, I'd had two or three rum punches. They were delicious! I was feeling great. And to top it off, everything I said was incredibly witty and charming. Then, I excused myself to see about a visit to the facilities. I'd been seated on a stool in an outdoor bar, and so I slipped off, with what I assumed was the perfectly reasonable intention of standing, and then walking. Well, neither was as easy as I thought.
When my feet hit the ground, it was as if my legs had taken a holiday of their own, a short break from their duties of keeping me upright.  I didn't fall down. But, I performed a decidedly inebriated dip and wobble . I think falling on my butt would have been less funny than my efforts to remain upright, trying to preserve my dignity by not falling down. There would have been less laughter from our party, and possibly from other by-standers too. But with the sounds of knowing laughter directed at me at the time, it was kind of hard to be sure.
Cheers!
Drinking and travel very often go together. Besides the personal memories of flavour and refreshment taken from one libation or another, an important aspect to that equation is about the quality of shared experiences. For every pint I've raised in any given location, it's usually been across from someone who was in that moment with me.
And really, that's what traveling is really all about – collecting new experiences and perspectives, and sharing the kinds of stories with fellow travelers that you tell others about later. There are also those stories in which you find yourself to be character as it unfolds before you – hero, villain, or clown.
Whatever the case may be – bottoms up!