I am more of an experience girl, rather than a material girl. That said our team does have our favourite gear for our work and travels, and I personally like to purchase things that last.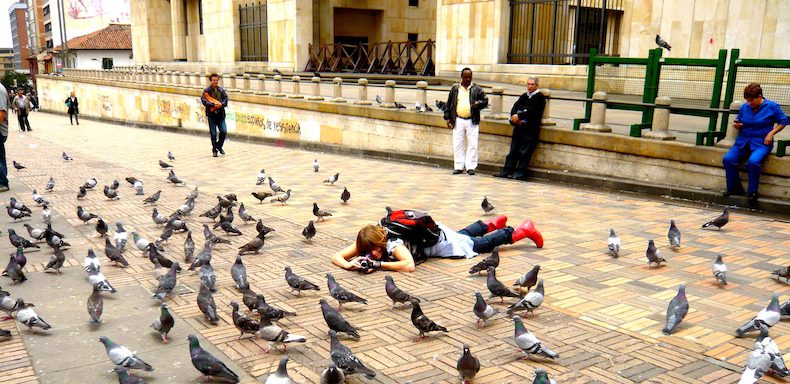 At present one of my work and travel needs is a new camera, and with Black Friday and Cyber Monday approaching, I am hoping one of the models I am considering might go on sale. With this, I thought I'd share a guide to a few of our favourite digital nomad gear items, that we own or have on our wish list, in case any of these items are useful to you, and in case any of you are able to purchase them at discounted rates over the American Thanksgiving weekend. To hedge our bets on the sales and for a bit of comparison shopping, we are including Amazon links via our Amazon Associate account, and links to the gear on the associated brand's website.
Digital Nomad Office Items
Our team has been living and working as Digital Nomads since the inception of Ahimsa Media (our collective company) – meaning for nearly 20 years now. We all have our own style and must haves, but here are a few of the items that end up in our carryon and daypack.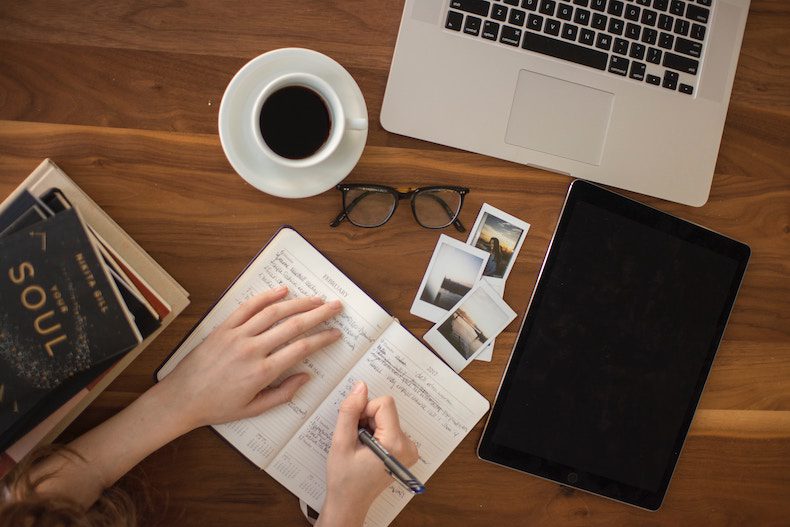 Laptop
While we are laptop agnostic, for the last decade, we've mainly been working on Apple laptops. I personally am a fan of the Macbook Pro (Amazon : 13 inch – 16 inch / Apple : 13 inch – 16 inch), as it has different ports that I find to be a necessity when working and speaking while travelling. Apple often recommends Macbook Air (Amazon / Apple) to travellers though, due to its light weight.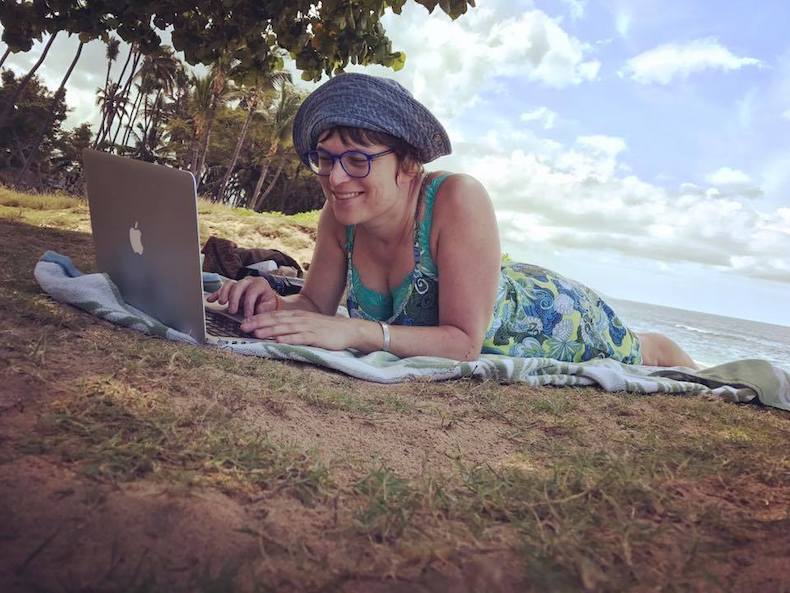 Click here for Amazon's laptops on special in the US, Canada, UK, France, Germany, Italy and Spain. I've been known to purchase a laptop on sale as my backup / support laptop, and run Ubuntu on to on it to get it to run faster.
Laptop Accessories
These laptop accessories are key for me, while travelling, in saving me from headaches. I may not use them a lot, but when I do, they are invaluable.
External Keyboard (Amazon / Apple) – this has saved me a few times before when my laptops keyboard has gone wonky
Digital AV Multiport Adapter (Amazon / Apple) – you can't count on a conference having one that will work with your computer
USB Ethernet Adapter (Amazon / Apple) – hotel wifi can be wonky, and when that happens, the ability to connect directly to the hotel internet via a USB port can make all the difference between being able to connect to the internet or not
Ethernet Cord – to go hand-in-hand with the USB Ethernet Adapter
LaCie Rugged Portable External Hard Drive (Amazon / LaCie) – with a store of your files for when the internet is dodgy and you can't connect to your dropbox, google drive or other cloud storage site – this is also invaluable for eternal storage if you are shooting a lot of video and photos
Native Union Smart Hub Bridge Charger (Amazon / Apple) – I don't have this, but would love one, as it would make charging multiple devices on the road that much easier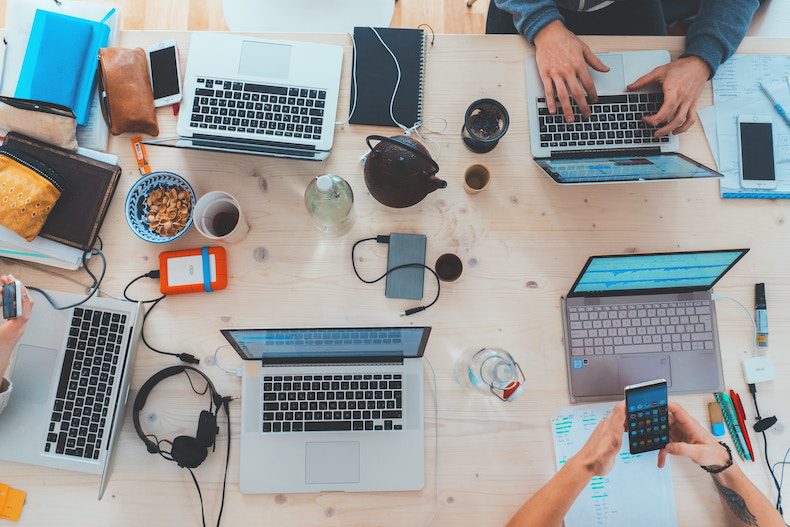 Click here for Computers and Computer Accessories on special through Amazon in the US, Canada, UK, France, Germany, Italy and Spain.
Tablet
For years Lori has been the tablet user among us, while I claimed I didn't need a tablet in addition to a laptop and a smartphone. That changed when my backup computer died, and I decided to get a tablet as my new backup computer. Now I cannot image travelling without a tablet, finding it much easier and more convenient when I am out and about.
At present, that tablet is an iPad Air (Amazon / Apple) and accompanying Smart Keyboard (Amazon / Apple). Click here for a variety of other Tablets (in the US, Canada, UK, France, Germany, Italy and Spain) and Accessories (in the US, Canada, UK, France, Germany, Italy and Spain) available on Amazon.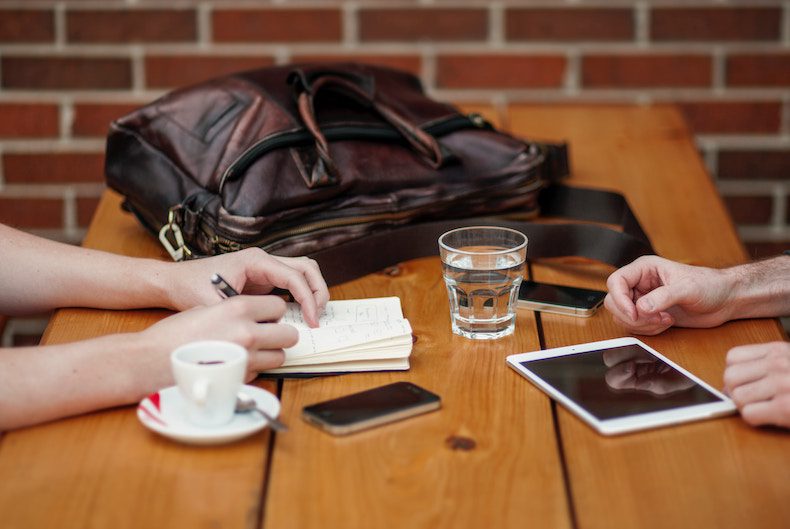 Smartphone
Smartphones have become the key piece to our digital nomadic hub. In a bind, they act as a computer – allowing us to respond to emails and edit documents on-the-go, if needed they can be as a wifi hotspot for our other devices, they can act as our scanners and fax machines, they allow us to text each other on the fly, are our new maps, provide us with translation devices, and contain ever improving photography and videography equipment.
At present, I am loving the iPhone XS Max (Amazon / Apple), but there are plenty of other fabulous smartphones that you can find. Click here for the current deals on Smartphone and Smartphone Accessories via Amazon in the US, Canada, UK, France, Germany, Italy and Spain. In terms of smartphone accessories for me, that includes a Smartphone Screen Protector and Smartphone Protective Cover – both mean a bit more money upfront, but will mean that your smartphone will last longer, especially if you have a tendency to drop things. We also keep a Portable Charger and Car Charger in our kit, and would love a Solar Charger.
Not to be Forgotten
extra Charging Cords for mac / iphone and ipad – we've actually had cords wear out and stop working while on the road. They can be a pain in the ass to find in a new place, especially if you are in a country with different plugs.
Travel Adapter – I might upgrade mine, as some of the newer ones act as power bars with multiple ports for charging your devices.
Paper Notebooks – I am still old school in how I brainstorm and write first drafts of more important pieces of writing, like talks, in that I think and plan best with paper and pen in an old school notebook. Apparently some recent university research actually shows that students learn better when taking old school notes with a pen and paper.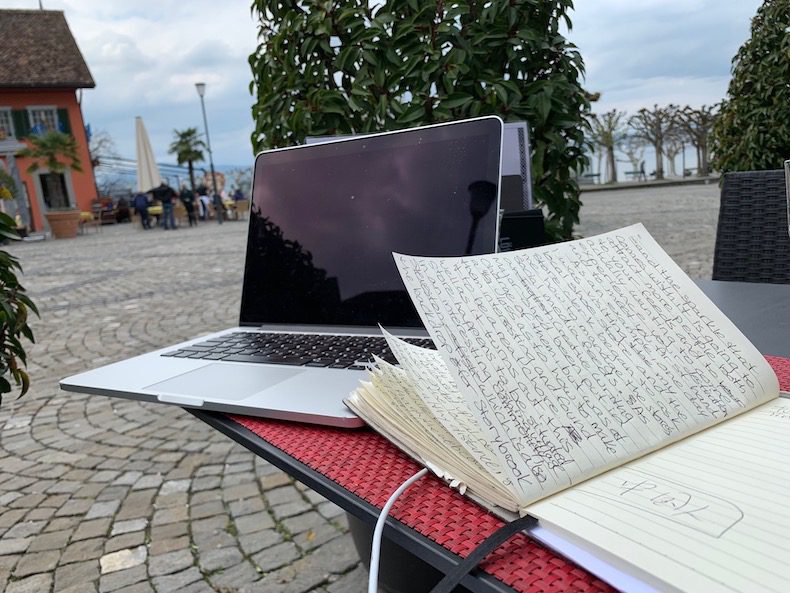 ---
Camera Gear
Camera-wise, I am often having to shoot myself, both for our on-the-go travel journalism / vlogging and for shooting teaching videos for the online college courses that I teach (BCST 3073 and BCST 1193). Usually and especially with the travel journalism videos, I don't have the luxury of time to shoot and set up shots with nice lighting, perfect sound … etc. And while I am a storyteller and a filmmaker, I am not a professional camera person or cinematographer – we hire professionals like Kelly Conlin when a job calls for that. So what I need is an easy to use video camera, with decent internal sound, that has a viewing screen that I can turn around when self shooting, ideally a remote to start recording if I am walking into frame, and the ability to secondarily take photos with it. I have found that in Sony's Video Cameras (Sony). Currently I am using a Sony Handycam HDR-CX900, which doesn't seem to be in-stock any longer at Sony, so I am eying up Sony's 4K Handycams (Sony) which look similar, but a step up from what I have. The one that looks the most similar / ideal to what I want is the AX100 4K Expert Handycam (Amazon / Sony).
The nice thing about purchasing another Sony Handycam is that the accessories from my old handycams should work with the new camera.
Also in our camera kit are:
Click here for all the current Camera and Camera Accessory deals on Amazon in the US, Canada, UK, France, Germany, Italy and Spain.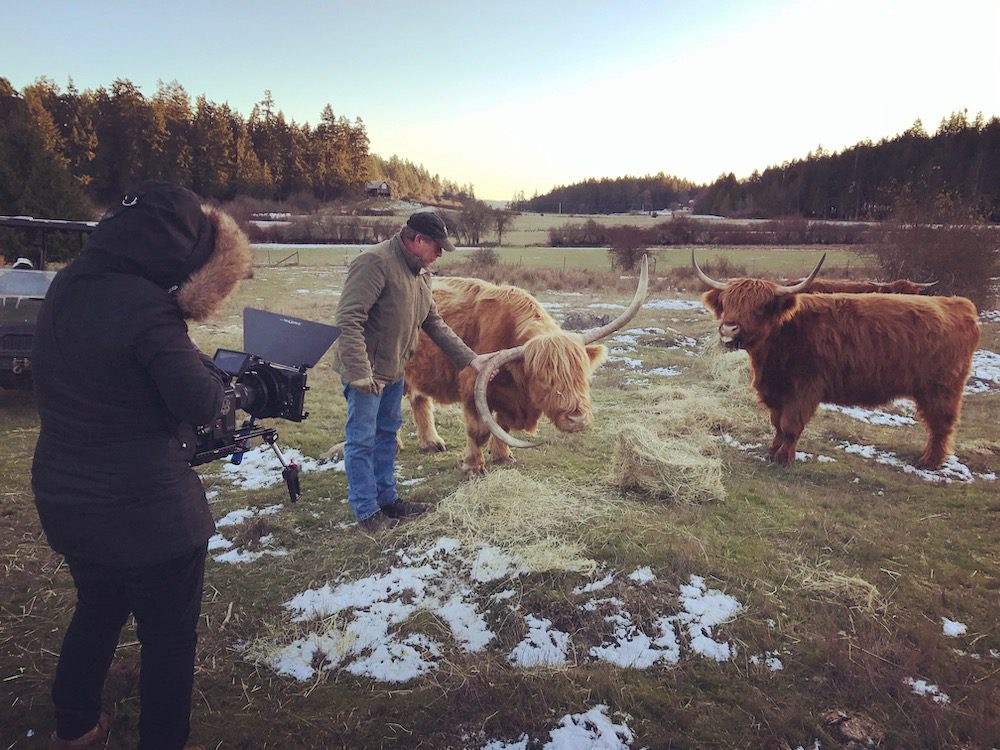 For anyone who is dreaming big in cinematography, Kelly used a 4K Red Dragon when shooting Season 1 of our series Naturally Ours.
---
Bags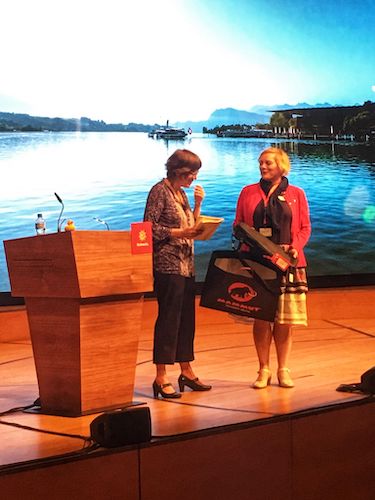 The bags I carry make all the difference in the happiness of my back and my neck, when I am travelling and rushing about. Here are my current bags of choice that I am happy with:
After listing these, I am all of a sudden realizing that I have a fondness for Swiss bags, of which I was previously unaware of.
Click here for all the current Travel Bag deals on Amazon in the US, Canada, UK, France, Germany, Italy and Spain.
---
Clothes That Almost Always Get Packed
No matter the trip, these are my wardrobe items that are almost always packed, for their comfort and functionality.
Arc'teryx Shell Jacket (Amazon / Arc'teryx) – this jacket has kept all of me that is underneath it bone dry in monsoon rainstorms and under movie industry rain towers, while the rest of me has looked like a drowned water rat – mine is close to 20 years-old and still in great condition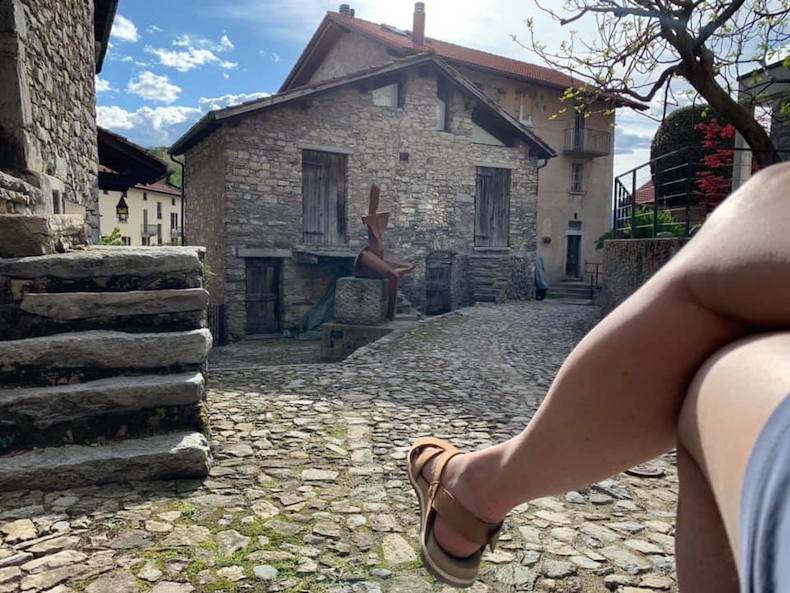 Tilley Endurable Socks (Amazon / Tilley Endurables) – I got my first pairs of Tilley Endurable socks 6-years ago, and they are still going strong – they end up in my suitcase whenever I am traveling, as they are comfortable, making my feet happy if I am doing a lot of walking
Prima Donna Swimwear (Amazon / Prima Donna) – this is a guilty pleasure of mine, but it also makes sense as they are well made, they last, they are actually designed to be swum in, and they look good – case in point, I swim a lot more since my car accidents, and none of my Prima Donna swimsuits have worn out in the past 6-year, and their flattering look got me wearing bikinis for the first time EVER!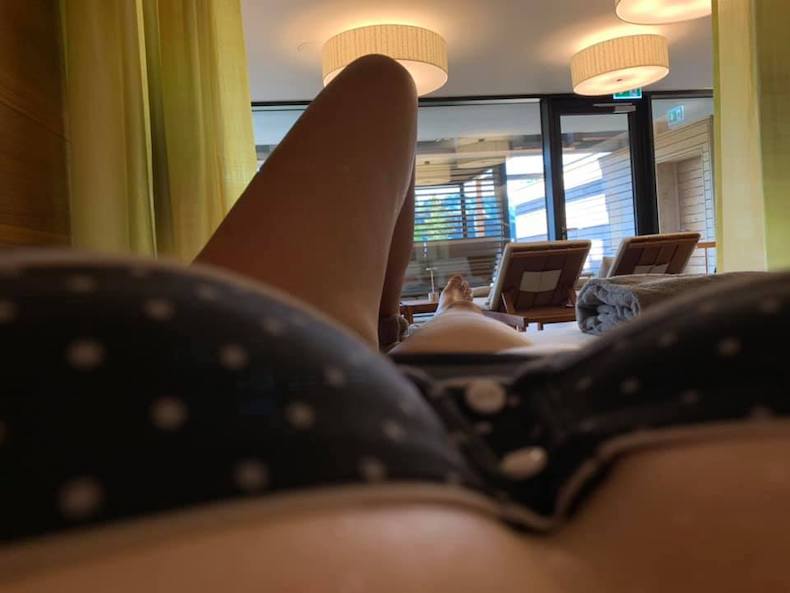 ---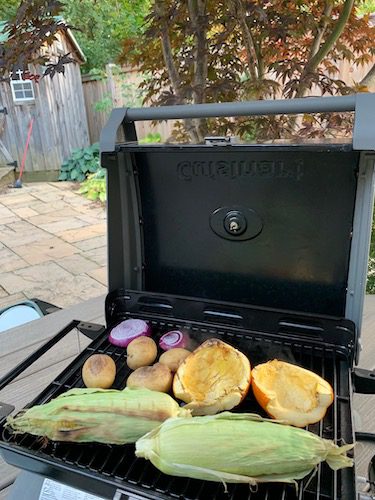 Car Camping
Below is a few of my current car camping gear (space dependent):
Cuisinart Portable Gas Grill – when room permits, this is fantastic to have along, as it cooks beautifully, and is my preference over a camp stove
Night Cat Waterproof Camping Tent – while this is very much a car camping tent, it has been serving us well with it's roominess, ease in putting up and taking down, and Ella my adventure cat likes staring up at the silhouette of the 'Night Cat'
Woods Queen Air Mattress with 2-in-1 Pump – this is comfortable, durable, keeps you off the cold ground, and with inflation with a standard AC outlet or car charger is perfect for car camping – I debated getting a double high air mattress instead, but in the end was glad I did not, as it would have been less versatile, heavier, and harder to get in the tent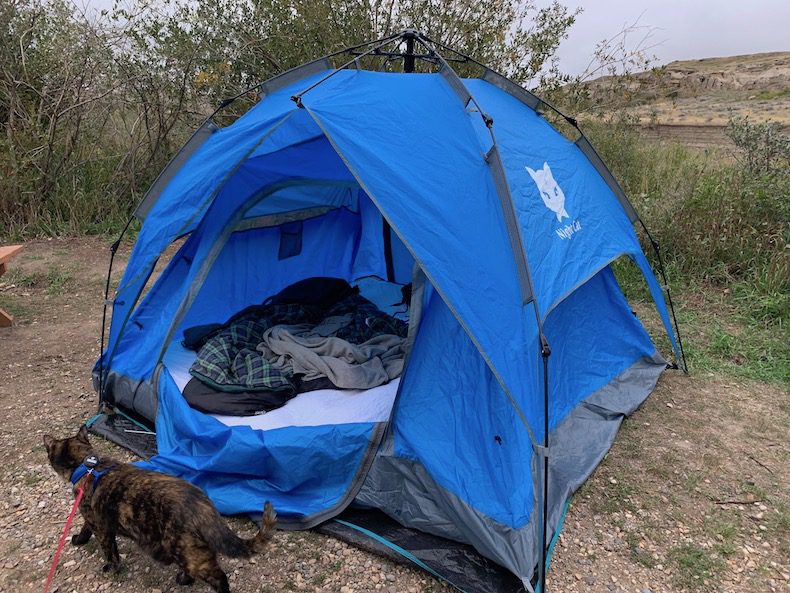 Roam Mobility Plan if you are traveling into the United States – their coverage is good, as is their pricing, and they have some great long term travel plans and data plans for those like me who need to tether other devices off of their phone while road tripping
Puncture Repair Kit – punctures happen in air mattresses, even when you are being careful, and if you've pre-stocked your camping kit with these, it will save you from a lost night's sleep on the cold ground
Outland Firebowl Deluxe (Amazon / Outland Living) – provided you have room in the car, this is a great way to host a self-contained fire, without the need for dry wood or to worry if you've properly put out the campfire
Extra Tarps – living on the West Coast of BC it is always best to assume that the rain will come, and they are handy for providing shade too
No Shower Wipes – with the environment in mind, we use these sparingly – only when necessary
Wish List
Keeping my eyes peeled for a few new items to my camping kit, including:
Click here for all the current Camping Gear deals on Amazon in the US, Canada, UK, France, Germany, Italy and Spain.
---
Travelling Cat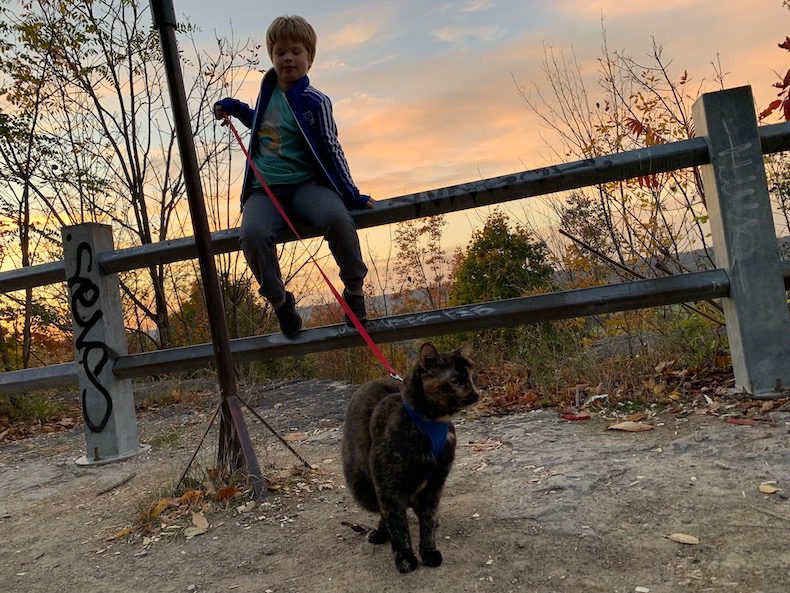 With Miss Ella, the terrorsome tortie becoming quite the adventure cat, she's now a road tripper, frequent flyer, camper, and hiker, meaning that she needs her own gear for our adventures. So far, she has a: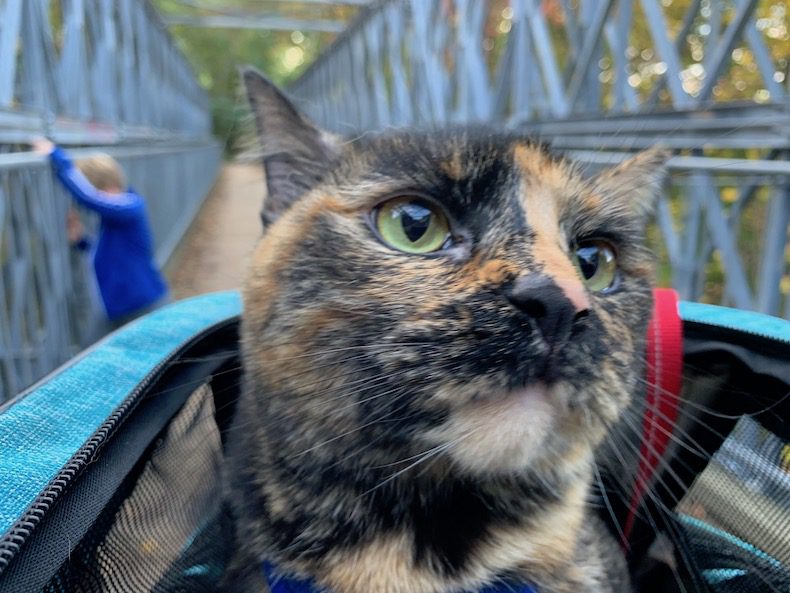 Wish List
Keeping my eyes peeled for a few new items for Miss Ella, including:
---
Travelling Dog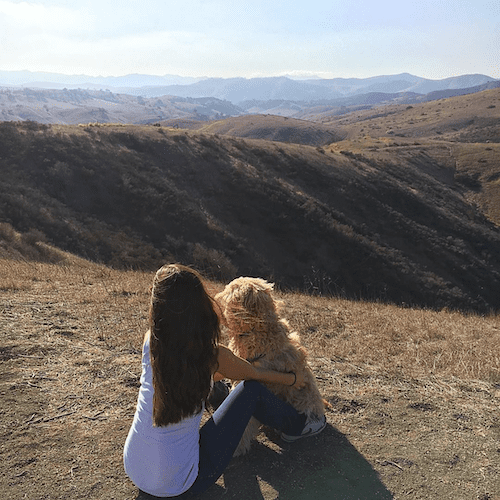 Here's what Lori brings along for Mango – the golden doodle, when they are off on an adventure:
Pet First Aid Kit – trying not to feel like a bad Mom for not having bought one of these for Ella yet
Travel Organizer Bag for Dogs – includes another pet first aid kit – clearly Lori is a better Mom than me
Outdoor Dog Bed – I used Ella as an excuse to buy the queen size air mattress, as of course she'd want to share with me
Click here for all the current Pet Supply deals on Amazon in the US, Canada, UK, France, Germany, Italy and Spain.
---
Finally, a Dream …
Now in case anyone has one kicking around that they are no longer using and wish to donate to a storytelling for good initiative, our biggest gear dream is our own Studio Apartment On Wheels / Mobile Office / Mobile Film Unit aka Camper Van! Fingers crossed that we win the Omaze one! Oh, to dream!