Carousel Theatre knows how to throw a party for kids. I knew this when I walked into the Waterfront Theatre for The Wizard of Oz and found the joint hoppin' with excited little Dorothies and Glindas, dressed to the nines right down to their ruby slippers.
Carousel makes theatre for young people, and I for one am thrilled that we have such a theatre company in Vancouver. Partly because I can imagine what a gift it must be to grow up loving plays, but also for the more selfish reason that still love all the stories I did when I was younger, and will not stop loving them now that I am (technically) an adult. I remember seeing Carousel Theatre's Seussical the Musical some years ago and loving it through and through. Seeing The Wizard of Oz makes me think all of Carousel's productions must be this enchanting.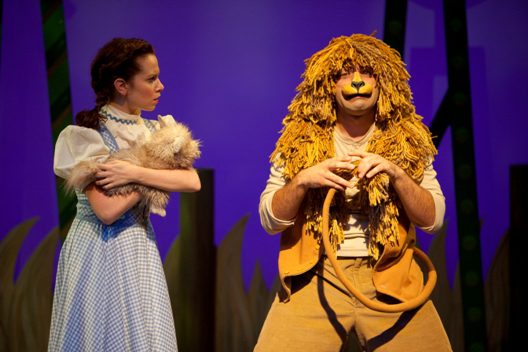 This production of The Wizard of Oz is very faithful to the 1939 film version of L. Frank Baum's story, with the addition of some clever adaptations for the stage. My personal favourite of these was the way the munchkins were made to look so short: regular-sized adult actors played the residents of Munchkinland on their knees, with shoe-shaped appendages attached to them. It was astonishing to see the actors do their enthusiastic munchkin dances, complete with skipping and hopping and whatever munchkins do when the wicked old witch at last is dead, while knowing they were kneeling all the while. Kudos to the actors for all the practice that must have taken.
Other lovely adaptations include the way the lighting is used to depict the yellow brick road, the storm, the haunted forest, the poppy field, and the Wicked Witch's dungeon. I always admire it when a play employs clever, creative techniques, like using lighting to drastically change the mood, doubling the use of props, and generally innovating a way to get around building elaborate sets. I found the scene with the poppies so magical and elegantly depicted — the lights shone red poppies onto the stage, converting the dark, haunted forest into a lush, red clearing. The poppies swirl around dreamily to the eerie sleepy melody playing in the background. It's a theatre moment so spectacular that I won't ever forget it.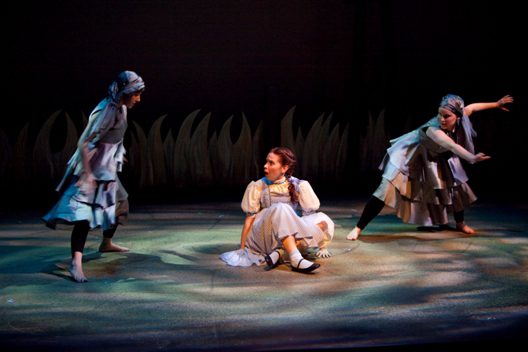 Most enjoyable about this play though, are the characters. Dorothy, Toto, Lion, Scarecrow and Tin Man are all so lovable and earnest, and the way they stick together in uncertain times is really touching. And I love the overall message of the play, that shows the characters already have whatever they felt they sorely lacked: Scarecrow showed his braininess by tricking the trees to throw apples at him and Dorothy, even as he lamented his stupidity. Tin Man needed a heart to feel sorrow over not having one, and Lion showed huge amounts of bravery as, even though he was so afraid, he undertook the journey with his friends. Dorothy learned that she was in Oz because she wanted to be, and could go back any time. I think the play is really instructive about self-doubt — I could do with learning some of its important lessons, even now.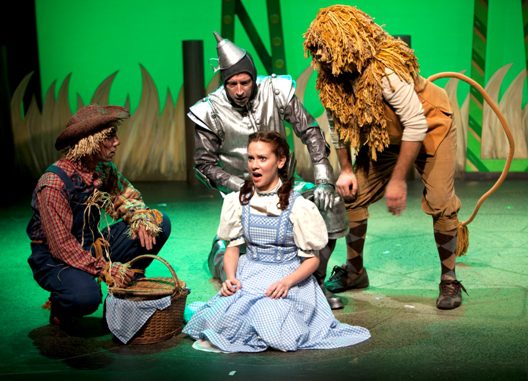 Another reason I like going to kid's shows is that when kids make up the audience, it's a whole different experience at the theatre. I love how transparent they were about their reactions to the play, giggling, squealing and calling out to the characters on stage. Their engagement with the show was so open and unabashed: during intermission I saw a little boy pick up a piece of confetti snow from the stage and announce  "Look, I got a sample!".
One aspect of the show that cannot be ignored is the pianist and Musical Director, Steven Greenfield. He performs Harold Arlen's music for Oz  in such a lively, skillful, mesmerizing way that I can only think he is a wizard —  i.e., when he played Over the Rainbow, I was already there. (Please forgive me for that horrible but irresistible pun).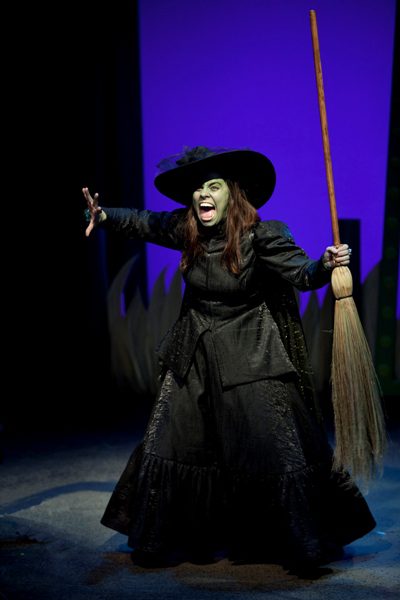 Thanks to Carousel Theatre for making shows that bring out the child in me that I often miss being . A big thanks to the actors, many of whom have multiple roles in the show: Robyn Wallis (Dorothy), Meghan Andersson (as Miss Gultch/Wicked Witch), Darren Burkett (as Huck/Scarecrow), Janet Gigliotti (as Aunt Em/Glinda), Josue Laboucane (as Zeke/Lion), Mike Stack (as Hickory/Tinman) and Timothy E. Brummund (as Uncle Henry/Oz Guard/Voice of Oz). The design crew did a visibly fantastic job in the show too: Melissa Young (choreographer), Barbara Clayden (costume designer), Jeff Harrison (lighting designer) and Heidi Wilkinson (set and props designer). And a big congratulations to Carole Higgins, for directing this wonderful show.
You can see The Wizard of Oz at Waterfront Theatre until December 31st. They have 2 p.m matinees every Saturday and Sunday except for Christmas day. Click here for a more detailed schedule. Best hurry if you want to book, because last I heard tickets were fast selling out!