We LOVE Theatre, We LOVE Vancouver and We LOVE to Laugh, so We LOVE that we have tickets to giveaway to the Western Canada Premiere of I Love You Because … in Vancouver from February 8th – 25th, 2012.
I Love You Because … is a modern day musical love story that will have you laughing. Set in New York, it follows four young New Yorkers as they do their best to beat the game of love. Praised by the New York Times as "terrific, refreshing fun – filled with wit and zest." Vancouver is in for a treat from this hilarious hit musical, described by the Wall Street Journal as "everything an Off-Broadway musical should be … a charming piece of work that will send you home smiling."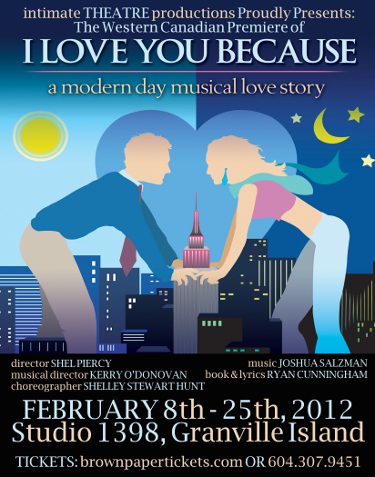 As those of you that read Being Emme are aware, we also LOVE championing the indie theatre scene, and that this is. Written by the new writing team of Ryan Cunningham & Joshuah Salzman for New York's Off-Broadway, this is the first production of Vancouver's newest theatre company, Intimate Theatre Productions. The Musical will feature a strong, young, up-and-coming cast (starring Victor Hunter, Aaron Lau, Erin Palm, Sayer Roberts, Harper Smith and Sheryl Anne McMillan) with some of Vancouver's brightest new musical theatre artists, including the critically-acclaimed directing team of Shel Piercy, choreographers Shelley Stewart Hunt and Julie Tomaino, music director Kerry O'Donovan, set designer Francesca Albertazzi and costumes by Christina Sinosich.
This pair of tickets really rates up there in my Van Sexy Date Picks.  Speaking of which if I manage to make it back in town in time for this, I will be needing a date of my own to take.  So single gents that are kind hearted and hard working with a sense of humour can line up here.  In the meantime back to the contest …
To enter to win this pair of tickets, you simply need to complete the sentence "I love you, because …" in the comments below. You can be talking about your significant other, your family, your best bud, your best bud's sister, your cat … I don't care who, as long as you complete the sentence, by Saturday February 4th at midnight PST.
To be entered a second, third and fourth time:
Tweet this post with @Roamancing and #VancouverTheatre somewhere in the tweet, so I see the tweet;
Share this post on facebook and include @Roamancing in the text when you post it (this should link Roamancing's facebook page, so I'll see the post); and/or
Share this post on G+ and include @Roamancing in the text when you post it (this should alert me on G+ of your post).
From the entries, I will draw the name of one lucky winner on Sunday February 5th, 2012, for a pair of tickets to I Love You Because … at Studio 1398 (formally PTC) on Granville Island on Wednesday February 8th, 2012 at 8 pm.
If sadly you don't win, you can still get tickets to I Love You Because … here. You may want to check out the Valentines Day Show, as it includes a rose for every woman attending and all the champagne you can drink.
Kisses,
Emme xoxo