I am always amazed as I grow older and return to old stomping grounds, how very fortunate I was to have grown up in a community so rich in the Arts and to have been exposed to so much from such a young age.  I have long had this appreciation with the theatre, much of which I attributed to Grandfather and summers on Vancouver Island, but in truth I owe both my parents a big thank you for this too, especially Dad's yearly Christmas present of taking us and whomever our various significant others were to a musical every year.  What I didn't appreciate quite so much was the great music I'd grown up with, been surrounded by and exposed to, probably as I myself am somewhat limited in my music abilities. It has taken me years to appreciate that my gift with music is the ability to dance to it and not care who's watching.
As I've started to write about musicians I enjoy, it hit me that in Canada, my teenage stomping grounds of Hamilton, Ontario is the birth place of much Canadian musical talent.  Why then hadn't I been aware of this as a teenager?  I blamed the fact that I was too young to frequent the drinking holes where these musicians were playing. Instead I use to get taken out to hear classical numbers at Hamilton Place.  At least that's what I blamed for my lack of memory for the incredible musical talent that Hamilton held, until a week ago Saturday, when I found myself once again seated in Hamilton Place, waiting for a night of classical and Celtic music with the Hamilton Philharmonic Orchestra and Cherish the Ladies.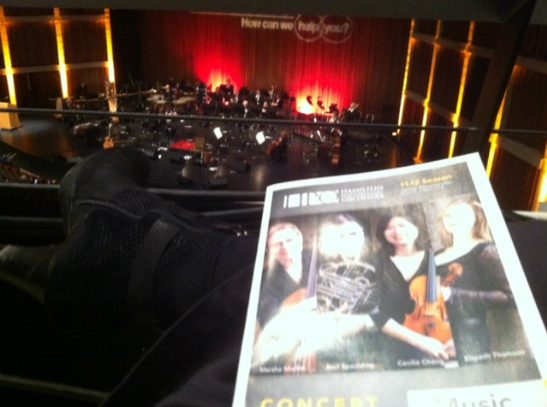 As the lights went down and the music began, I was overwhelmed with the beauty of what I heard, and then flooded back the memories of how much incredible talent I had heard in this very space, including The Three Tenors. What amazing talent we had in this auditorium, from the local talent in the Orchestra (including a neighbour, Stefan Kitai, on percussion), to musical and dance talent attracted from other parts of the country, the States and the World.  I love it when artists from other places come together to collaborate and create something of beauty together and that is exactly what we we got that night. Locally ~ the Hamilton Philharmonic Orchestra, from Stratford ~ Dan Stacey (fiddler & dancer), from Cape Breton ~ Martin MacDonald (conductor), from the States & the UK ~ Cherish the Ladies ~ Joanie Madden, Mary Coogan, Mirella Murray, Grainne Murphy, Kathleen Boyle & Deirdre Connoll (Celtic Group), and from the States & Australia ~ Hammerstep ~ Garrett Coleman & Jason Oremus (Irish Dancers).
The first Act had me enraptured in the beauty of classical Celtic music of the Hamilton Philharmonic Orchestra, that could have brought tears to my eyes were it not for Martin MacDonald having me in stitches of laughter.  He probably actually brought tears to my eyes, but for a very different reason.  When the intermission hit, I could hardly wait for it to be over and the second Act begin and for Cherish the Ladies to hit the stage.
I must admit, that I was glad that the second Act had such a different tone and style, as it made it hard to compare the two Acts and meant that it didn't take anything away from the beauty of the first Act.  Where in the first Act you were bathed in the gentle beauty of Celtic Music from the Hamilton Philharmonic Orchestra, the second Act was a foot stomping good time with Cherish the Ladies, Dan Stacey, Garrett Coleman, Jason Oremus and the Hamilton Philharmonic Orchestra, literally. There was a lot of foot stomping on-stage, especially from Dan Stacey, Garrett Coleman & Jason Oremus, and all I wanted to do was hop out of my seat and join them. It certainly didn't take much to get any of us in the crowd up and out of our seats for a standing ovation, with which we were pleasantly rewarded with an encore.  Good thing too, as I was so tempted to yell "Encore, Encore!", but was wondering if that would have me banned from the auditorium for life, even if this didn't feel like a piece of stuffy classical music, where one should provide a subdued polite and sophisticated clap.
A wonderful evening and a much needed reminder of all the marvelous cultural experiences we have at home, as well as abroad.  What are some of your favourite experiences in your hometown?