Waking up in Cairo after my first true nights sleep here this trip, to the sounds of Cairo, a view of the Nile and exciting visions of what today's Egyptian breakfast might entail!
Through a foggy jet lagged brain, after a 4 am arrival in Cairo yesterday, I was kindly looked after by the team at the Fairmont Cairo Nile City, who charmingly taught me about a few Egyptian breakfast favourites – both healthy and delicious, and exactly what I needed for my sleep deprived body.  I enjoyed myself so much so that I admittedly whiled away a peaceful 2-hours at breakfast.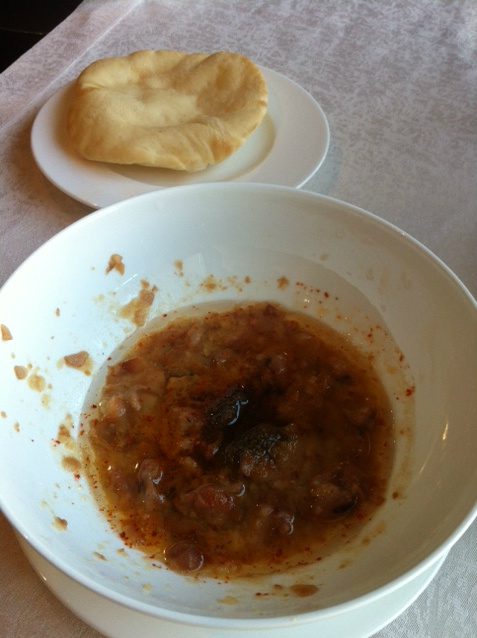 The first I was somewhat leary about, as it basically translated to beans for breakfast and I have never really been a bean person. That all changed with one deliciously tasty bite.
So what was the bean and what did they do to it?  It was the fava bean steamed, which doesn't really sound like much, but they mix in a bit of olive oil, ground red pepper, cumin, salt and lemon juice to taste. And taste it did … delicious!
The second dish was Egyptian porridge and I am already a porridge girl, so this didn't take much selling.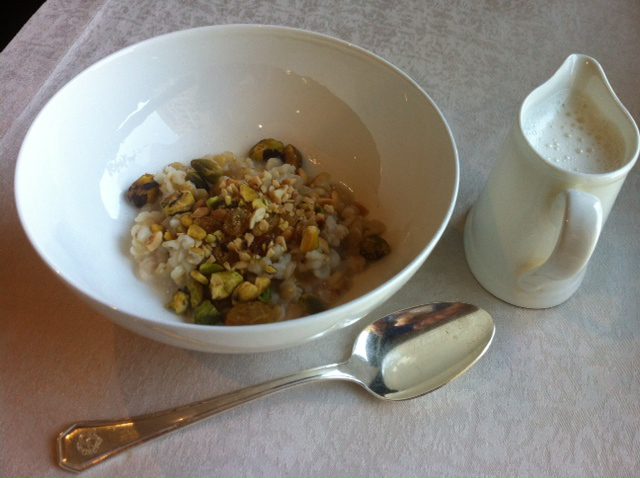 The porridge is a wheat, and what seems to make it truly Egyptian is what they added to it ~ chopped pistachio nuts, raisins, and I have to double check on this one this morning at breakfast, but I believe, cinnamon. Most enjoyable!
I'd go back for more of both of these this morning, but I have been promised a new Egyptian delicacy. Can't wait!
PS. In Full Disclosure: As always, the opinions and thoughts shared here are our own and honest ones. We are bought out by no one. In the spirit of disclosure, it should be noted that on this trip, our expenses were paid by Egyptian Tourism, as a guest to the country and the UNWTO Media and Tourism Conference.