Audrey Scott:  You know her from the Uncornered Market speaking team of Daniel Noll and Audrey Scott, but do you know her as the Egyptian TV Star?  I do!
I was sitting just off to Audrey's left snapping shots of her while Mohamed A. El Monem was interviewing Audrey on our time in Egypt this past April.
I got my time in front of the camera too, but I suspect it is on the cutting room floor, as 'roamance' and 'looking for love and romance' translates a little too literally in Arabic.  I found myself saying, "It's not about me finding a husband." and then realizing how that may have translated to me being a tart, so trying to explain that we had married people involved too, which then sounded even worse. Hopefully Mohamed at least got in the end that 'roamancing' is about finding the beauty and (love) in the places, people and cultures we explore around the world.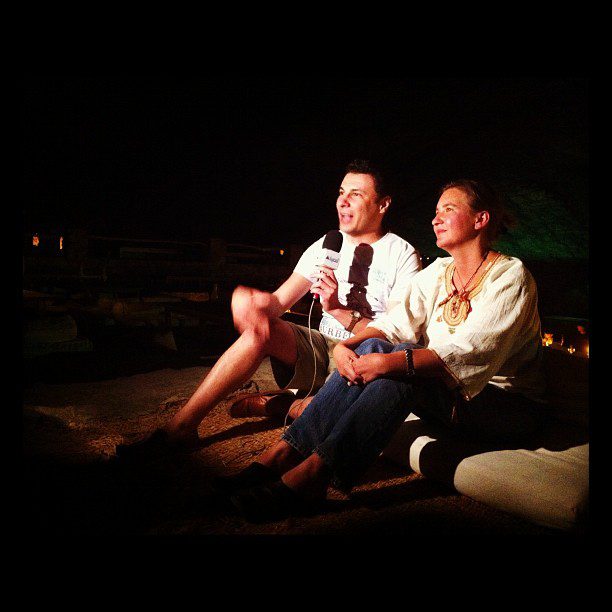 As an aside to that, Mohamed interviewed us for a couple of Shows on the Egyptian Satellite Channel, as well as hung out with us.  He is an excellent interviewer and translator, and a fun and interesting person to spend time with.  We had a good debate or two.
Despite Audrey's new stardom and being the kind sole she is, she is still keeping Daniel Noll as her speaking partner (really, she is such a humanitarian ;-).  You can catch the two of them tonight (May 31st, 2012) in Vancouver speaking about their adventures exploring cultures around the world at the Future of Tourism talk that G Adventures and Planeterra are hosting at the Centre in Vancouver for Performing Arts. The Talk starts at 6:45 pm.  Here is where to get your tickets!
Hope to see you there!
PS. In Full Disclosure: As always, the opinions and thoughts shared here are our own and honest ones. We are bought out by no one. In the spirit of disclosure, it should be noted that on this trip, our expenses were paid by Egyptian Tourism, as a guest to the country and the UNWTO Media and Tourism Conference.