I'm now back in Vancouver after 3 months in Mozambique, and wondering how to describe it. It was both a varied and wonderful,  frustrating and surprising experience.  Note how I made for the Southern Hemisphere, where it was still summer, during the rainiest, chilliest and dreariest months in Vancouver. I'm still patting myself on the back for arranging to skip the winter. Ingenious, wasn't it?
I'm sure you're all imagining a sunny, beachy, coconut-filled paradise. And you wouldn't be wrong. Mozambique is on the Southeastern Coast of Africa, and full of natural beauty. In the coastal capital of Maputo, the vistas knocked the breath out of me nearly every day.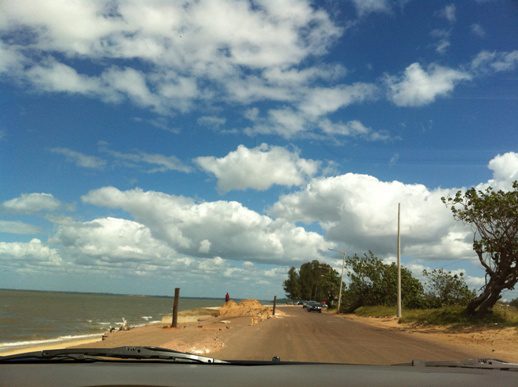 Sadly, due to a rise in kidnappings close to home, I was not permitted to explore the Maputo on foot as much as I would have liked for security reasons. Instead I spent a lot of time at home getting to know the housekeepers, learning Portugese and having Monica, the cook, teach me how to make Portugese-Mozambican style dishes. So even though I spent a lot of time indoors, I got to practice my Portugese and learn how to cook local meals. Sounds like a win right?
Tonight I tried one of the recipes Monica taught me. It's a recipe for Portugese-African bean stew called "Feijao" (pronounced fay-szao, with a little nazalasation at the end). Feijao com arroz (beans and rice) is a staple local meal in Mozambique — much like it is in Brazil, which was also once a Portugese colony.   The phrase Arroz e feijao is probably like our "peanut butter & jelly" in that it is much loved, goes well together, and is a cornerstone of daily dining. Most Mozambicans eat it every day. It's a not-to-be-messed-with classic.
(For those interested in international variations, there's a YouTube Channel dedicated entirely to Rice-and-Bean recipes).
This is a magically delicious meal. The ingredients are so simple, and the result so delicious, that magic is the only explanation.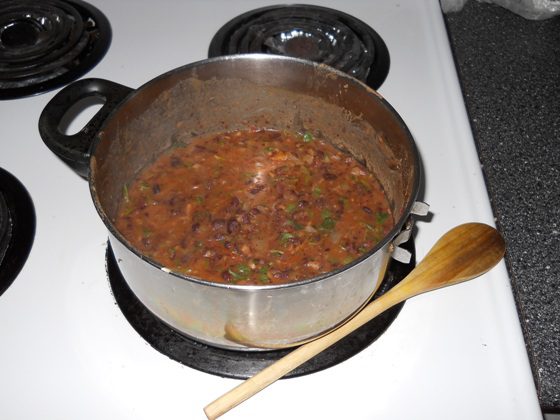 Here is what you'll need to make Feijao:
2 cups cooked beans (any beans will do — I used kidney beans today, but my favourite are black beans)
1 medium-sized onion, finely chopped
3 large crushed garlic cloves
1 tablespoon grated or finely chopped ginger
1 bay leaf
1-2 of the hottest little chillies you can find (ideally the red piri piri, but green chilies work fine)
2 cups hot water*
salt to taste
0.5 tsp turmeric powder
asafoetida powder (optional)
1.5 tablespoons olive oil
Juice of lime (optional)
A big handful of finely chopped parsely
*Note: You can amp up the flavour of this recipe by using the salted hot water that you cooked the beans in instead of draining the beans and adding new hot water to the pot.
Heat the olive oil in the pot, and add in the bay leaf and chopped chilies. If you're chillies are exta hot like piri piri, or you want to keep the dish mild, slice the chillies down the middle instead of chopping them so you can pull them out of the stew before you eat it.
Next, add in the chopped onion and stir it around. Let it cook for a few minutes. When some of the onions start becoming golden-brown around the edges, toss in the garlic and ginger and mix it in.
When the ginger and garlic start to brown a little, throw in the chopped tomatoes and stir. Let this mixture cook for about 3 minutes. Add in the salt and turmeric.
Mush the mixture together with the flat of your spatula so that all the little pieces of onion and tomato are making friends. Let no onion sliver remain aloof from its peers. When the mixture starts to resemble a thick sauce, it's time to add the beans, along with 2 cups of hot water or the warm water they were cooked in. Lower the heat of the stove and let it simmer.
Stand by the pot to stir the beans sporadically, making sure they don't sink to the bottom of the pot to stick. Let it simmer for 15-20 minutes. You can simmer it for more or less, depending on how thick you want your stew. Turn off the heat and stir in the parsley. Squeeze in a lime if you like, and you're done.
Enjoy your Feijao, and don't forget the arroz.
I leave you with this inexplicably delightful piece of videotaped television featuring arroz e feijao!