Loving this episode with handsome and witty Mohamed A.El Monem in Marsa Alam on Egyptian Satellite TV.  Especially excited about it as we (and Audrey and Dan of Uncornered Market) were in Marsa Alam when Mohamed and his production team were there filming this and had the opportunity to hang out with them both on and off camera.  They were fun to debate politics and world issues with, in addition to dancing with (you can see some of Mohamed's dance moves towards the end of the episode).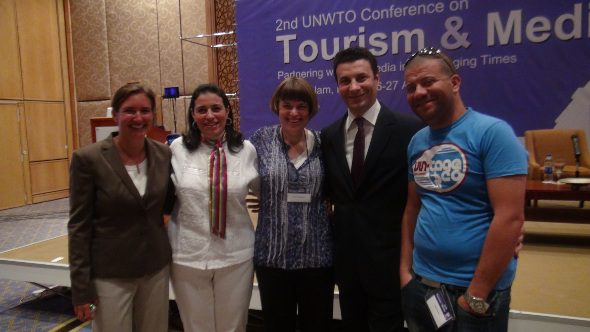 You can also catch Mohamed interviewing me on Egypt and Roamancing towards the end of Episode. I encourage you to watch the whole thing though, as much of it is in English, in addition to Arabic (for the non-Arabic speakers amoung you) and the content is interesting, including interviews with the Egyptian Minister of Tourism and people involved with some of the fun and fascinating eco adventure opportunities in Marsa Alam.
All I can think after watching this, is how very well Mohamed pegged our interests, as he suspected the eco dive lodge he visited would be up our alley and tried to get us to join him for the day there.  Right he was, as I now want to go back to check it out. He may not have understood the appeal of being taught by specialists in marine biology and underwater photography, but I certainly do!