For those of us that love to travel back in time, exploring history and anthropology, the Egyptian Museum of Antiquities is really a bit of a dream, as there are not many places you can go back further in human history, especially right from it's source.  And this is a museum that I really never expected to be walking inside.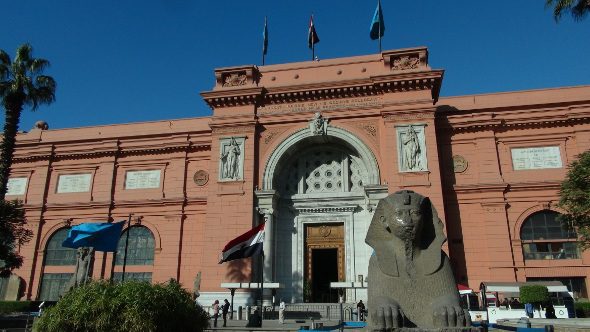 Now love of history aside, I'm quite picky when it comes to museums, having been a historical educator myself and having weaved tales around past civilisations.  So that said, I will be the first to agree with our Egyptian Guide that they are not effectively displaying and interpreting the many artefacts in the Museum of Antiquities.  You see there is just so much stuff, and while many museums have a storage facility for artefacts, so on the display floor they can highlight particular pieces, the Museum of Antiquities is really one great big warehouse of antiquities.  Kind of exciting to think about really, as part of the reason for that is there have just been so many discoveries of ancient human history in Egypt, that there's not enough space for it all, and that's with Egyptian collections on loan to other museums all around the world, and with everything that's been stolen.  Stories such as Indiana Jones and Relic Hunter do after all come from somewhere and many such tales of stolen artefacts have come from this part of the World, and not just in the past.  The Museum itself was raided and had pieces stolen in last year's revolution. As a weaver of tales myself, this space and this place was a dream come true, as it's walls just hold so many stories from both the past and the present.  Hello historic thriller!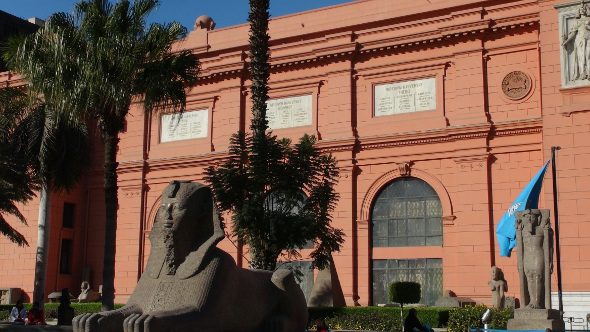 And that is exactly what I got from my visit to the Museum of Egyptian Antiquities ~ an incredible sense of awe at where I was standing and what I was surrounded by, and a recognition at just how much history had been unearthed in Egypt, despite robberies, artefacts elsewhere in the World and constant new discoveries, not so far from where I was standing. How often is it that you stand in a museum of this magnitude, where it is solely sharing it's own history and not that of other lands?!?  Pretty gosh darn incredible.  The magnitude of this, only hit that much harder, when our guide took us through the area of the Museum dedicated to Tutankhamun, Egypt's child Pharaoh, having reigned from age 9 to his death at age 19. As our guide talked about Tutankhamum and walked us through the immense amount of items that had been found in his tomb, including every bed that he'd ever slept on. That was when the realisation hit me, a Pharaoh was buried with all of his worldly possessions from birth to death. That included every article of clothing, he'd ever worn ~ yes, underwear inclusive ~ I saw it on display. Sure glad no one has kept or will be displaying any of my ratty old underwear after I'm gone. Now all of this took up a space 3 – 4 times larger then most of our homes (or at least my Vancouver townhouse), and that was for a King that only lived 19-years. Now just imagine the tomb of Ramesses the Great, who is suspected to have lived for 90 years. No wonder they are running out of room for the antiquities.
I am pleased to share that there are plans for a second Museum of Egyptian Antiquities, the Grand Egyptian Museum, to better deal with, preserve and display Egypt's Antiquities.  The Museum is scheduled to open in 2012 by the Giza Pyramids.
In the meantime, however, if you are in Cairo, I do encourage you to visit the Museum of Egyptian Antiquities, as it really is an incredible space, filled with both stories and history.  Just be warned, no cameras are allowed inside, and I'd recommend a guide, at least for your first visit, as it really helped me to navigate and fully appreciate what I was seeing.  I understand this is even more valuable at busier times in the Museum, which I understand is most of the time (I was just visiting at the time of the December 2011 demonstrations, so got to enjoy the advantages of fewer tourists, as a result).
Oh and personally, this is a museum that I'd take in with many shorter visits to effectively absorb it all.  I'm hoping to return one day.
So …??? What are some of your favourite museums in this big wide world of ours?  If you have photos of them, you should share them on twitter today with the hashtag #FriFotos, as museums are this week's theme.
PS. In Full Disclosure: As always, the opinions and thoughts shared here are our own and honest ones. We are bought out by no one. In the spirit of disclosure, it should be noted that on this trip our expenses were paid by the IOETI Conference, for which we were speaking at.