The opportunity came for a short get away to Phoenix Arizona, which was to include children.  Being that we currently reside in Los Angeles, the most cost beneficial way to make this trip work was to drive.  Unfortunately for me, my husband ended up having to fly off elsewhere for work, leaving the vacation to me.  I was excited to have special mom/kids quality adventure time, but was definitely a little worked up about the driving!  I'm not someone who feels bold on the road.  I am always the passenger on long road trips and have never driven more than 2 hours myself.  Lately my attitude towards fear has been to pretend I'm someone who really enjoys doing it instead.  There are people who love roller coasters, and flying and heights!  I decided to take on this 6 hour drive with that same attitude.
Thanks to my GPS, and amazingly chill kids, I was able to be a smooth rider and conquer the trek.  For a while it felt like a party on the road, because we kept passing 'Carpoolchella' painted cars.  Droves of people were on their way to the Coachella Music Festival and they were flashing each other peace signs.  I have to admit I enjoyed sneaking peaks at the hairdos and outfits!  On the whole trip I only felt uneasy twice. The first was when we passed a whole field of wind turbines.  I don't know if this is true for anyone else, but I find these to be really ominous.  I immediately get chills and feel like I'm in a horror movie.  This little video clip was taken by young Master Mason in the back seat.
The second time I got worried was after we had been driving through a really long stretch of desert towards and through a place called Desert Center.  I was watching my gas go down and down, and I could see nothing up ahead, except for more desert.  My mind was formulating a plan.  I saw Call Boxes every mile on the highway so I thought if I ran out of gas we might just have to walk to one of those.  I pictured myself waving down a truck, because I know they can be helpful, but also saw that going very wrong.  Just when I was trying to come to terms with my options, a gas station finally popped up!  Everyone there was freaking out at the close call and some were expressing anger that there weren't any signs warning you to fill up before beginning the long stretch.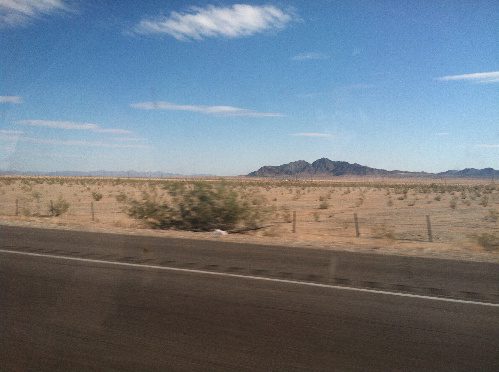 The station itself was really creepy, with quite the characters working inside and a sign for 'Massage' beside the restrooms.  The kids got the vibe and hustled in and out extremely fast.  We all busted a gut once we got back in the car, because just a mile further up the road a whole wonderful looking little town appeared.  The creepy gas station would only get us this once, because if we return again, we will no longer be amateurs to this road!
At the end of the trip I drove into Phoenix feeling like some kind of great achiever.  I felt empowered, and the next morning I woke up inspired, wondering where else we could drive to. The old me would have even been afraid to drive around an unknown town, but necessity forced me to change my attitude and I was greatly rewarded for it.