Sometimes, last minute travels are the most rewarding. With no time to stress over details, the spontaneity of jumping on a plane without any real plan is liberating.
Last weekend, I was able to go on one of these adventures to Toronto for art and architecture, as well as to Niagara-on-the-Lake, Ontario. My mom had made plans to go visit relatives, and asked me if I wanted to come along at the last minute.
It was a lovely few days. One of the most wonderful things about Canada, I think, is its vastness and diversity, and this trip showed me an entirely new region of the country. I will focus on Toronto in this post, and up next, talk about my visit to Niagara!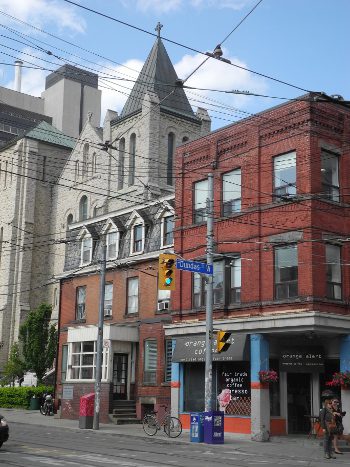 I started my trip by spending an afternoon in Toronto. It was my first time in the city, and I can say that it caught me off guard. I am used to big, busy cities, but this felt like a concrete jungle! Still, there were many interesting architectural details and a unique mix of old and new buildings that lent the city both grit and charm.
We stopped by at the Art Gallery of Ontario before dinner. There was the most wonderful sculpture outside.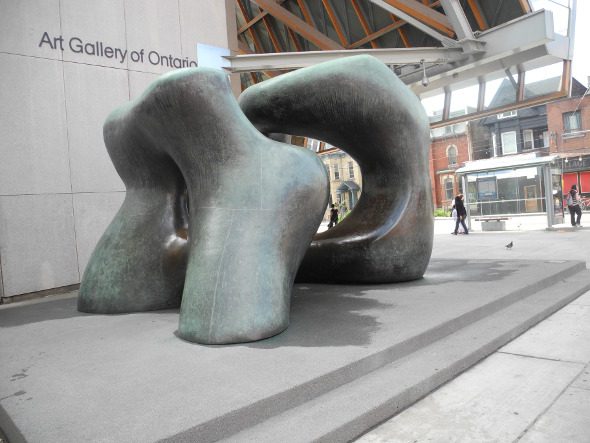 The gallery had an impressive, extensive collection, and I would definitely recommend setting aside a day to tour it if you have the chance. There are a range of exhibitions; cultural and historical exhibits, classic Canadian group of seven collections, modern photography, and even model ships.
Sadly, we only had an hour, but I was able to check out a photographic exhibit of Patti Smith's polaroid collection, as well as a photographic portrait collection. I was a bit disappointed with Patti Smith's work, as it seemed to rest on her "star status" more than photographic proficiency. Still, it was interesting.
The portrait collection was impressive though! The exhibit juxtaposed modern portrait photography with early photographs, and it was presented in an interesting, thought provoking way. Unfortunately, no photography was allowed in either exhibit. However, I did manage to snap a picture of this unique architectural detail in the main entrance which was designed by Frank Gehry, a famous Canadian architect who oversaw the redesign of the AGO.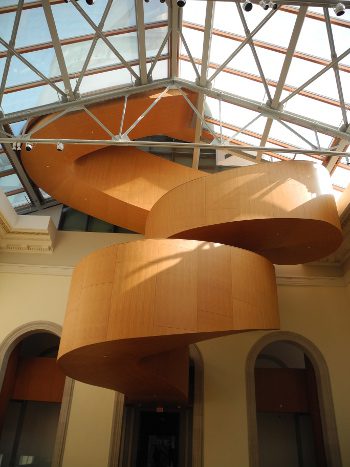 That was all for my brief stay in Toronto, but it was the perfect way to spend an afternoon. Up next, my visit to Niagara!