On the 20 minute ferry ride between the paradisiacal island of Anguilla and St. Maarten,  the small ferry boat rocked every time a wave hit.  The waves seemed angry to me, and in no hurry to subside. "Wheeeeeee!", the other passengers exclaimed. They were giddily having fun, while I was panicking.  My friend looked at me, concerned. "You're green," she said, and got me a bottle of water. "Are we there yet, are we almost there," I asked the Captain.  "The Caribbean can be like this," he said, calmly. After all the sun was shining – it wasn't a storm, just a bit of rough seas. And I was coming from stress-free days on the most serene of all beaches – pure sand, clear glittering waters.  How could I be the only one freaking out?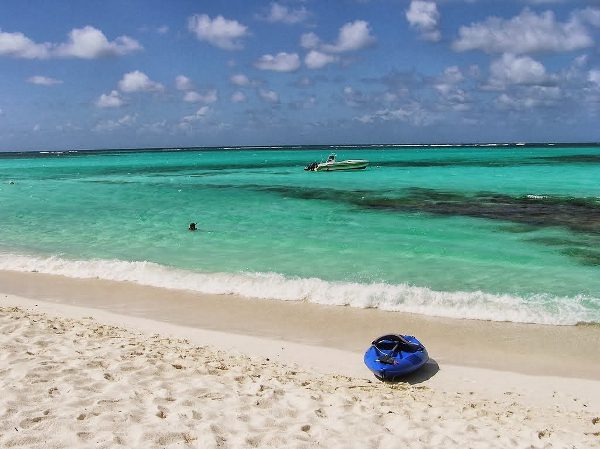 I always thought of myself as a sea-loving person. Indeed, if some people are drawn to the mountains and others to the water, I'm in the latter category. So why in my travels did boat excursions become something to fear? (I'm not talking about daredevil trips on the high seas, or what one blogger has dubbed "whale retching", where the ocean feels like a car wash and people are bent over bags.)
For a few years, I fooled myself, rationalizing that I had a mild sensitivity to motion – after all, I had never thrown up on a boat or a plane. I could deal with turbulence on a 747; although on a once-in-a-lifetime trip on a private plane in Botswana, where you could see the elephants below chomping on trees, the motion made me want desperately to land. "Hold the aerobatics please", I now joke to pilots of small planes, and it's usually OK.  As a precaution I have taken ginger pills –  the last thing I want on a trip is to be groggy, the main side effect of industrial strength motion sickness pills.
Ginger is no help in boats, though. There was that time in New Zealand, when a boat was taking a group of us to swim with wild dolphins (not a good idea, I later learned)  and I had to be deposited on a nearby island – the high waves scared me so much that I couldn't stay on the boat long enough to find the angelic mammals. I felt ashamed for wimping out.
On the island of Andros, fresh from a short, resort course in SCUBA diving, fear of my first dive was countered by panic over the patch of rough seas.  I couldn't wait to dive down to where the water was calm, and I was entranced by the magic underwater realm where strange plants swayed and gorgeous orange and yellow fish moved gracefully
But above water the problem remained. Gradually, I found myself declining even brief boat trips if there was any chance of troubled waters.   Then, on a sunny August trip to the Thousand Islands, which are scattered around Canada and the US,  I found myself on Lake Ontario in a fishing boat, complete with sonar. Slosh went the waves. I was ready to beg to be taken back to shore when a woman offered me a Dramamine, the US version of Gravol. I swallowed the tiny pill, and soon started to relax. Whoosh, the water rocked the boat. And yet – no problem. Mentally, I knew the waves were scary, but physically I felt no fear, none of that old nauseating panic. It was like being in the dentist's chair when your gums have been frozen. You, hear the menacing buzz of the drill, but feel no pain. Being drowsy but awake really helped – I experienced it as a kind of high that allowed me to sit back and observe. And it wore off in a few hours, just as we were close to shore.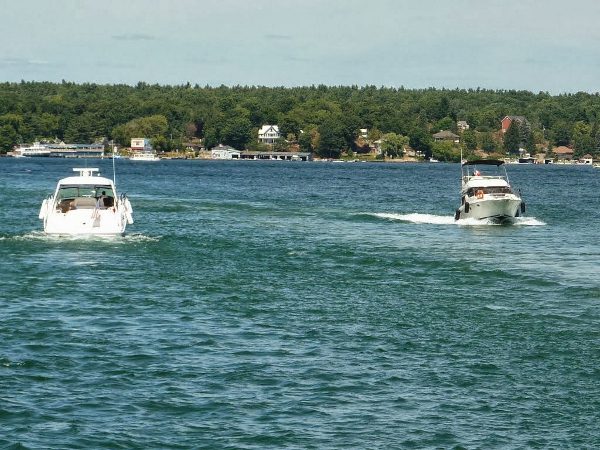 The next boat ride on the trip was on a vintage speedboat docked at the Antique Boat Museum  in Clayton, New York, another stop on the Thousand Islands route. First, as a kind of pre-water desensitization, I viewed the boats displayed in the high-ceiling rooms. What beauties – small boats with shiny mahogany, speedboats, canoes, sleek Chris Craft … One in blue and red, had the look of a l960 Chevy.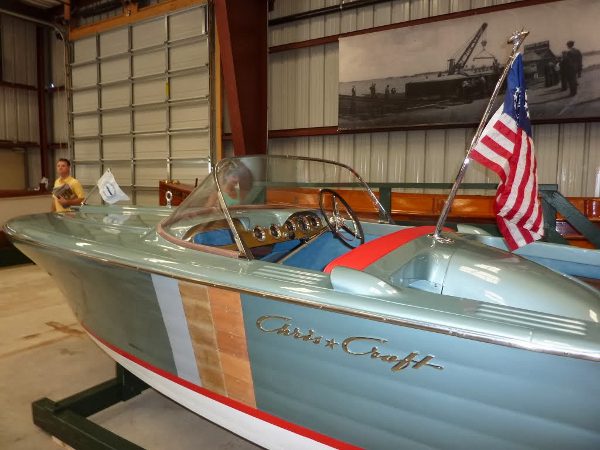 The speedboat was a beautiful vintage l930's number, with seats for four. The bay was calm and glittering, and it felt exhilarating to skim over the water, no medication needed.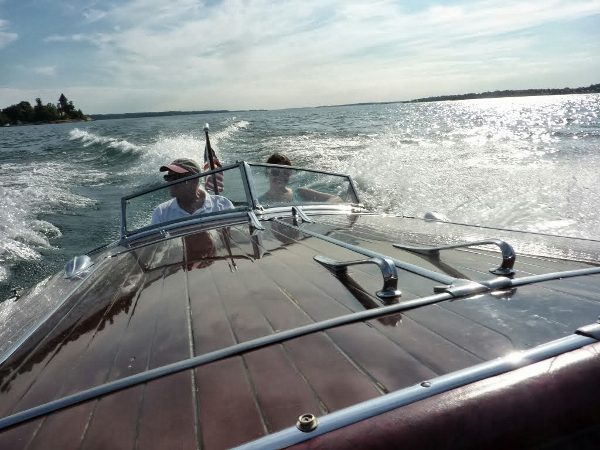 Back in Toronto, I bravely signed up for the Centre Island canoe/food trip, part of  the  Culinary Adventures Company repertoire. Eight people paddled a traditional work canoe to Toronto's Centre Island, where Chef Savoie served us a brilliant dinner that included smoked trout, lamb and peaches flambee.  The hard part for me was getting back. It was dark, difficult to see, and there were waves. But at least when you're rowing you're doing something.
Which, as I learned, was a big part of dealing with any fear. First I had to acknowledge the fear, then realize that even a friend – or a ginger pill – was not going to fix things. And then, whether it climbing aboard a boat or finding a job, you have to take action. Which sometimes means saying "no". For instance, there's a ferry from the island of St. Maarten to St. Barts that has earned the nickname of "the vomitorium". Even if you paid me ….