Most of us can't travel all the time.  We have families and jobs that need us in one place, we can't afford to always be on the road, and for many of us we need that place we call home to decompress in (or as I call it Cheshire Cat in).  For those times I cannot be exploring the World, I am thankful for storytellers that can take me on adventures while I am curled up in bed, comfy on the couch, or perched on my favourite chair on the deck.  Amoung these stories that whisk me away to far away lands and to experience new cultures are filmmakers, and I am proud to say that with the adventurous spirit and multicultural background of Canada, many of those filmmakers that weave tales around cultures and flavours from around the World are Canadian filmmakers.
This Tuesday, April 29th, 2014, we, as Canadians, will be celebrating our first National Day of pride for Canadian filmmakers and films with Canadian Film Day!
Whether you are Canadian or from elsewhere in the World, I encourage you to celebrate Canadian Film Day with us by watching a Canadian film this Tuesday April 29th!
If you are in Canada, you can find a variety of film events across the country by clicking on the Province or Territory that you are in on the Canadian Film Day map or by clicking here for the television broadcast time of a variety of different Canadian films.
As we are specifically interested in those stories that inspire travel and the discovery of culture, below are a few Canadian films being broadcast on Tuesday, April 29th that do just that:
And no matter where in the World you are, here are a few travel inspired Canadian films that you can access online on April 29th.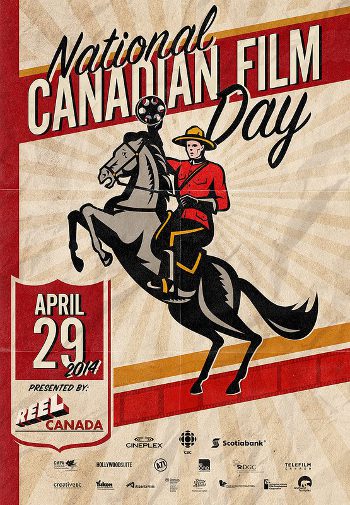 Reel Canada iTunes Room or DVD's from Amazon
Netflix
Cairo Time
One Week
Helicopter Canada
Not Bad
First Winter
The Shrine
Into the Mind
The Chocolate Farmer
Universe
Global Metal
Up the Yangtze
Vanishing Point
A Step Towards the Arctic
Grace, Milly, Lucy … Child Soldiers
Living Downstream
Lost Song
The Boxing Girls of Kabul
Fists of Pride
United States of Africa
Roger's On Demand
Xbox Video
Cineplex Store
Enjoy!  And be sure to share your thoughts on your favourite Canadian films across your social networking verse with #CanFilmDay, as well as converse with others on favourite Canadian films of theirs.