One of the things that I love about travel is the various new things it teaches me, often when I am not expecting it.
This was the case on my recent trip to go dog sledding with Winterdance, next to Algonquin Park in Haliburton, Ontario. While anticipating an exciting day, I was not expecting a lesson in Cold Weather Photography and Videography, which is what the day gave me in addition to dog cuddles, beautiful scenery, exhilarating adventure, and great outdoor exercise!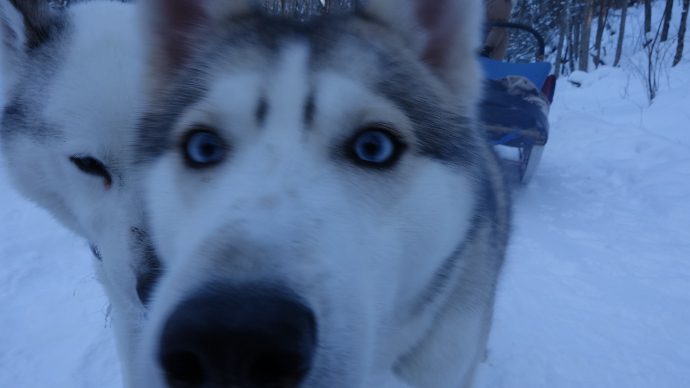 You see, as a dog lover, I was trying to cuddle Winterdance's loveable huskies at the same time as filming them, so it wasn't long before a dog licked my lens, and the dog's saliva froze on my camera lens!  …. And it wouldn't come off , now matter what I tried! To make matters worse, my iPhone was no backup, as it had conked out at the -30C temperatures.
Luckily with a bit of determination and resourcefulness, I found a solution!  Here's what I learned from the experience, and a few other cold weather photography and videography tips, so that you can avoid some of the mistakes that I made.
In reviewing my tips:
Wear gloves (preferably touch screen ones) inside a pair of warm mittens, as your hands will get cold fast without the mittens, but you can't operate the camera with the mittens on.
Keep hand warmers (hotshots) inside your mittens. You'll need these to warm up, when you decide to shoot too long.
If a dog licks your camera lens, melt the ice by placing a hotshot on the camera lens, and then wipe it with your lens cloth.
If you have no hotshots, melt the ice on the camera lens with your hot breath, and then wipe it with your lens cloth.
So that your smartphone does not shut down from the cold, place it in an inside pocket, near your body, with a hotshot.
Guessing that those of you that have shot in the cold will have some tips of your own for taking photos and video in extreme cold weather too. We'd love to hear them! Drop them in the comments below!