Scroll to the bottom of this Post for details on the App Giveaway: To win, be one of the 1st 20 people to comment on the post with one place in LA that you wish you knew more about or one place in LA that you'd love to visit.
I have been living in Los Angeles long enough now that I believe I can consider myself a local. I have had enough out of town guests come and stay with me that I believe I am also a good tour guide and proprietor of vacation spirit! Sometimes though, I wish I knew a little more about the history of the attractions we visit, along with some fun facts to share. I decided to take myself on my own walking tour using the self-guided GPSmyCity Walking Tours App, Los Angeles Self-Guided Walking Tours in hopes of discovering new material.
Here are just a few of the many walks available through the GPSmyCity App of Los Angeles Self-Guided Walking Tours: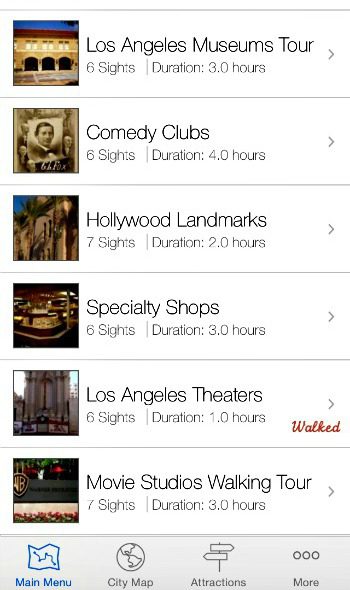 There are plenty of walks to choose from in LA, as I imagine there are in all the available cities within the different versions of this App. I chose to do the Los Angeles Theaters Sightseeing Walk.
Los Angeles Theaters Sightseeing Walk
There are some highlights of the tour that stood out to me, which I think could be easily overlooked if just visiting these theaters yourself. I think when you visit high traffic tourist destinations it is easy to overlook and miss details as you shuffle through crowds. There are often guided tours where a leader is speaking through a microphone headset, but those can be costly and it's a strain to hear what they are saying.
The Kodak Theatre (now called the Dolby Theatre) is part of a whole outdoor plaza and mega shopping experience. During my walking tour, my attention was directed through the information presented, to the columns which listed all the Best Movie Oscar winners throughout the years. You can see on this one that there are empty spaces waiting for the next ones! (I have been to this theatre countless times before and have never noticed these!)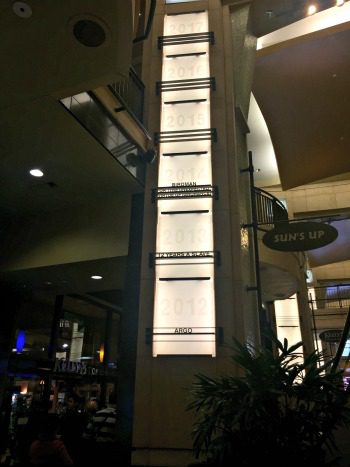 Since the Kodak Theatre was built to host the Oscars, I couldn't resist striking a pose on the sparkly stairs all the stars have walked up.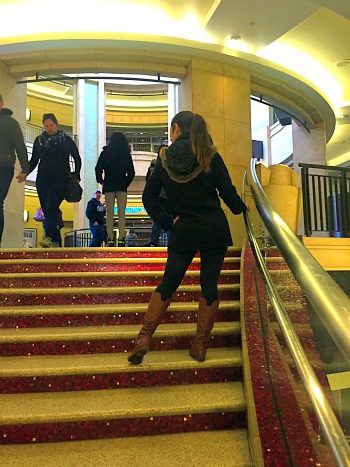 As a traveler I see using these GPSmyCity City Walk Apps as a launch to start an adventure. There will always be extras and bonuses that pop up while you are out that will enhance your whole experience. For example, while walking from the Kodak Theatre to Grauman's Chinese Theatre, we happened to spot this delivery parade of popcorn!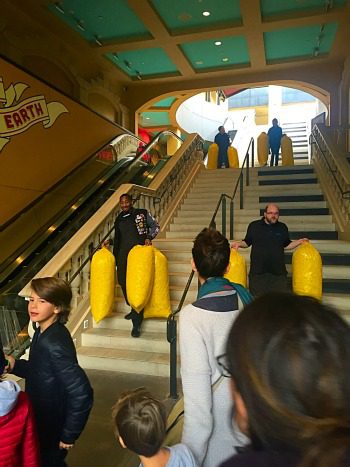 I guess we can deduce that the corn at the Grauman's Chinese Theatre is popped off-site! And no … it's not that yellow. I thought it was too until they walked past and I realized that was just the colour of the bags.
My favourite bonus on this tour was looking across the street at one point to one of our other destination theatres, the El Capitan, and spotting a Ghirardelli Old Fashioned Soda and Chocolate Shop! Of course I had to go inside … it takes fuel to walk you know!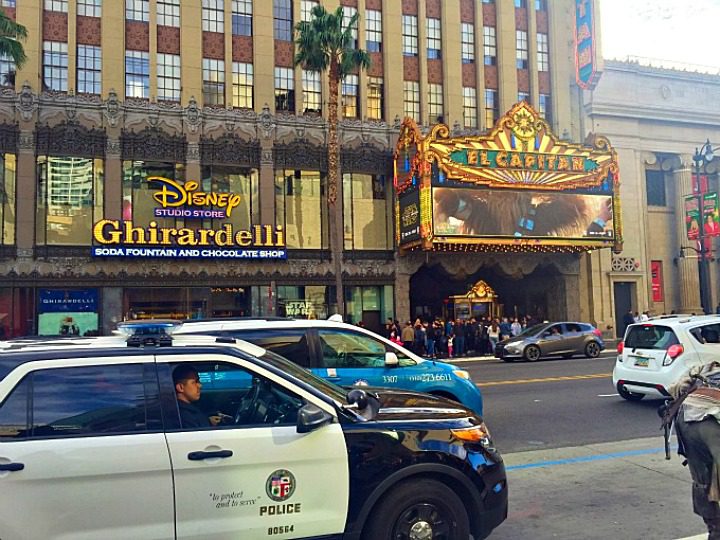 I loved learning about all the theatres in the old Hollywood area. It really gives you quite a feeling when you read the history and know you are standing where some of the great ones have performed. I can see using this App a lot in my future travels, and our team at Roamancing would love for you to add it to your excursion tools too.
---
The Giveaway!
Together with GPSmyCity.com (creators of the App), we are running a contest with 20 promo codes for the GPSmyCity LA Self-Guided Walking Tours App to giveaway to our readers!  Please Note: the promo codes can only be used on iOS devices (iPhone and iPad) for the time being.
To receive a promo code simply comment below with one place in LA that you wish you knew more about or one place in LA that you'd love to visit.
We will contact the first 20 people to comment with a place in LA with a promo code and instructions to download the app for free.
Stay tuned on Being Emme for a similar giveaway for the GPSmyCity Vancouver Self-Guided Walking Tours App.
---
Weekend Wanderlust Link-Up

Welcome to #WeekendWanderlust! This is where YOU get to share your latest post and help inspire all of us to follow our dreams of exploring the world one weekend at a time.
Here is how it works:
1. Complete the information below (your name, URL of your post and e-mail).
2. Ensure that you have your link added before the following Monday (link-up closes at 11:55PM Central Time).
3. Share the #WeekendWanderlust badge on your post that you link-up.
4. Comment on and Share at least THREE other linked-up posts to show some love to your fellow travelers.
5. Spread the word of #WeekendWanderlust throughout your social media.
6. Finally and most importantly – TRAVEL THE WORLD!!
As long as your post is related to travel, whether it is a review of an attraction or your experience in a destination around the world please link up with us to inspire everyone to follow their #WeekendWanderlust
LINK-UPS: