I think if you ask anyone what Chicago is famous for, one of the top answers on the list would be Chicago deep dish pizza. I have eaten at a restaurant in LA which serves up Chicago style deep dish and my family did not care for it so we were reluctant to put it on our list of things to do on a recent trip to the windy city. It turns out… the real deal (found at Gino's East) is a totally different beast and I wish I had some on a plate in front of me RIGHT NOW!
I have to give a lot of credit to the concierge at our hotel, the Sheraton Grand Chicago, because he got to know us and then suggested the right pizza joint for our personalities. He sent us to Gino's East Pizzeria. You can imagine, there would be quite a few pizza places to choose from, being it's one of the state's calling cards.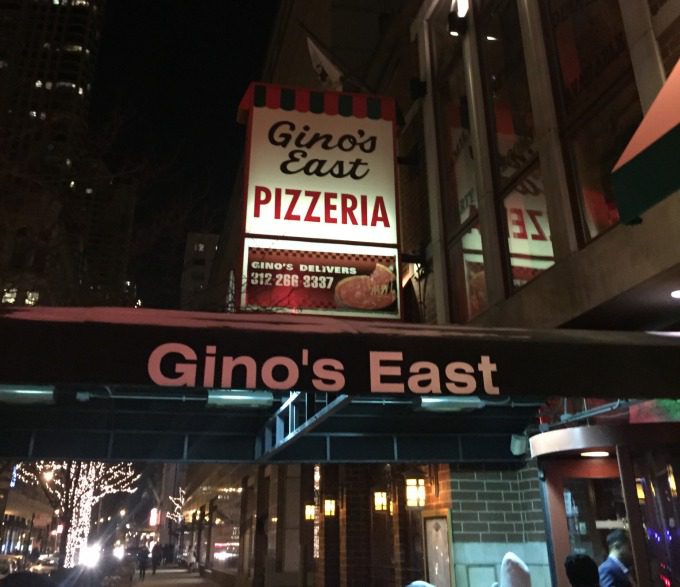 The atmosphere inside Gino's is very casual, yet exciting at the same time as the walls and tables are full of graffiti from locals and travelers who have left their mark in time. You are encouraged to write on the walls, tables, chairs, and benches! The cool factor was off the charts for my teens.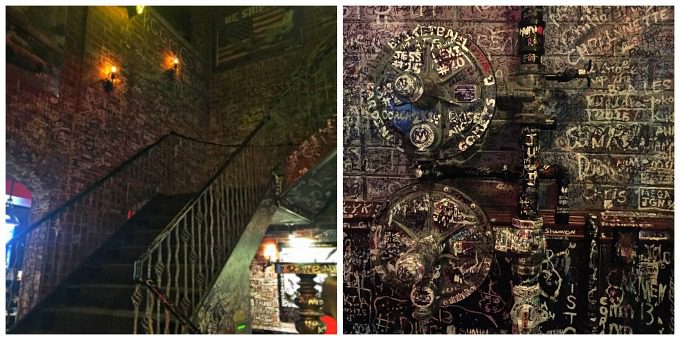 What you must know before you go: It takes a full hour to make a deep dish pizza! We almost contemplated leaving because we were very hungry, but the determination to experience a new adventure kept us there. We enjoyed several of their appetizers and wrote all over the restaurant to pass the time. In other words, don't go when you feel like you need to eat right away or you risk spoiling your appetite with appetizers and spending way more money than you intended.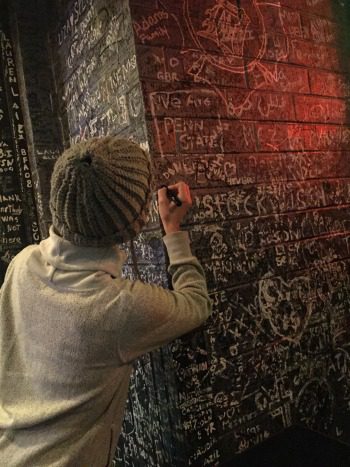 Now onto the star of the show….the pizza! the Chicago style deep dish pizza I have had outside of Chicago consists of a crust as high as a mountain with the typical amount of sauce, cheese and toppings. For my family, that's just too much dough and not enough flavor! The real Chicago deep dish pizza turned out to be a crust just a little larger than normal pizza, served in a deep pan of course, with loads of sauce and toppings creating the height, rather than the dough.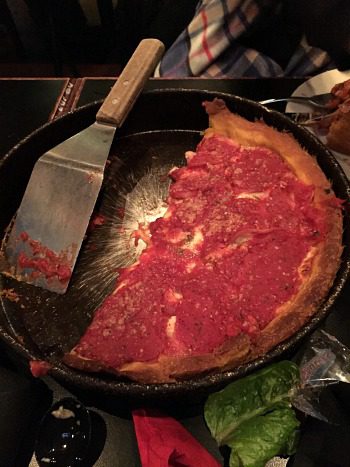 One sad issue with traveling is that you most often have to decline the offer to box up your leftovers because you don't have a fridge to store them in, or an oven to heat them back up! I did, however, call guest services at our hotel and very nicely asked for a mini bar fridge which they agreed to send up for us as a complimentary service. We simply can't eat it all though so this piece from our veggie pizza is for you …