This summer, I had the chance to fly down from beautiful British Columbia to sunny Arizona. One of my favourite spots to stop by when I visit is Sedona, which is known for its beautiful red rock formations, hikes with stunning views, and local artisan markets. As an avid hiker, I made sure to get in my fair share of hikes while in the charming city but I ended up discovering something I had never heard of along the way. It was brought to my attention that one of my planned hiking spots had a vortex at the top! Having absolutely no idea what that meant, it gave me some extra motivation to reach the top and see what it was all about. Join me on my hike up Cathedral Rock as I learn about the vortex that lies at the top. Spoiler alert: It's not a magic space portal like I had hoped.
---
Climbing Cathedral Rock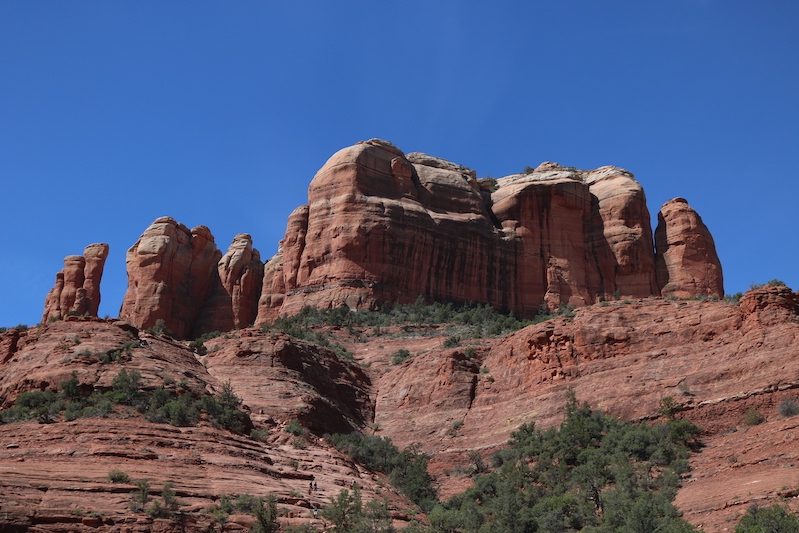 Having previously completed the Boynton Canyon trail (also home to a vortex) and the hike up to Devil's Bridge, I was confident in my abilities to make it up Cathedral Rock. You would think that something called Devil's Bridge would be difficult but it was actually a pleasant walk with only a short amount of steep climbing at the very end. However, when I showed up to conquer Cathedral Rock, I was met with steeper climbing than I expected but I embraced it! I was occasionally on all fours and watched as people's friendly dogs taunted me by zooming past with ease. The hike is generally short but the heat and the climbing tires you out faster. There really is only one area that requires using your arms and legs and once you get past that, it is more flat with some light climbing. It did not take long at all to get to a spot where you could already see a view that no picture could do justice.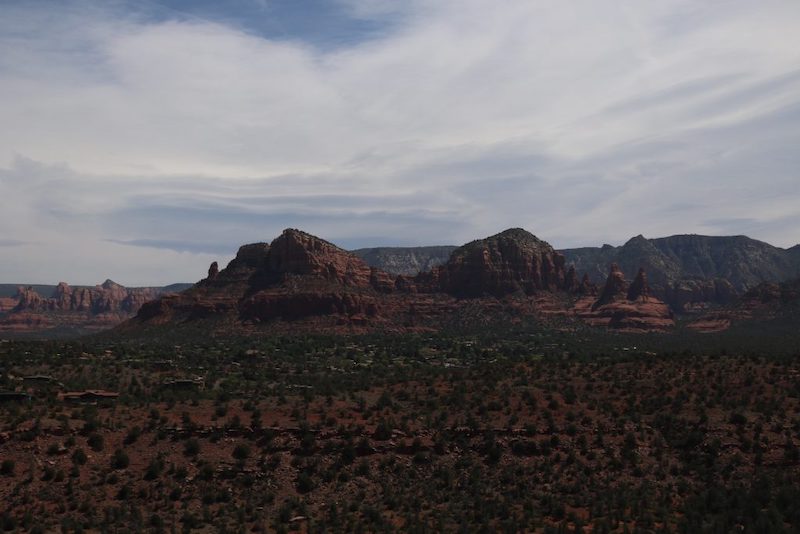 What Can Be Found at the Top of Cathedral Rock?
Refreshed by the scenic view, I carried on to the top where there are two popular photo spots. One known as "The Edge" and the other known as "The Pillar, which is where the vortex was said to be. The Edge is going to be the first thing that you see when you reach the top but it might not dawn on you to take a cool picture until you see others doing it. I took a few photos on The Edge which are pretty radtastic but I did not realize that I was taking them from a different angle than most. Apparently if you have your camera buddy take a picture from the side instead of straight on, you can get an illusion that you are right at, well, the edge! If you crop it properly, you can give some ambiguity about your surroundings.
The walk up to the edge looks skinny from afar but once you get to it, it's actually quite wide. I am usually one to avoid skinny cliff walks but I felt comfortable with how wide it was. On the day that I went, it was rather windy so I would not recommend going right up to the very edge because I felt as though the wind was strong enough to blow me off. Maybe doing a little bum scoot to the edge would be safer. Be prepared to wait in line for your photo if it is a busy day but I say that it is worth it! The people there when I went were respectful about being quick with their time and letting others go.
If a passerby on the hike did not bring up The Pillar, I would not have found it myself. All you need to do is walk to the left for about a minute and make another left around the corner. There, you will see the tall and magnificent pillar. I had never heard of a vortex before so I was not sure of what I was supposed to experience but I did feel a sense of peace and tranquility while sitting there. There was not a lot of people there since it is hidden around the corner but I feel like even if there were, it would still be peaceful. I made sure to get plenty of photos before leaving which was hard due to the height of the pillar but luckily, I had an ultra-wide lens.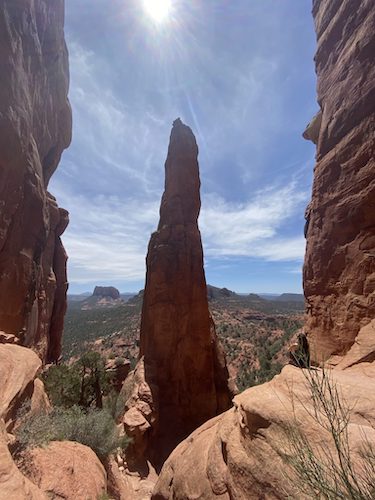 What on Earth is a Vortex?
The Sedona Visitor Information Center states that a vortex is believed to be a special spot where energy moves in a spiral and is either entering into the earth (feminine) or projecting out of the earth (masculine). Sedona, in its entirety, is actually considered a vortex but it is said that there are specific spots where the energy is more intense, such as Cathedral Rock and Boynton Canyon.
After finding out that Cathedral Rock was labeled as a feminine vortex, it made sense why I felt tranquil and grounded as the energy flowed into the earth. If I had traveled to a masculine vortex, I would be met with an upward and energizing flow of energy. While I may not buy into the spirituality of a vortex entirely, I cannot disagree with the calming and healing qualities of being surrounded by nature. Especially the stunning red rocks of Sedona.
Native Americans believe that spiritual transformation can occur more quickly and easily in Sedona because the veils to other dimensions are thinner here.

visitsedona.com
Some people claim that they can feel the energy in a vortex and that it is a powerful force in their spiritual development. It could even elicit a strong emotional reaction. I say that even if you don't believe in what a vortex can do, drop your guard for a moment and embrace the possibility of a new experience. Sit quietly and see what being in the presence of a vortex does for you.
Tips for Hiking Cathedral Rock
Sedona runs a FREE shuttle service to the Cathedral Rock Trailhead which means that you are unable to park there when it is running. It is an efficient service and there are volunteers around that are ready to point you in the direction of a parking lot that the shuttle stops at. When the shuttle is not in service, you will have to pay for your own parking at the trailhead.
Bring a lot of water and snacks. I ate some delicious grapes at the top and felt energized and refreshed. Be mindful of the heat. I would actually recommend doing this hike in the evening for better temperatures and a prettier view.
This hike is not easily accessible for those that struggle with mobility and balance. You will not be able to reach The Edge or The Pillar without climbing the steep rock seen to the right.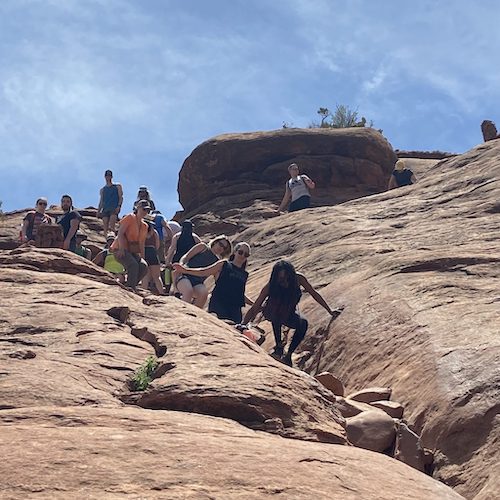 Will you be transformed by the vortex? There's only one way to find out! Visit Sedona and all it has to offer. Sedona is also not the only place where you can find a vortex! There are many vortices around the world including the Great Pyramid of Giza, Machu Picchu, and Stonehenge.