Don't have a reservation for a visit to Arches National Parks in Moab, Utah? Not to worry there are so many other incredible hikes and views in the area to arches, canyons and so much more. Corona Arch, a National Recreation Trail along the Colorado River is one such hike that can be enjoyed for free and with far fewer people than Arches National Parks, taking you on a hike through geological time.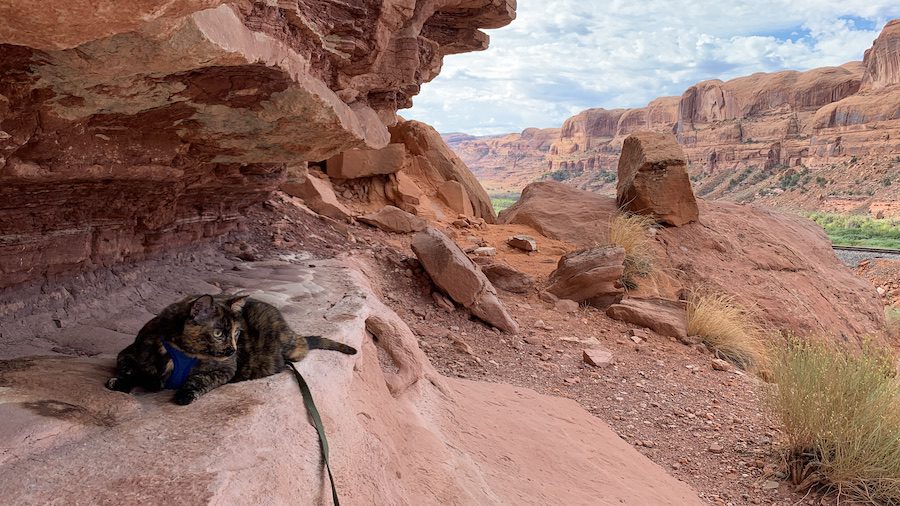 ---
An Unplanned Night at Gold Bar Campground
Having driven to Gold Bar Campground (a Bureau of Land Management Recreation Site) on Potash Road (Highway 279) on the Colorado River, outside of Moab, after dark (the side effect to thoroughly enjoying sunset in Arches National Park), I had no idea what to expect. Truth be told, I wasn't expecting much. This was just a place close Arches National Park that the father who I helped jumpstart his car suggested I could find camping for the night close by. Being a late hour, dark as stink and close to Moab, when I pulled into the campground I was so relieved to find a spot that I was ignoring the aroma of a urinal in the air. I did not have any expectations of what I'd wake up to being anything to write about. The previous night had been full of mixed emotions – the discovery that the campsite was already taken right after Ella (the tortie terror adventure cat) and I'd set up the car bed for the night – having to rejig and move the car to a pullover spot nearby – discovering Ella had hopped out of the car during the move to explore in the dark – fear as I searched for Ella in the dark that the nearby party campers would begin their partying and scare her before I found her – relieve that they were sensitive to the situation and that one of them helped me find her while she played silly monkey, hide and seek in the dark – and joy at Ella coming to curl up with me when she realized I was scared.
So really, I had no expectations of waking up to anything but the bright Utah sun, or at least I hoped, as there had been some storm warnings. To wake to find myself surrounded by the orange rock of Moab was all together incredible, and then to register that I must be near a popular hike with an information tent across the road and a number of vehicles parked there. Apparently a short hike away was a stone arch and a fallen stone arch. The perfect mornings adventure for Ella and I before leaving Moab.
Gold Bar Campground Details
Gold Bar Campground is a basic BLM (Bureau of Land Management) Recreation Campground with a shared boat ramp and beach.
Directions: From downtown Moab, drive 5 miles (8 km) north on Hwy 191 to the intersection with Hwy 279. Turn left (west) on Hwy 279 and drive 10 miles (16 km) to the campground entrance on the left.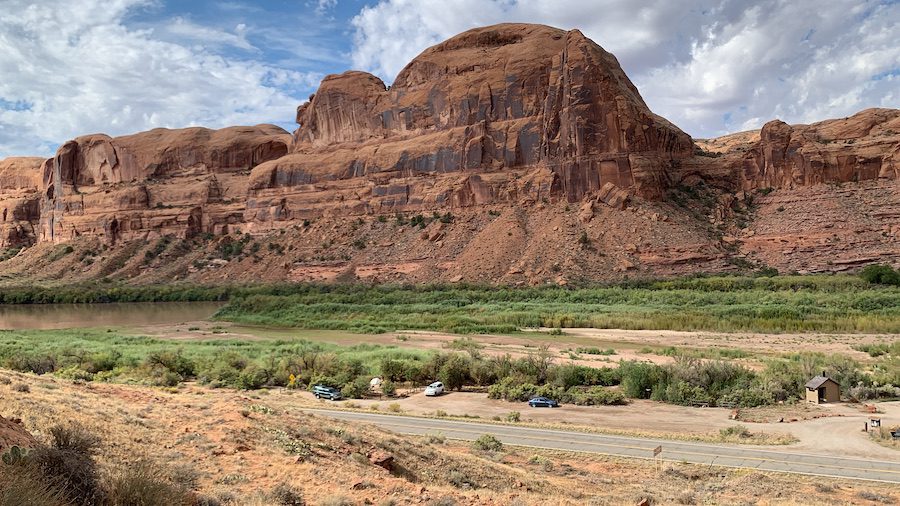 There are 9 individual campsites available on a first come-first serve basis.
You may have up to 10 people and 2 vehicles / site.
Each campsite includes a fire grate and picnic table.
There is also a vault toilet shared between the sites.
At the time of writing this, the campground fee is $20 US / per night, with an honours box for paying for the site by cash or cheque.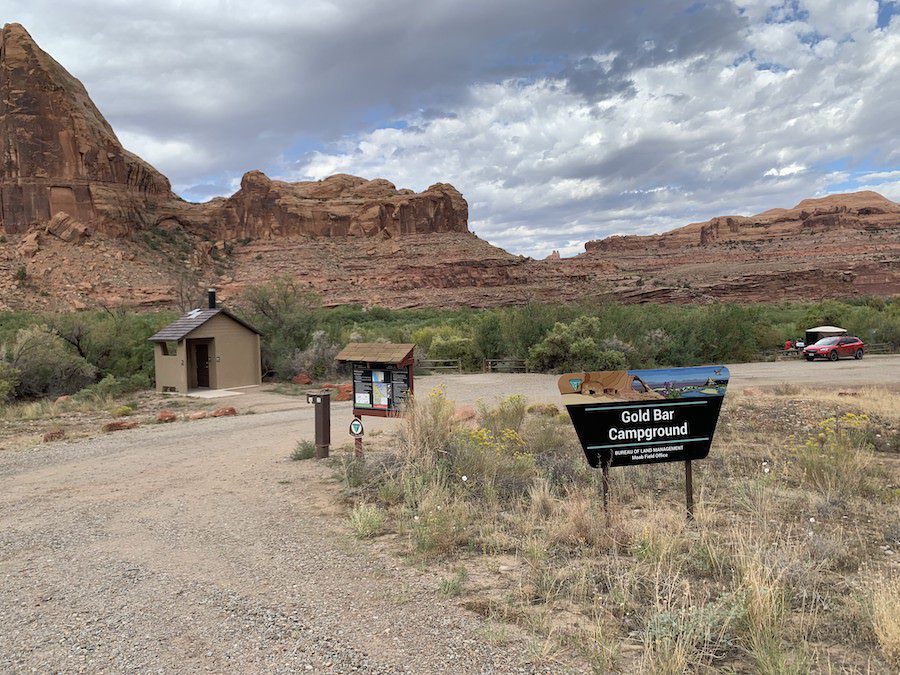 Gold Bar Campground also has 4 group campsites that must be reserved in advance on recreation.gov. Group sites which are designed for large gatherings such as school groups or family reunions, cost between $138 – 258 US / 2-night stay. Group areas have:
fire grates,
picnic tables,
shared vault toilets, and
sites A, B, and C have shade shelters.
The individual and group campgrounds do not have water, dump stations or electric hook ups.
Oh, and as it turns out, the smell from that first night was not the campground, but a smell that was present everywhere in Moab. Perhaps the river?
---
Corona Arch Trail: a Moab Hike
The Corona Arch Trail is the perfect hike for almost all abilities. I say almost all, as it is not wheelchair accessible and there is a short uphill climb at the start of the trail, which is by far the most strenuous part of the hike. That aside, most of the rest of the trail is flat or gently sloping, through a desert-like environment, meaning we ran into hikers of all ages and most abilities along the way. I was glad though that we were doing this hike in the morning, as there was limited shade and I suspect the sun could be furious during the height of the day. Translation: go early or late in the day, take lots of water, and wear sunscreen and a hat.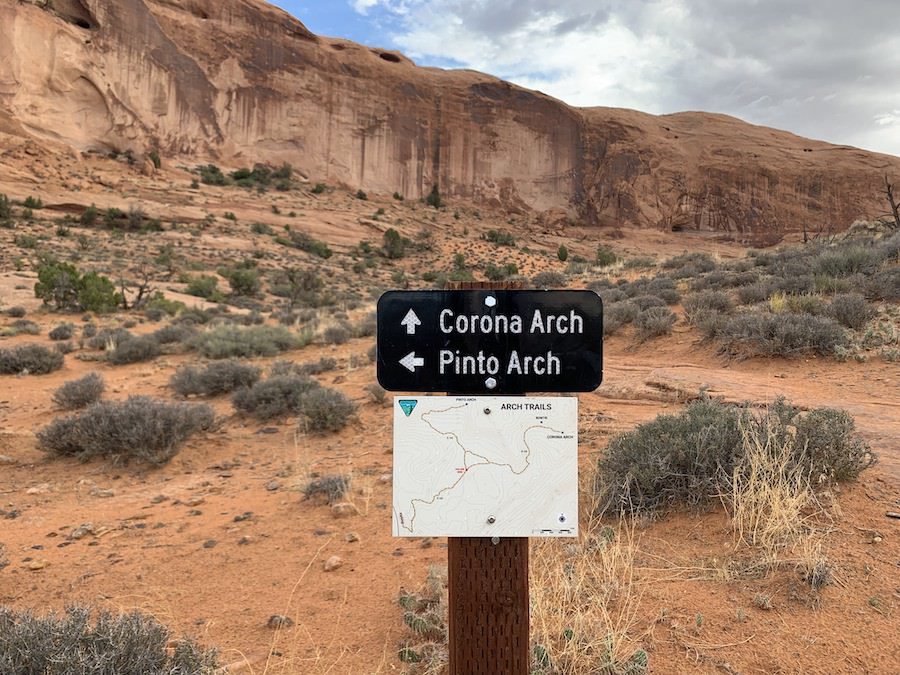 Trail wise, there are three choices: the Corona Arch, the Pinto Arch, or doing the round trip to see both. While I would have dearly loved to have done the round trip, I decided between my back and hiking with Ella, that we would just focus on the one. Not remembering which was which, we hiked to the Corona Arch. As you can see it provided some spectacular views, particularly of Bootlegger Canyon.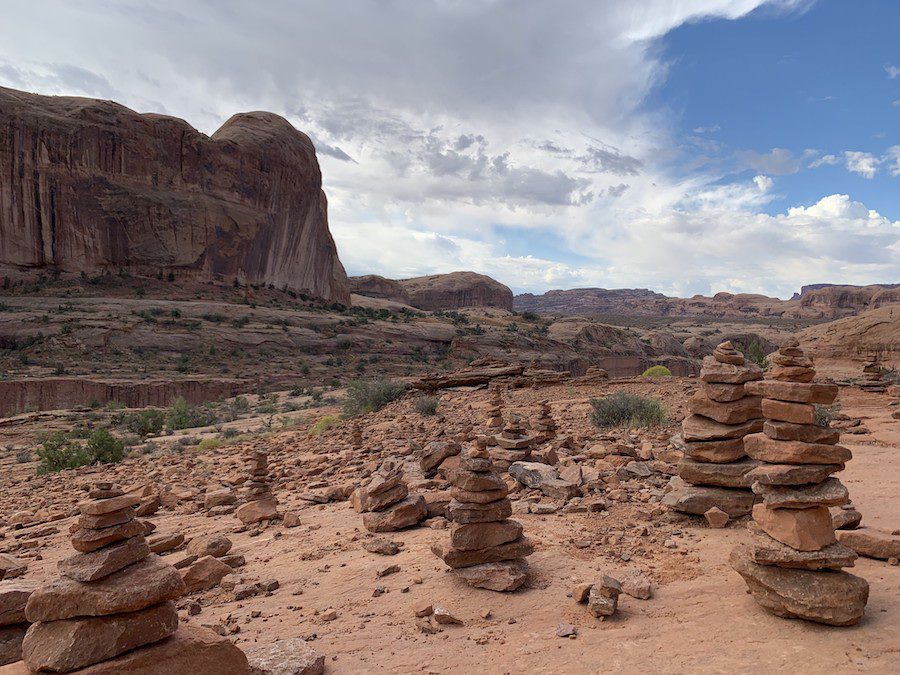 To reach the actual arch you have to do a bit of a rope climb that other hikers told me was not difficult, but with hiking with Ella and dealing with some balance issues, I decided I was happy to enjoy the views from the edge of the rope climb, where I could see Bowtie and Corona Arches from and enjoy that as the highlight to my hike.
Corona Arch Trail Details
Moderate hike through a mostly flat desert with some inclines to climb, and ropes and ladders in places.
Some exposure to heights on Bootlegger Canyon.
Inaccessible to wheelchairs and strollers.
Limited shade – bring a hat, water (and a snack) and sunscreen.
Parking and access to the trail is free, but please register that you are on the trail at the visitor registration box by the railway.
Length of Hikes: Corona Arch Trail – 3 mile (4.8 km) round trip, Pinto Arch Trail – 3 mile (4.8 km) round trip, Corona and Pinto Arch Trails – 3.5 mile (5.6 km) round trip
Pet-Friendly hike, as long as they are on a lead.
Directions: From downtown Moab, drive 5 miles (8 km) north on Hwy 191 to the intersection with Hwy 279. Turn left (west) on Hwy 279 and drive 10 miles (16 km) to the campground entrance on the right.
Hiking Through Geological Time
You can't hike the Corona Arch Trail, or really anywhere in Moab without pondering the geological history of the area, as there are so many beautiful rock formations.
I learned about the geology of this hike from a number of sources, including Grand Canyon Trust, Moab Happenings, and the Utah Geological Survey.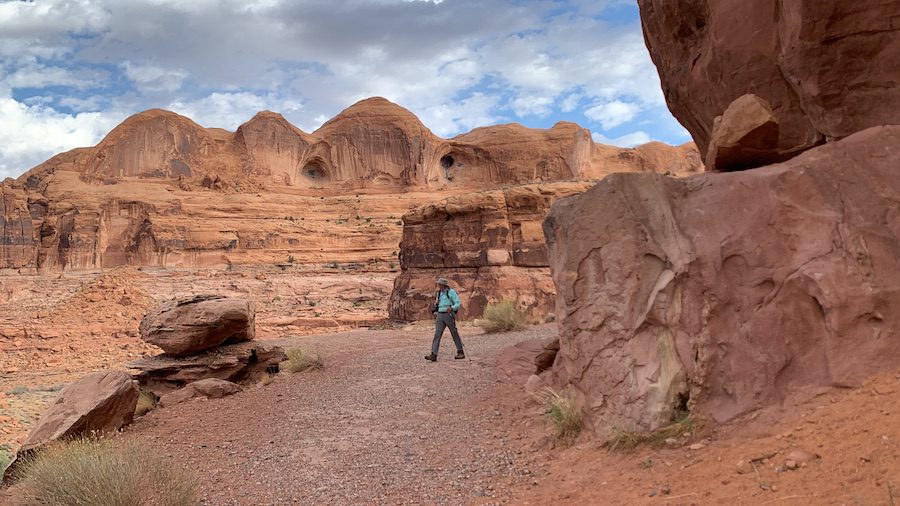 Mile 0
The trail begins in the Kayenta Formation. This geological layer was deposited in a series of broad shallow rivers flowing across arid lands of what is now Utah.
Hikers quickly pass from the Kayenta Formation to the Navajo Sandstone early on in the hike, shortly after they take the right turn past the rail line and scramble up the incline. If paying attention, hikers can identify the Kayenta-Navajo contact layer by the lowermost massive light-coloured eolian (sand dune) sandstone layer.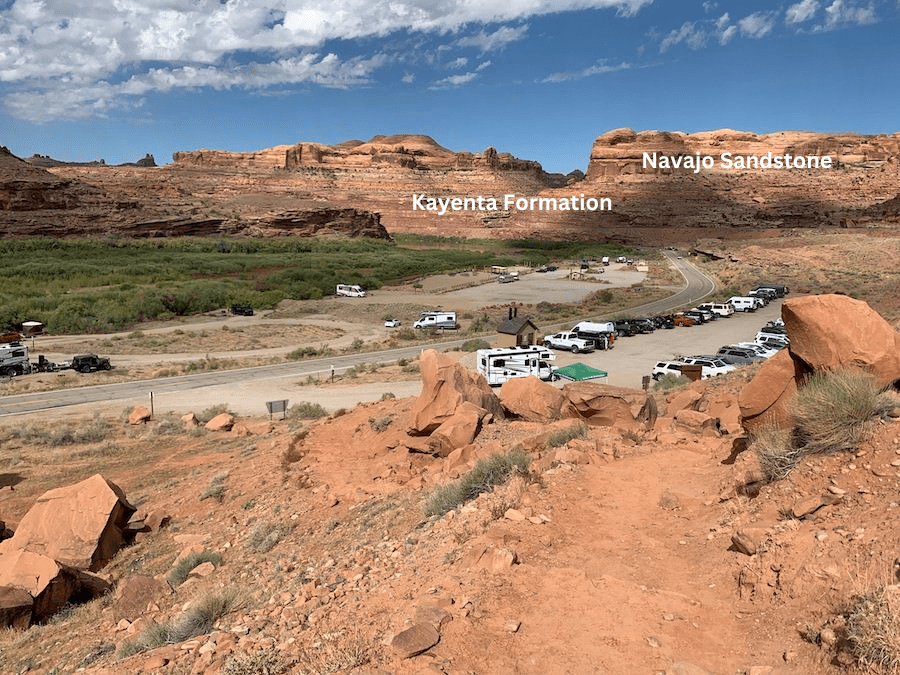 Most of our hike is through the Navajo Sandstone. This formation was created gradually as the environment changed from one dominated by sandy rivers during Kayenta times to that of a large sand dune system that created the Navajo Sandstone 185 million years ago. This was a result of the environment becoming more arid and layers of fluvial (river-deposited) sandstones alternated with eolian sandstones.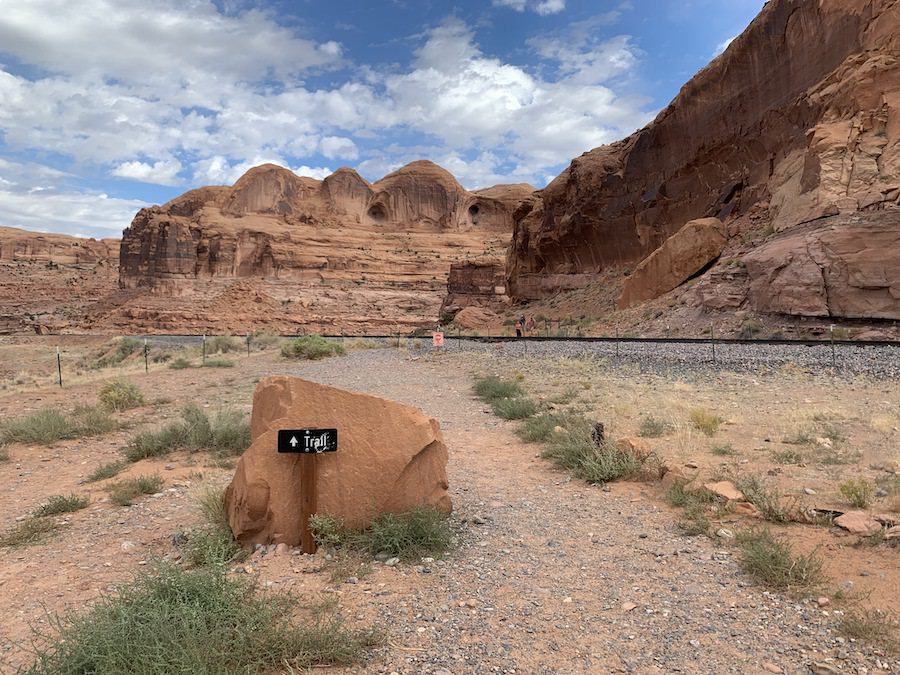 It is Navajo Sandstone that is the 'rock star' of this hike, as well as Zion and Capitol Reef National Parks, and Glen Canyon National Recreation Area. Navajo Sandstone also plays supporting roles in Arches and Canyonlands National Parks, forming one of the most beautiful rock layers in southeastern Utah, consisting of crossbedding (inclined laminations that formed on rounded dune surfaces as they migrated in the wind), hanging gardens, and spectacular natural arches.
Mile 0.1
Upon reaching the top of the initial incline, you will cross a railway. This rail line leads to a Potash mine. Potash is a potassium-rich salt (potassium chloride) that is mined from underground deposits formed from evaporated sea beds millions of years ago. Potash acquired its name as potassium was originally derived from plant ashes soaked in a pot of water.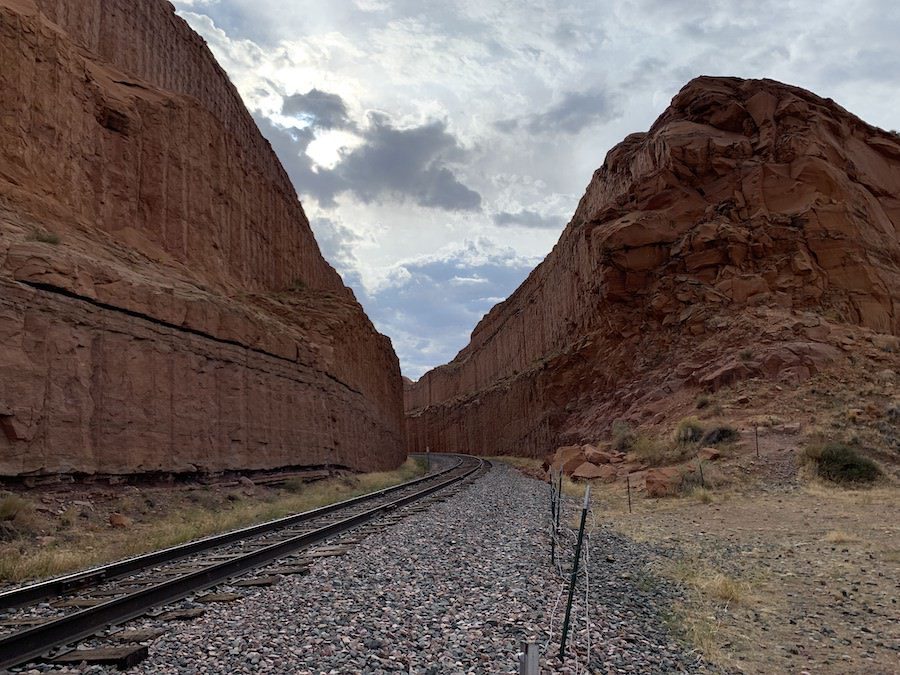 Mile 0.2
Look underneath the rock overhang at the side of the trail, as the trail takes a sharp turn to the right. Here you will see an excellent example of mud cracks in the rock. Mud cracks form when sediments containing a lot of clay shrink as they dry. These fill in with sand from the layers above.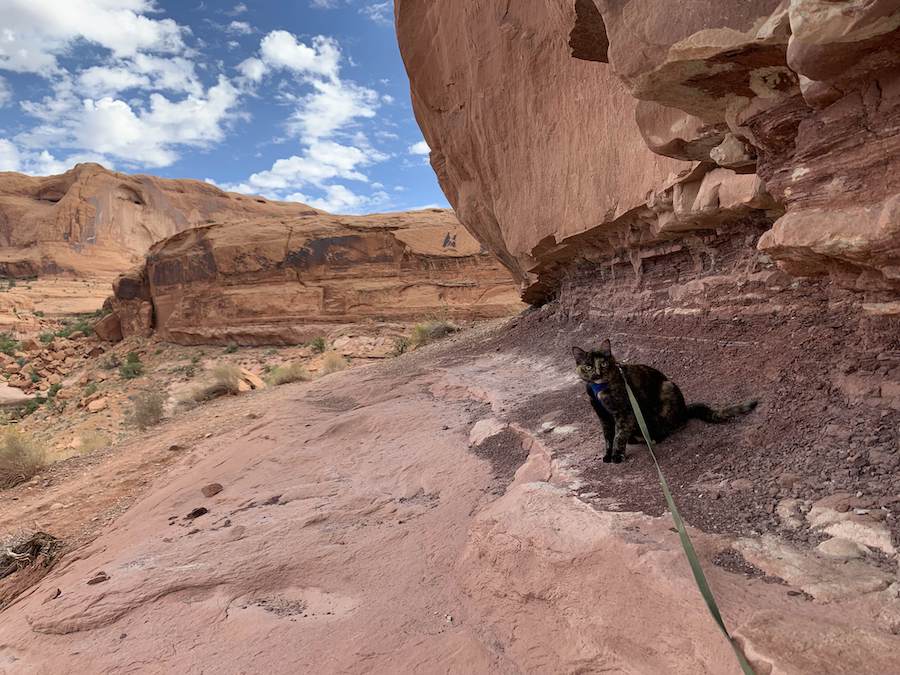 Mile 0.4
Once you go up the incline here, you will find yourself entirely surrounded by Navajo Sandstone.
From here if you look closely, you can see Pinto Arch in the wall of a large bowl around the corner of the dome straight ahead and to the left. It can be hard to see depending on the light because sandstone, rather than sky, is visible through it.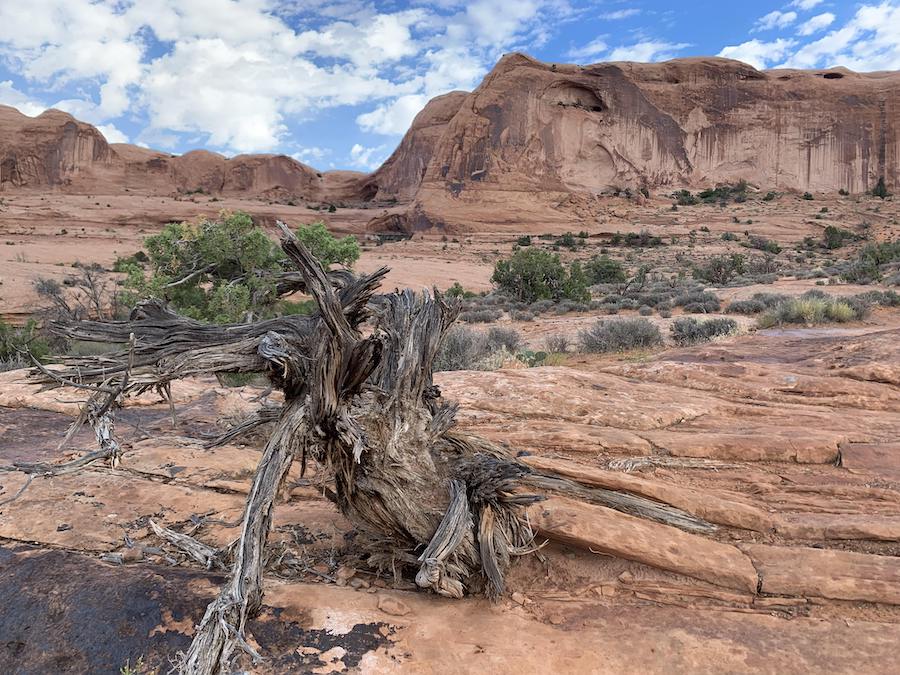 Mile 0.6
As you approach Bootlegger Canyon, under foot you will find yourself on a section of Navajo Sandstone slickrock. Straight ahead and to the left you will see large domes of Navajo Sandstone, but Pinto Arch is now out of sight, on the other side of one of these domes.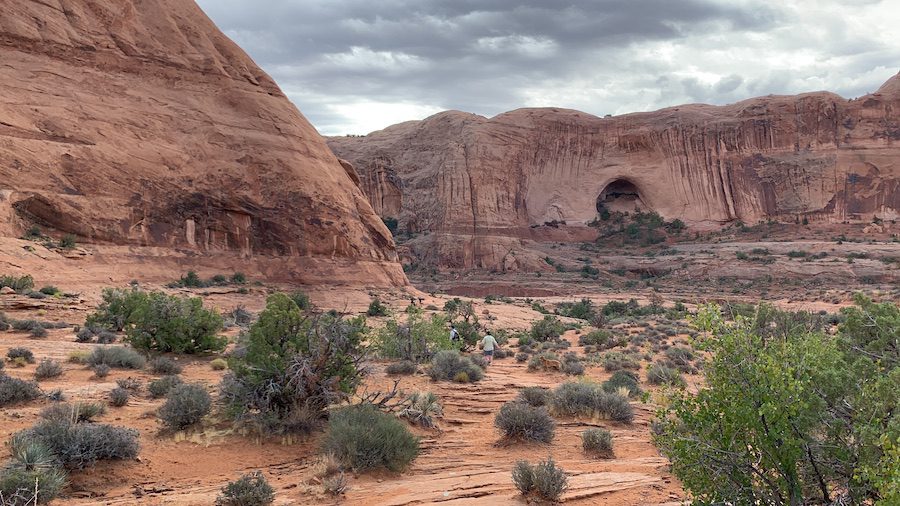 To your right, you will find a broad bench at an elevation slightly higher than the trail. This bench is part of a fluvial terrace capped by cobbles that were deposited by the Colorado River at a time when it shared this floodplain . Terraces are remnants of a stream's former floodplain, now above the current channel after it downcuts or incises into a valley. This terrace is the highest on the Colorado River in this area. It was deposited here approximately 200,000 years ago when the river was approximately 300 feet higher here than its current elevation.
Mile 0.8
Following the cairns to the left along Bootlegger Canyon, as you reach a cable providing handholds up a section of slanted slickrock, look straight ahead to see Bowtie Arch and Corona Arch.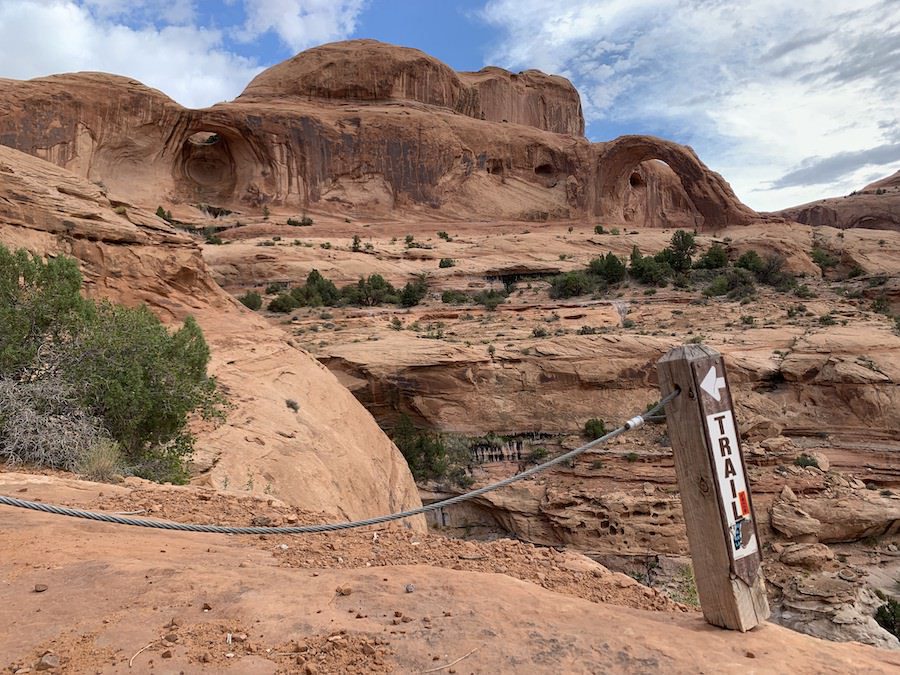 Due to balance issues and hiking with a cat, who has a mind of her own (especially when climbing), this is where we turned back. But for those without such concerns, I have heard that it is beautiful to enjoy the view from below these arches.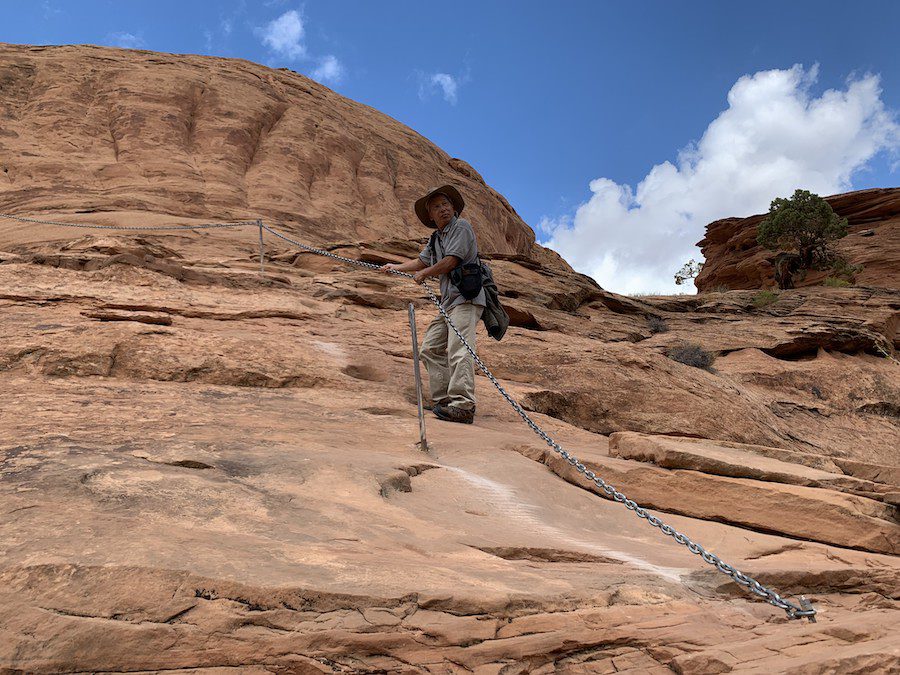 If you carry on, you will reach Bowtie Arch at Mile 1.15. This is a pothole arch. Potholes are depressions in slickrock caused by the dissolution of the cement that holds together sand grains. Pothole arches form where a pothole intersects an alcove or overhang cut into a cliff face. In the case of Bowtie Arch, it was created by water percolating down through the sandstone above an alcove, so the opening is in the roof and the front part of the alcove forms the arch. Bowtie Arch boasts a hanging garden underneath the arch, thanks to water seeping out of the rock.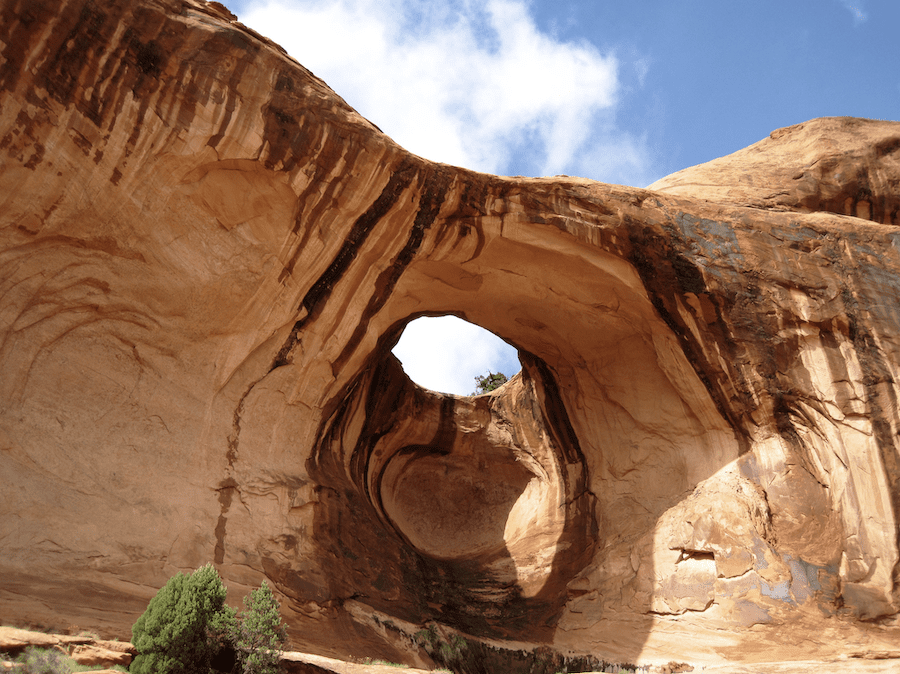 Upon reaching Corona Arch at Mile 1.3, you have reached the end of this trail. This graceful arch is formed of a fin or thin rib of sandstone between small drainages in front of and behind the arch. Weathering and erosion have created the opening in the thin rock ridge. Part of its beauty is enjoying it and the light from different perspectives around it. You may also hear this arch called the Little Rainbow Bridge due to its resemblance to the famous Rainbow Bridge.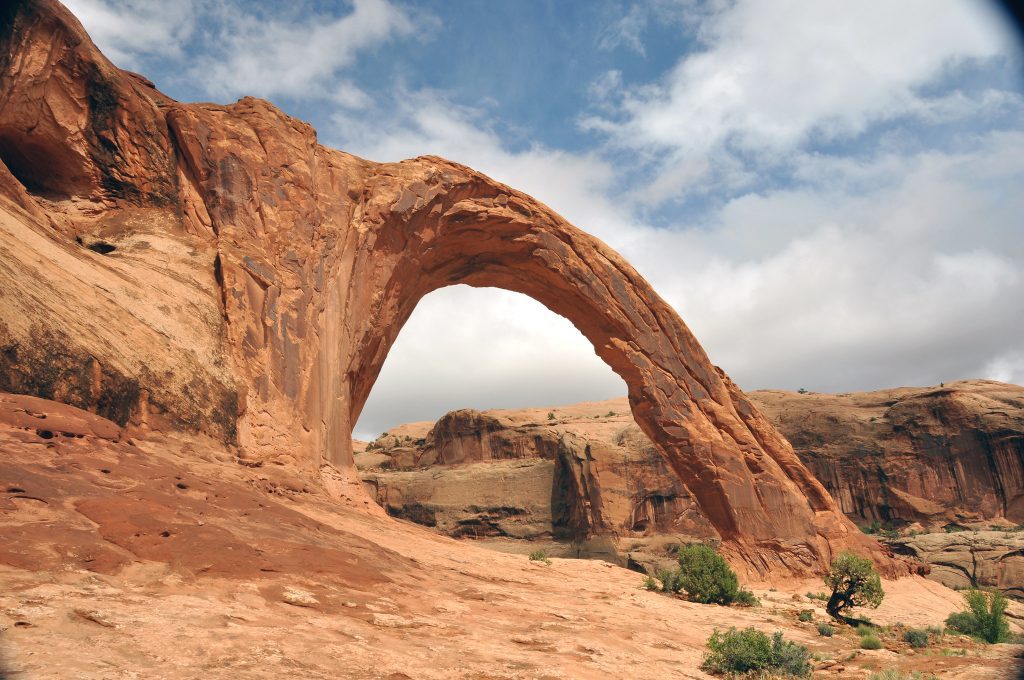 Flora on the Corona Arch Trail
In addition to the geology, I also enjoyed to plant life along the way, and colour contrast between the rocks and blue sky.
For me, the most striking plant on this desert walk is the prickly pear cacti. I would so love to visit in April or May, when they are in bloom. The fruit that this cactus bares after flowering, is called tuna. It is deep red with little spines of its own to protect this sweet fruit, which has been used to make a delicious range of treats from jelly to wine. First eaten by Native Americans, this sweet treat is compatible with diabetes and can also be used to create deep red dyes.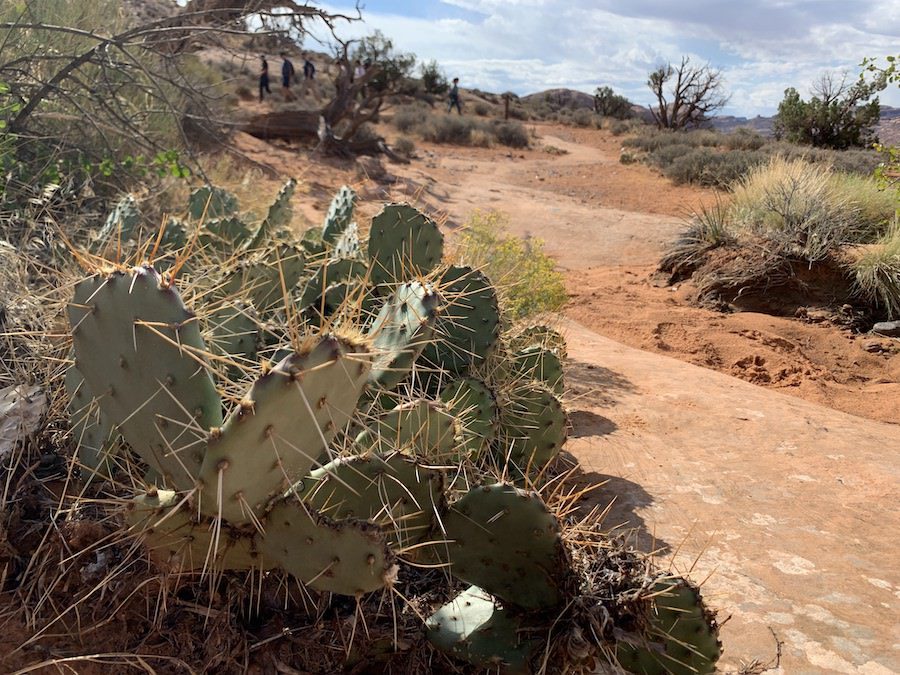 Some of the other plants we encountered on our walk were Mormon tea (the boiled stems of which can be used to make a tea that works as a decongestant), blackbrush (an important winter forage for desert bighorn sheep), and Utah juniper (a conifer that carries many medicinal uses).
---
More to Explore with BLM Recreation Sites in Moab, Utah
Not only did I wish I had longer to hike to Pinto Arch, but as I drove back up Highway 279 towards Moab, I realized how many other interesting BLM Recreation Sites there are to explore in the area, as well as things to learn about, like the petroglyphs covering the rocks bordering Potash Road.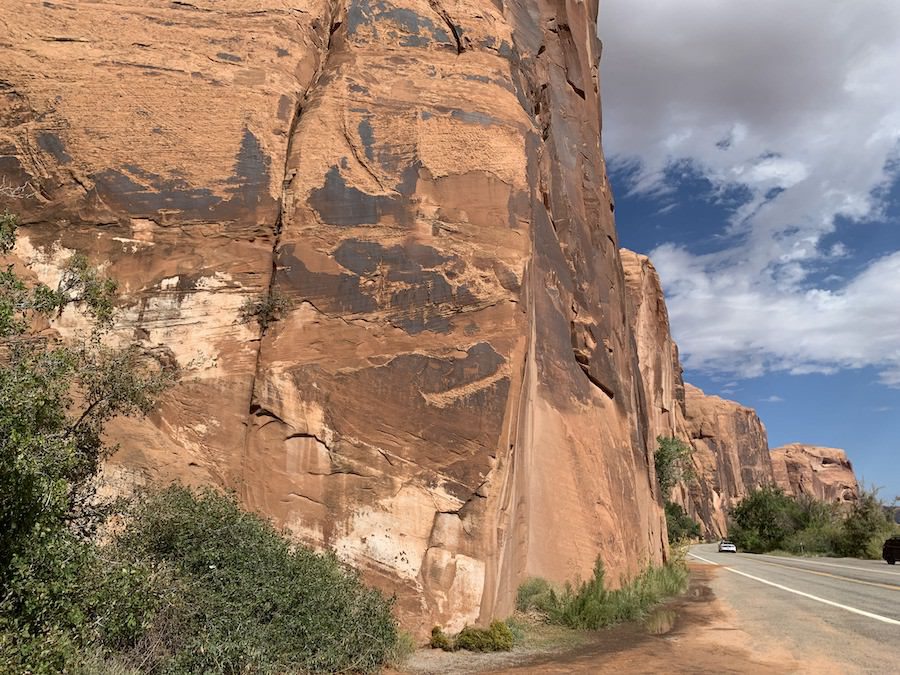 We will definitely have to plan for a return visit.
Share your Stories
Have you visited the BLM Recreation Sites outside of Moab? Do you have a favourite site? We'd love to hear your stories from the area in the comments below.