On Wednesday I received a text from my friend Francis, asking me whether I wanted to go on a road trip, and honestly, I was not entirely sure it was a good idea. I am quite lazy; I can sleep for ten hours straight without waking up. Now when he told me that we might meet at eight, the sleeping monster inside my head was already complaining about the shorter sleep I would get that night. However, not taking any summer courses, I decided to go.
When I woke up, I was a bit worried since the weather was not as nice as I had expected it would be. It was raining slightly, all I could see was the big grey cloud that was hiding the sun. Anyway, the weather did not affect my excitement to go to Squamish for the day. "Squamish, here I come!"
Squamish is not very far away from Vancouver. I think it just took us less than two hours to get to the Welcome Centre. If I was going on this road trip with my parents, I would probably fall asleep during the ride. However, going with friends, especially when sitting in the front seat, there was no way I could fall asleep thanks to the constant worry that we'd get into a car accident. Sorry Steven, I am not saying you are a bad driver. It's just how I roll. Hey, I am glad I did not fall asleep 'cause the views along the way were breathtaking.
Looking ahead, I saw enormous mountains which were like many fluffy green giant hedgehogs. Although the trees looked so tiny from afar, I could still see each of them reaching out from the ground to the sky, like parts of the hedgehogs' spines. On my right, I could see rock formations, but could not really tell what kinds of rocks they were — geography not being my best subject in high school. Nevertheless, the walls of rocks amazed me. I remember looking at this gigantic rock which was just mind-blowing, because it was purple and had such a smooth-looking surface. I just wanted to jump out of the car right then and take a picture of me pretending to lift it. On my left, I could see this huge calming clear ocean, divided into several shades of blue that showed the water's depths. Somehow, I could see the horizontal line dividing ocean and sky. At that moment, I felt like the wide-open ocean was contained in a box-like sky.
After gathering some information about the town, we decided to go to Alice Lake Provincial Park. (By the way, if any of you go to Squamish, do drop by the Welcome Centre. The workers were helpful. They gave us pamphlets and maps telling us where to go, that made it much easier to plan our trip.) Anyway, back to Alice Lake. When we first got there, it was still raining. The weather definitely affected how we approached the lake: since everyone was cold, we were not very eager to explore the place. There were at least ten trails for hikers, but due to the weather, we just walked around the park. The lake was quite huge and clear. It was surrounded by many tall trees, and in some hidden corners of the lake we found it full of water lilies. It would be nice to just float around the lake, looking at the branches swinging slightly on top and feeling the sun warming our bodies.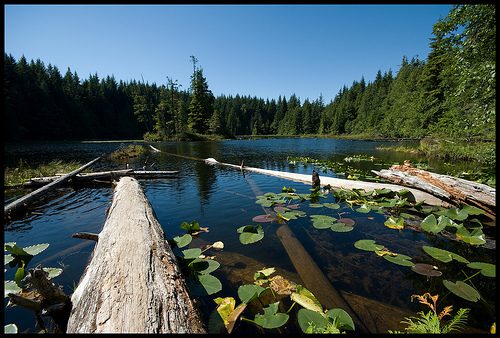 What a lovely place to swim in warmer weather!  As it is almost enclosed by the trees, it gave me the feeling of a private pool. I just have to get over my fear of what the animals are doing in the water.  I know this is silly, but I've grown up a city girl, not summering on lakes and ponds.
Alice Lake Provincial Park is a quiet, relaxing place for people to escape a busy lifestyle. There are several wood logs on the beach, allowing people to read or just chill with their friends. Also, there are lots of barbecue and camp sites around the lake making it an ideal place to spend a night: having a camp fire, staring at the stars, and hanging out with friends in nature.
At around one, Urbanspoon helped up to find a place for lunch – The Campfire Grill. The name just sounded brilliant since we wanted local food, instead of always going to the restaurant with the white chicken logo, a red haired girl or a big M. It was certainly surprise arrive and find a food truck. While we were wondering whether to stay, the lady in the window was already smiling at us and introducing their menu. With this warm welcome, we decided to give their food a shot. I ordered something called "Smokin' Threesome". I liked it's creative name a lot. It was three mini sandwiches with different meat: chicken, beef and pork. Each of them had a distinctive taste, and my favourite was the beef, followed by the chicken and pork. If a tiny girl like me could finish all of the three sandwiches (I am like 5'3), you can guess how yummy they were.
In addition to your main course, you got to choose a side dish. I highly recommend the BBQ Potato Salad, because it was just so refreshing. Remembering their food is already making my mouth-water. Oh, and try their pops, Stewarts as well. After a fulfilling meal, it was great to just burp with satisfaction.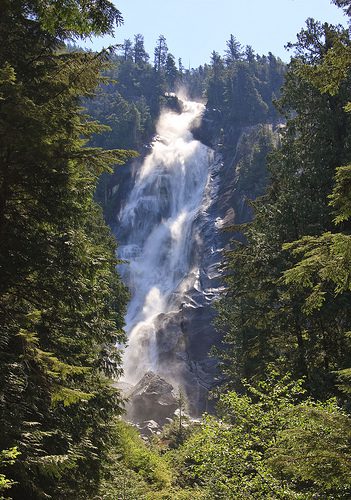 After lunch, we were off to the Shannon Falls. This place is a must-go since it will definitely make you appreciate nature and life in general a lot more. When we got there, the weather suddenly brightened. The sun came out from behind of the clouds and shone on this enormous waterfall. Looking at it from afar, all of us were already speechless. In order to get a closer look at the falls, we decided to climb the stairs, and it was worth the few minutes of hard work. I felt alive when I saw the water bursting out on top of the mountain and felt the sound of the falls bumping into my heart.  Nature gives me these moments of awe, where no word I can think of can describe my fascination. When we walked back down, we saw the water polishing the pebbles and stones into smoothness. At one point, I just wanted to take off my shoes and socks, walk down to the stream and feel the coolness of the clear fresh water on my toes. On the sides of the stream, there were some bushes and huge stones. I made a mental note that here might be a good place to read or chillax later.
Our adventure continued to the Britannia Mine Museum, and this was the last stop of our road trip. I remember having been to this museum when I was very young; however, since the memory was rather blurry, I was glad that we had decided to visit. The tour around the museum cost about $16, so it was not cheap. We had an underground train ride into the mine where we learned about the history of the workers and their conditions. It was super educational as the tour guide let us experience the loudness of the mining machines and the darkness of the mines, making us realize how dangerous mining can be. My favourite part of the tour was panning for gold. There is a technique to pan gold, and I've got to admit I have yet to master that skill. Luckily, I did pan out many bits of fool's gold and a thin piece real gold. The best part of panning for gold was that we got to keep anything we panned out. This was a good stop to wrap up our trip as each of us had a little souvenir to bring home.
This was definitely a good day trip from Vancouver for a bunch of University students, since it didn't have to be tightly scheduled and we could get back to town rather easily. One day if you feel bored being in crowded, busy city, then you should go to Squamish and explore nature. I am sure you will have as much fun as we did.