It happens. I'm sure of it – things like this happen. You never really know when or how or why it happens, but it does. Everyone must have experienced it at least some time in their lives, and it just so happens I experience it a bit more often than others. Not a big deal, really.
At least that was what kept me from panicking when I found myself alone, on a train slowly, but steadily taking me away from Rome, that apparently did not stop at every station. I had a map in my hand, but it was official – I was lost.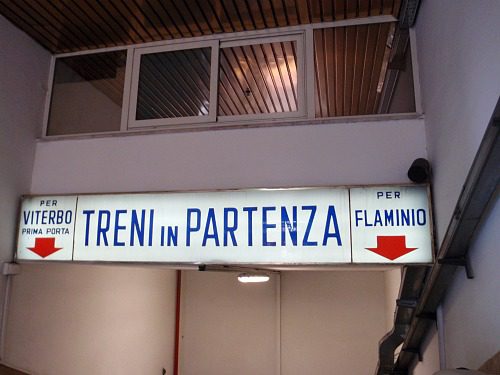 In my defense, I was very well prepared: I took a picture of the station name where I got aboard the train, and even though I could not find our hotel on the map, I still decided to take it, just in case. One of the main reasons I like trains and subways is because they stop at every station, and you can always get off, walk across the platform, and go back. But clearly I was wrong to make assumptions based on limited data. Next thing I knew, I was on a train that didn't stop at empty stations and I could see empty fields and forests outside the window. Not a good sign.
I did find a red button with the word "stop" on it, but I wasn't sure if it meant "stop I want to get off" or "stop there's a robber holding a gun to my head". I pressed it anyway. A woman was looking at me curiously, but she couldn't speak English. Just as I was expecting to have a panic attack and end up having to fly back to Rome, the train stopped. I got off, walked across the platform, and went back. Later back at my hotel, I found out the that the train station wasn't on the map, because it was technically not in Rome. Words of wisdom: maps are our friend only when they're big enough.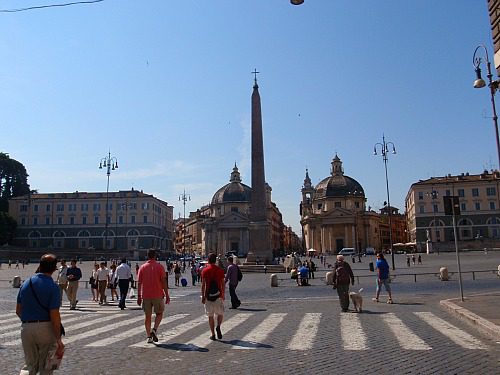 I finally arrived at my first stop of civilization – Piazza del Popolo. It was a plaza hidden behind a small, arch-like building that had a construction site in front of it. In short, not the most impressive entrance I'd expect a plaza to have. But of course, we all know too well not to judge a book by its cover, right?
It was my idea of Garden of Eden, or it was what Rome was supposed to be like: people moseying under the gorgeous blue sky, streets with yellow colored buildings that didn't look like stores. It was quiet; no cars around and no advertising signs. If I ignore those street lamps I might actually imagine myself to be in the 16th century.
On the other hand, there were modern stores. I saw H&M, Fendi, and many other brands written in Italian that I didn't quite recognize. It wasn't as modern as I'd expect a capital to be, but it was fairly appealing in its own European kind of way. It was relaxing. It was how a vacation was supposed to be.
Although I almost got lost in the morning – all right, I did get lost in the morning and was lucky to find my way back – I was glad to be able to spend an extra day by myself in Rome. I'm sure there were a lot of places I didn't get a chance to see, but walking along the rather empty streets of Rome, venturing into Piazza del Popolo, it felt like a way of saying hello to Rome. It was my first stop in my dream country, and we were only beginning to get to know each other.