I've always been bad with numbers.
Don't get me wrong – my math ability has not yet failed my Asian stereotype. But there's something about numbers that does not stick in my memory. As a result, history has never been my thing. As much as I would like to quote dates and statistics as if they've been printed with invisible ink on the back of my hand, I couldn't even tell you the price of my favorite purse. As much as I love stories and random facts, this kept me out of history, at least for many years.
They say good teachers don't just teach, they inspire. A great Social Studies teacher I had back in high school taught me how interesting history actually was. Listening to his lecture was like watching the latest TV show. Of course he didn't act things out, but the drama was never missing, and the stories were true. Despite still not being able to tell you what year World War I start, he got me hooked on history. And history was one of the biggest reasons I fell in love with Italy in the first place.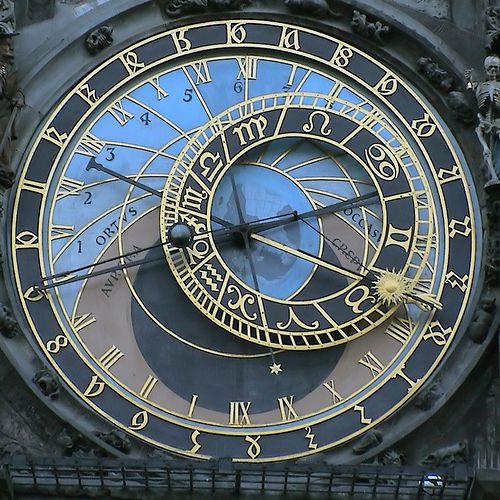 Our first stop as a tour group was Pompeii. It was sunny; the temperature was over 33 degree Celsius; and we were walking in streets built more than two thousand years ago. Few things can be more 'Italian tourism' to me. Our tour guide spoke slow but clear enough English, and my tour mates were just starting to remember each other's names. I had made myself acquainted with a couple of people, but I was actually more interested in something I had never dreamed of being able to bear – the history of the abandoned walls.
With thousands, if not more, archeological sites across Italy, what makes Pompeii special is not how it started, but how it ended. According to Wikipedia, Pompeii was destroyed in year 79AD by an eruption of a close volcano, and was buried under dust until 1749, when it was rediscovered. The volcano destroyed all the lives in this ancient city, but left the city intact for over one and a half millennium. It's as if the city has traveled through time, leaving its occupants behind, taking their stories to the future.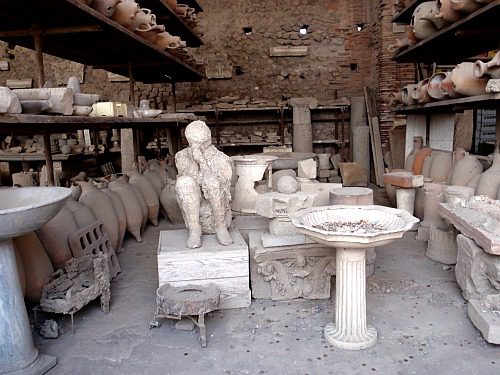 If I tell you exactly what I had learned that day, it would become a history lesson. But the fact is that being able to walk on the same ground people walked on two thousand years ago gives me a very deep feeling, as if I have somehow connected with these people who had no clue about my existence. I wonder hundreds of years from now, will there be another person thinking something like this about me?
It reminds me of some days ago, I answered a call from the Census office, asking some very general questions about me. At the end of the conversation, she asked whether it would be okay for people to use this information 97 years from now. I remember thinking: why 97 years? Why not simply "after you die"? Anyway, I said yes and a picture of me being a part of a big number on an old, yellowish page popped in my mind. I wonder how many people are able to remember that number.
Despite making me think about these existential questions, Pompeii was a decent tour. It really showed how smart we were and how we have not been evolving as fast as we think we are.
For example, like all ancient cities, Pompeii was centered on a sanctuary – in this case, the Apollo Altar. Visitors had to dip their fingers into the holy water and touch their foreheads with it before entering into the altar, as a way of purification. Does this ritual sound familiar?
Pompeii was also a very metropolitan city. Merchants from many places, speaking dozens of different languages, all came together in this multicultural capital. Stores, spas, even bars had been set up to entertain the visitors. Symbols were carved into the walls of stores in order to diminish the language barrier. Crosswalks and 'parking' places (i.e. where you can tie your horse or cow) were also set up along the sidewalks.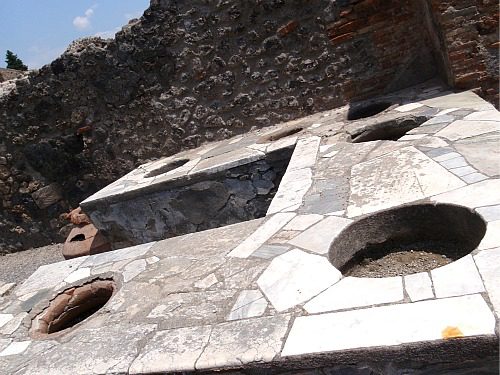 With all these history lessons I learned from the two-thousand-year-old streets, I guess there isn't a moral of the day. As I sat with the evening breeze and my delicious dishes with unpronounceable names, I consider it a good day. The next morning we would leave these brown walls and head south. With stronger sunshine, higher temperature, and more history lessons to come, I couldn't wait to hit the road.