There are some performances that give so much more than you could ever expect. The Electric Company's All the Way Home blew my small-minded idea of a night at the theatre so far away that I am fairly certain it will never return. All the Way Home renewed my faith in the power of theatre to alter an audience forever. I don't think I could say this with as much conviction if I had seen Tad Mosel's play performed, however brilliantly, from one of the plush red seats in Queen Elizabeth theatre.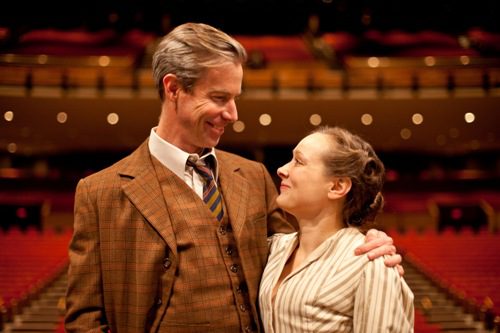 This play is performed behind the curtain, right on the actors' turf, with the audience seated in a rough oval around the characters. Unlike regular plays, where audience and cast are parallel bodies that never come into contact, the set in All the Way Home includes the audience. Actors move in front, around and behind, immersing us in the story.  Imagine being able to sit at the kitchen table where the characters are in the middle of a family argument, or be only a foot away from the wicker rocking chair where a father soothes his child with a song.  Imagine the faces of the audience members lit up as brightly as the actors' telling their story beside them, and being huddled around the performance like we were all part of one very big family. I can only say this: if this is how moving theatre is up close, I never want to be in the lonely tundra of an auditorium seat again.
Okay, even I know that perhaps not every play is suited to such closeness between audience and actor. But All the Way Home is about family, and in the simpler time and place that was a small town in 1915, where ideas home and hearth must have been much stronger than they are now.  Rather than a fast-paced plot, the action in this play is subtle — it occurs in the little revelations that emerge about the characters and their relationships with each other. For the first part of the play, we fall in love with the Follet family. Even though Jay and Mary Follet have irreconcilable beliefs about religion and parenting, the sweet, flirty love between them, and their tenderness towards their son Ivan make the Follet's home seem like a nest — delicate, precious, and loved. The arrival of Jay's family, including his  raucous, jealous and drunk brother Ralph (played by Haig Sutherland), shake things up in the Follet household, and the ruckus that ensues surfaces old hurts, new snubs, sibling rivalry — all that's to be expected from a real family reunion. The ins and outs of family life are bitter and sweet in this play.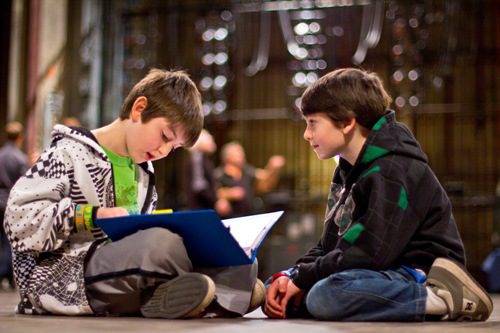 Upon this relief are cast the darks and lights of loss, hope, renewal, life and death. There are many elderly characters in this play, and their frail health is a constant reminder that the family is vulnerable to deep loss, and must experience it in time. An unexpected death shows us how deeply such loss can rend the heart of one who loves. It is touching how the family stays by one another during the time of mourning, even though most members are almost comically inept at providing consolation. The play shows us great love and its counterpart, terrible grief; the descent into despair and the gentle, slow return to life and hope that follows such a rupture. The motley crew of the family that never leaves its own, even when spurned, carries us resiliently to the end with comforting stability. At almost every turn of the performance there is a song, sung by members of the actors on stage or off stage. The melodies are lively, soothing, sombre, sad and so beautiful because the voices of the variously-aged cast members are distinguishable even as they come together so harmoniously.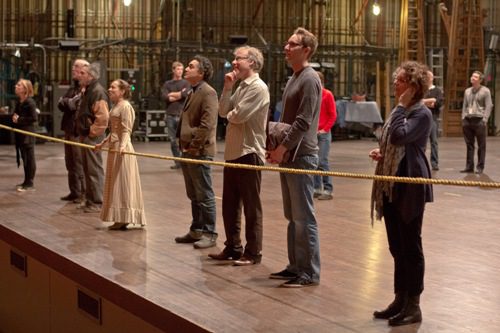 Big thanks to the talented cast for their brilliant performance and hard work. It is impossible to mention everyone that appeared in this beautiful play, but some faces include: Meg Roe (Mary Follet), Johnathan Young (Jay Follet), Jordan Wessels (Ivan Follet), Nicola Lipman (Aunt Hannah/Great-Great Grandmaw), Haig Sutherand (Ralph Follet) and Gabrielle Rose (Catherine Lynch/Aunt Sadie Follet). The creative team behind the play have earned my eternal awe and gratitude: Director Kim Collier, assistant director Marisa Smith, Alessandro Juliani (Andrew Lynch) for musical arrangement & design, artistic director Kevin Kerr, set designer Marshall McMahen, costume designer Christine Reimer, and lighting designer Adrain Muir.
You can see The Electric Company's production of All the Way Home at the Queen Elizabeth Theatre downtown from Jan 10 – 14. Showtimes are at 8 pm, with a noon matinee on Saturday and a 3 pm matinee on Sunday.