A couple of months ago, I unexpectedly found myself in Switzerland. How does one unexpectedly end up in Switzerland, you might ask? Well, while I thought it might be a few years before I found myself in Europe again, a cousin of mine announced she was getting married and the next thing I knew, I was meeting my dad and two sisters in Geneva. Though the wedding was in Zurich, we started in Geneva to explore the beautiful country on our way to Zurich.
With limited time, we decided to spend one day travelling from Geneva to Zurich while making stops along the way. My sister, a cheese fanatic, insisted we stop in the town of Gruyère (yes, of the cheese). We also chose to stop in Lucerne before arriving in Zurich that evening.
We caught an early morning train out of Geneva, transferring in Montreaux to catch the scenic GoldenPass train, a train with overhead windows for maximum scenery. As it was my first time in Switzerland, it was the perfect way to catch some panoramic views of the beautiful Swiss countryside. The hills and mountains were so picturesque that all I wanted to do was run out and yodel.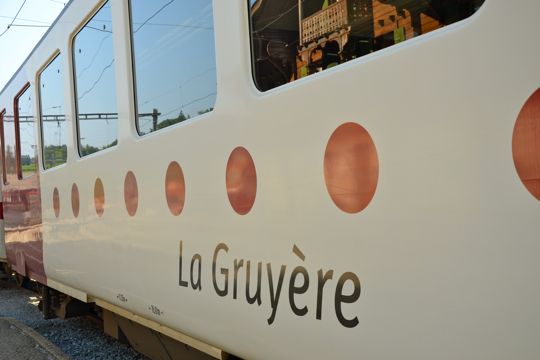 We transferred to another train, this time a smaller one, and arrived at the Gruyères train station. The medieval town, surrounded by a castle wall, was up on a hill so we had to hike up from the train station to reach it. We were rewarded with a charming little town and beautiful scenery of the surrounding area.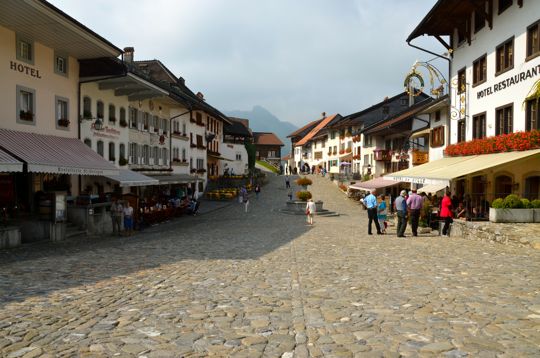 We visited the Castle (Chateau Gruyère) first, wandering around the various rooms and admiring the armour of knights long ago. However, my favourite part was the gardens, which were blooming with colour, and the views looking out, which were like a pastoral heaven.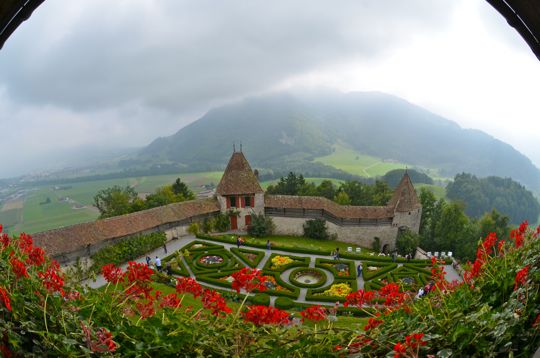 By the time we finished at the Castle, our bellies were rumbling so we stopped for lunch at Chalet de Gruyères. When in Gruyères, what else do you get but cheese fondue? We helped ourselves to bread, potatoes, shallots and gherkins dipped in melted Gruyère cheese. For dessert, we enjoyed Gruyère cream over meringues and fruit – I confess, we may have had meringues and cream almost every day we were in Switzerland.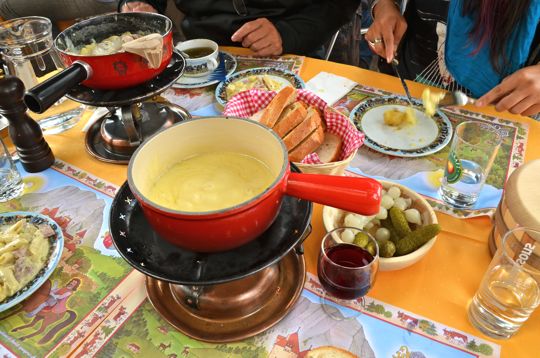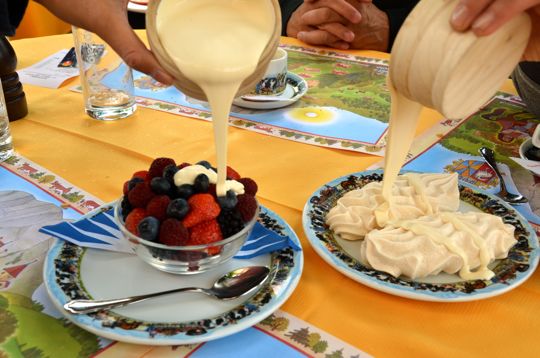 Before leaving Gruyères, we stopped, of course, at the cheese factory. A short tour took us through an informational exhibition and to the production area where we watched raw milk swirling around in copper vats. Afterwards, we were able to view the many wheels of cheese aging in the storerooms. More than one mouth may have begun to water at that point. Despite our fondue lunch, I admit my favourite part of the tour was the complimentary Gruyère cheese samples.
Following the tour, we hopped onto a train to Lucerne. We knew nothing about Lucerne; a woman at the train station in Geneva had recommended the city for a visit. Luckily, we found a tourism office which produced a wonderful self-guided tour map. The walking tour took one through the city with suggested stops and sights along the way. Since we were only there for a few hours, it was the perfect way to acquaint ourselves with the city.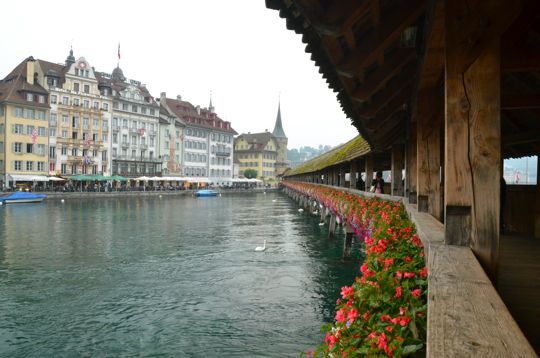 We started off by crossing the Kapellbrücke, or Chapel Bridge, a covered footbridge across the Reuss River. I was most keen on seeing the Lion of Lucerne, a memorial to Swiss mercenaries who were killed at Tuileries during the French Revolution. Mark Twain called the cliff face sculpture "the saddest and most moving piece of rock in the world," and when I saw it I couldn't help but agree. It brought to my mind The Lion, the Witch, and the Wardrobe and the scene where Aslan sacrifices himself on the Stone Table.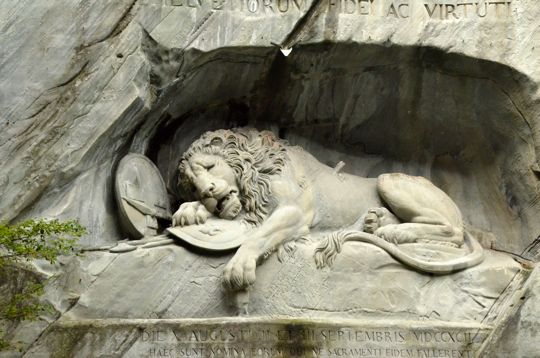 We continued to walk around Lucerne, visiting the Old Town as the sun went down. We were all smitten with Lucerne and its lovely river and beautiful buildings. "If I were to live in Switzerland, Lucerne is where I would want to live," my sister said. We all concurred. There was a romantic feeling to the city we couldn't deny.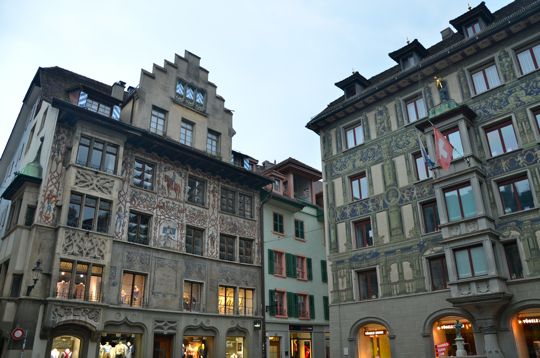 We finished the day off with dinner along the river where I had the best beet soup of my life. Months later, my sister and I are still drooling over the memory of it. It was the perfect end to our time in Lucerne. After dinner, we strolled back along the Kapellbrücke to catch our train to Zurich. Though Zurich and my cousin's wedding were always our destination, I think it's the memory of the day we spent travelling through Gruyères and Lucerne that will stay in our hearts the most.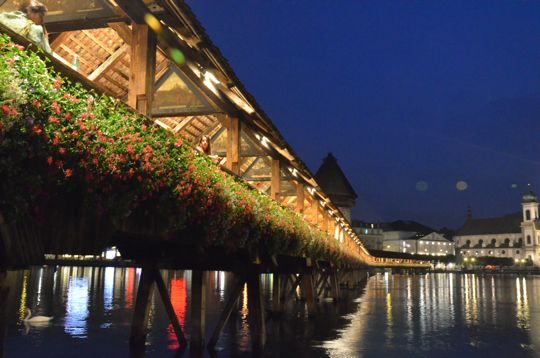 Disclaimer: A train pass was provided by Swiss Tourism. However, my opinions on travelling through the country are my own.