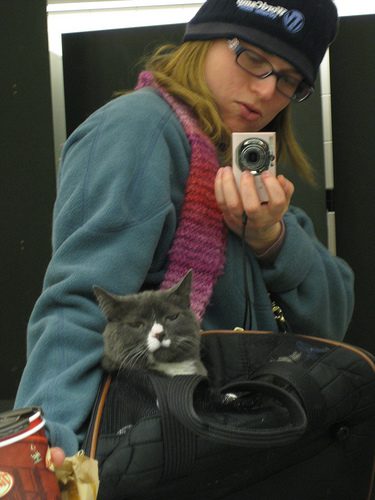 I am a wee bit spoiled in Vancouver when it comes to travel, as not only do we have one of the most beautiful airports in the World, but I live close to it.  This means it is only a short cab ride away, that even with traffic at it's worst is unlikely to take more than 20-minutes to get to. And if you're downtown, you can now hop on the Canada Line straight to YVR.  So very convenient.
Much of my International Travel, however, I fly out of Toronto's Pearson Airport, for the simple reason of my most beloved and highly social cat, Cato.  She is now a Senior in kitty years and as a writer and digital storyteller she is use to having me around.  She likes having people around, so having a cat sitter check up on her twice a day while I am away, does not cut it for her when I am on an extended trip. So I fly her to my Mom's in Ontario (she herself is an excellent traveler, and often ends up being a bit of a celebrity in the airports we visit), for her to catch up with her Grandma while I am away.  Beauty of this plan is it also gives me an excuse to take a few days either side of my trip to spend time with Mom too.
But I digress, my original point was that the flaw in this plan is that I do not enjoy the same convenient access to YYZ from Mom's that I do to YVR from home.  Up until last year, the choices in my mind were self drive and park, get someone to drive me, or take Airways Transit.  Self drive and park seemed expensive (and what if traffic was extra bad – Toronto is the land of traffic jams after all), getting someone to drive me is a lot to ask my Mom (who hates driving into Toronto and hates seeing me leave), and Airways Transit always means extra early leaves and isn't exactly cheap.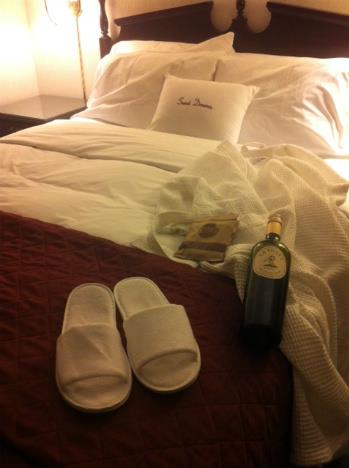 For all of the above reasons, when Deb Corbeil and Dave Bouskill of ThePlanetD's Round the World Adventures mentioned to me that they enjoy a Park n' Stay near Toronto Pearson Airport before flights, I decided to look into it before my next trip. The idea being that with a night's stay at the hotel, before a flight, your parking for up to 2-weeks is included in the cost of your hotel stay near the airport, and the hotel provides a free shuttle to and from the airport. Brilliant!  The Park n' Stay that Deb and Dave recommended that I tried was DoubleTree by Hilton and I am so glad I did.
A couple of reasons why this worked for me:
The cost ended up being comparable or less expensive than Park n' Fly at the airport or Airways Transit;
It forced me to be organized the night before flying, so I got a proper night's sleep before my flight (I am notoriously bad about rushing around to do everything and then only getting 2-3 hours sleep before a flight); and
It was clean, comfortable and relaxing (complete with a chocolate chip cookie at check-in).
Definitely a travel technique that I plan on using again, and that I'd recommend to others!
How about you?  What is your tip or trick to getting to the airport on time, well rested and organized?