Join Part 2 of Megan Ho's Adventures Roamancing South Africa, as goes swimming with penguins at Cape Point, South Africa. Also be sure to read Part 1 of her Roamancing South Africa adventures as she goes Shark Cage Diving in Gansbaai.
The next day, we had yet another wonderful animal encounter, albeit a much lower adrenaline one than swimming with sharks. We headed to Cape Point for the day and stopped at Boulders Beach to visit some African Penguins.
Being quite crazy about penguins already, I could hardly contain my excitement upon seeing a whole colony of them. I had never seen so many penguins at once! We viewed them from the boardwalk, and afterwards hustled down to the adjacent beach to get closer.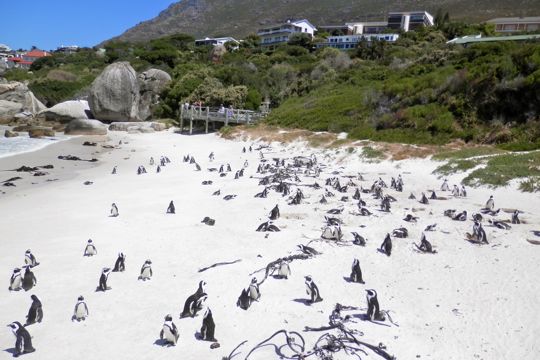 The adjacent beach was open to the public for swimming as it wasn't the home of the colony. However, some penguins had made their way over by water and were swimming and walking around the beaches. Here, we were able to get up close with the penguins. We couldn't pet them though. As one member of our group found out the hard way, penguins bite!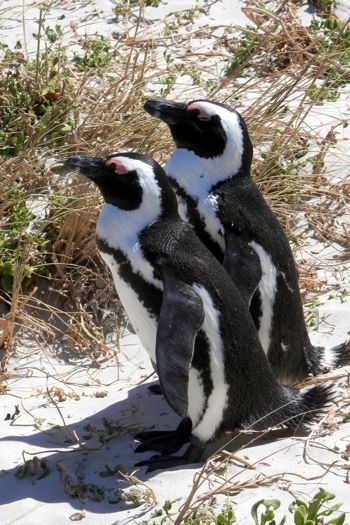 The beach was full of people, so we made our way to another, less accessible beach between the colony's beach and the main public one. We climbed over boulders and waded through water to reach it. At one point, I got hit by a rogue wave and was soaked! When we reached it, everyone dove in to go swimming with the penguins. I had unfortunately forgotten my swimsuit. "But… but… swimming with penguins!" said a little voice in my head. Well, I was already wet, wasn't I? So I peeled off my clothes and went swimming in my underwear.
It was the best decision. Not only were there penguins swimming nearby, but the water was beautiful and warm. The penguins were so quick in the water and kept darting around and popping their heads up. We swam out to huge boulders sheltering the bay and with a little teamwork, manoeuvred everyone onto them where we looked out towards Antarctica. Afterwards, I didn't even have a towel, but it was utterly and completely worth it.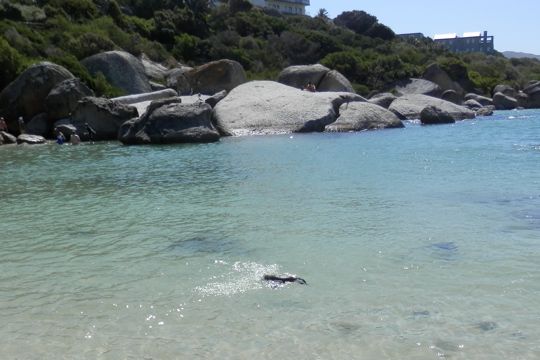 Stay tuned for more adventures roamancing the wildlife and wilds of South Africa!
*Photos by Morris M.