I love living in a country with four seasons, and of all the seasons Spring and Autumn are my favourites.  I even love winter with it's beautiful snow covered silence and sceneries. It is for that reason (and time with family) that I often leave Vancouver every winter in search of snowier vistas in Ontario.  That said, this winter in Canada seems to have been a particularly long one.
As I packed for Europe a month and a half ago, I expected much the same.  Both the long johns and heavy winter coat were in the packing pile, at least they were until I saw a status update on facebook, that made me think, maybe I should actually check the weather in Poland and Switzerland.  My eyes nearly popped out of my head – it was in the double digits!!!  Sitting at around 13 degrees Celsius in Warsaw and 17 degrees Celsius in Zürich that first week of my trip in early March!  While still deciding to pack a scarf, toque and mitts, as they were costume pieces for one of my talks, the winter coat was substituted out in lieu of a raincoat and the long johns were moved into the no longer taking pile!  So very satisfying!
As I awoke that first morning to the sun shining in my window in Warsaw, I glanced outside to see GREEN GRASS!!!  Oh how I'd missed thee!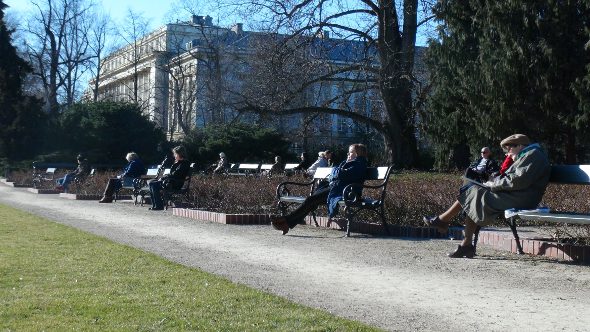 People looked at me crazily that first European day, as I wandered around Warsaw, practicing my TEDxWarsaw talk in a short sleeve top.  I looked at them crazily, that they would still be bundled up in their winter wear.
Well, Poland had nothing on Switzerland.  While Spring was just trying to sprout up on my arrival in Poland, it was in full bloom in Switzerland!  Nothing better to cure the psyche, after a particularly long and blistery winter.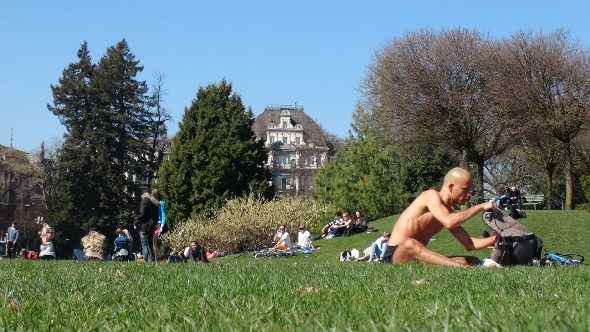 I like to think that by sharing the following images, I am not taunting those of you in Canada and the northern US, but giving you a sense of hope that the Spring is not that far off.  And if you just can't handle the current post winter 'blah' any longer, last I checked, flights were quite reasonable to Geneva, and only a wee bit higher to Zürich from North America.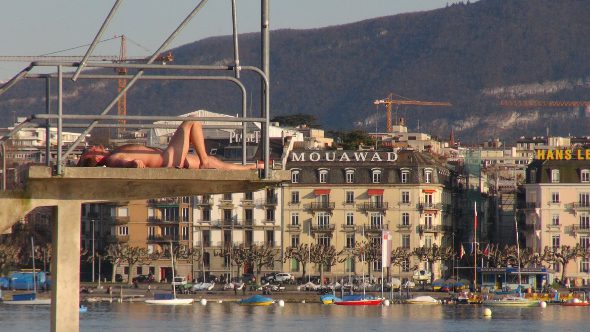 So!!! What you've all been waiting for!  Spring in Switzerland!!!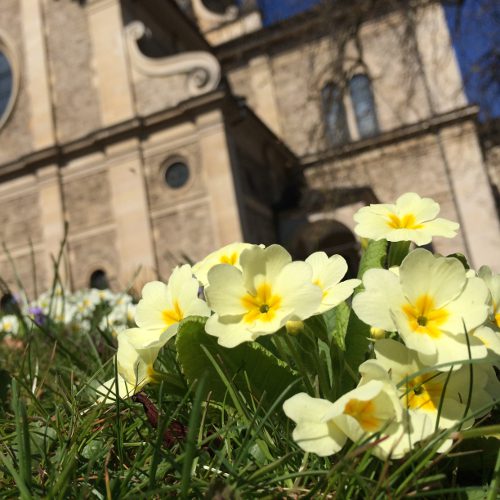 Zürich
My first destination was Zürich!  Here is my first look down upon this fair land: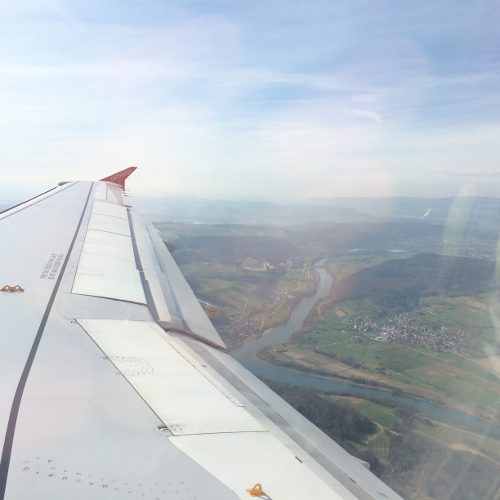 And before I even found my hotel, I found a sunny outdoor patio, thanks to Aurelia, and got my first taste of Switzerland!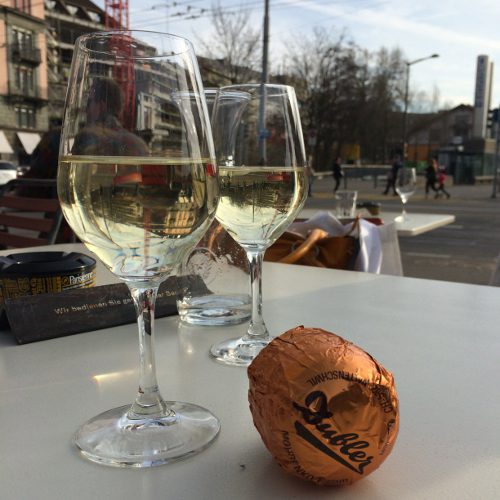 The frustrating thing about Zürich was that there were just too many lovely outdoor patios waiting to be enjoyed, and not nearly enough time.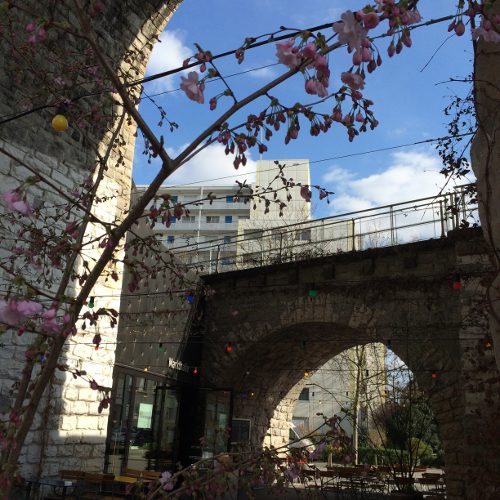 Have to admit it was good seeing cherry blossoms too, as I was afraid I'd missed them in Vancouver.
They even had patios that turned into community growing spaces every Spring, like here in Frau Gerolds Garten in Zürich West!
Even the Spring Bunnies were out in Zürich West, as the weather was so great!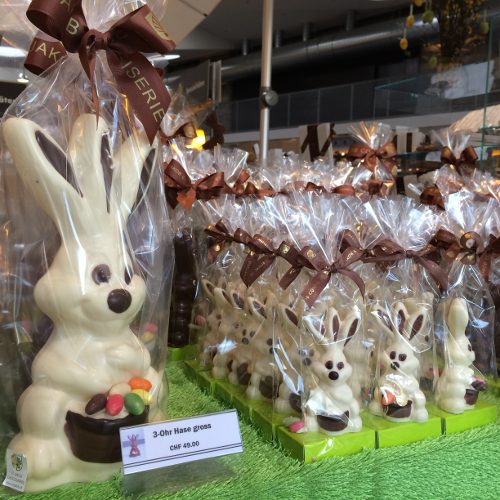 And who needs a patio, when this could be the view for your lakeside picnic in Zürich, our favourite lunch spot!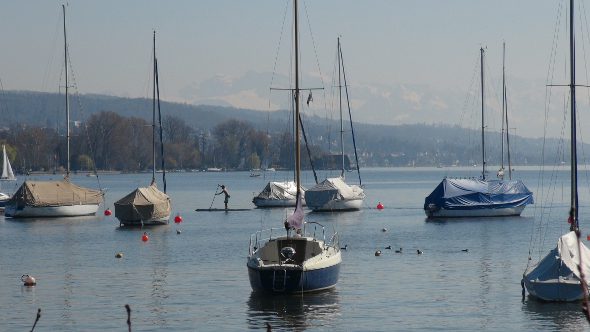 Just look at how this spot made Emme and Dirk feel!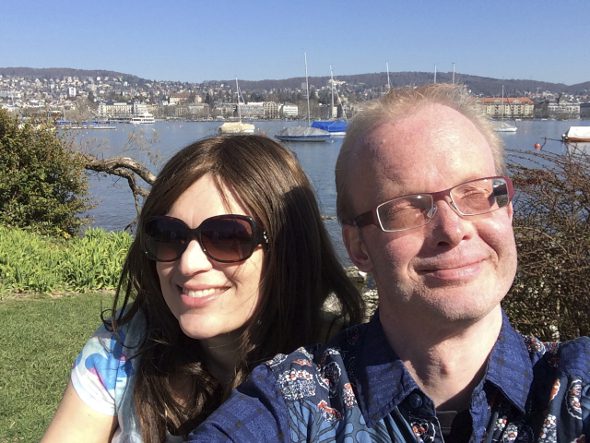 Somewhere on the Road to Lucerne
Despite it being sad leaving Zürich, I could not think of a better way to have left than on a beautiful day for a road trip with two good friends from Zürich to Bern, taking the scenic route via Lucerne.  I mean, just check out this view!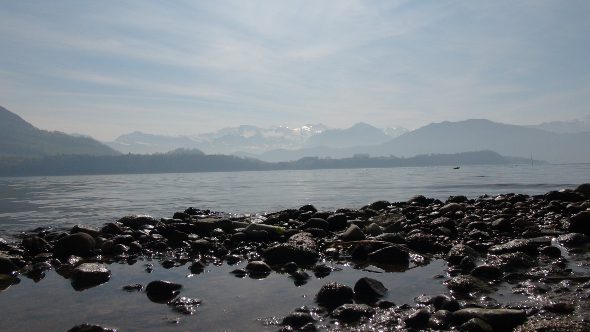 Couldn't resist not stomping with our roamancing red boots through these beautiful waters!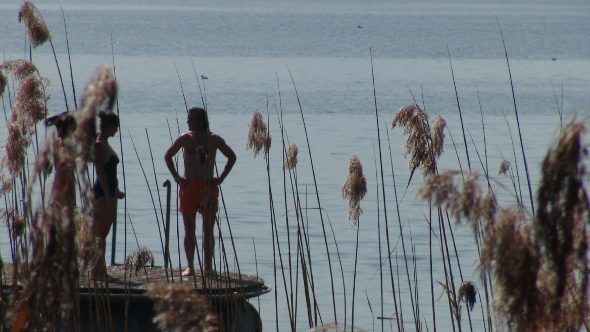 May have driven Dirk nuts sharing my desire to find a barn like this one, only with cows near by.  Sadly he had a deadline … so I'd have to wait for Gruyère.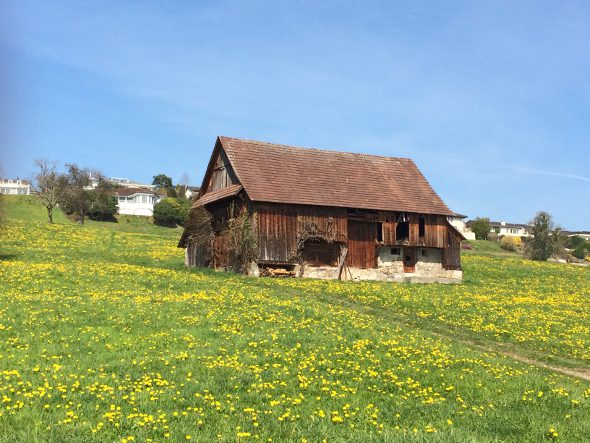 We did, however, take the time to wander around Lucerne.  Such a beautiful day!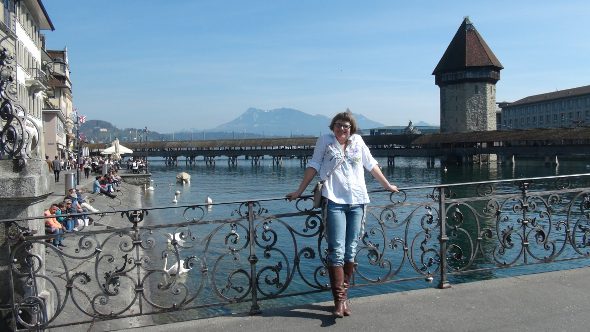 Bern
After all that sun, I have to admit a few Spring showers while wandering through the Saturday markets in Bern, created a bit of comfy, cheshire cat feeling in me.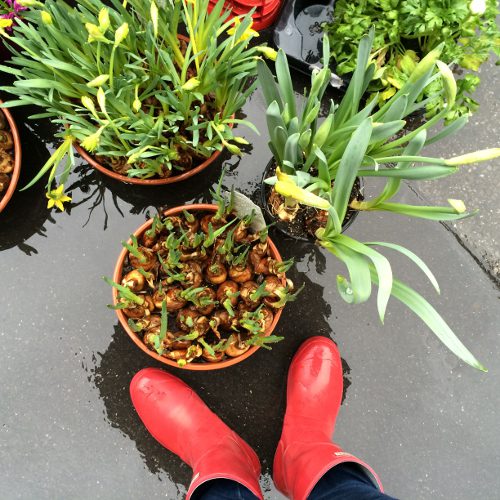 Fribourg & Gruyère
Sun, rain … Spring really could not be complete without a bit of snow … and Fribourg, and more specifically Gruyère gave me just that.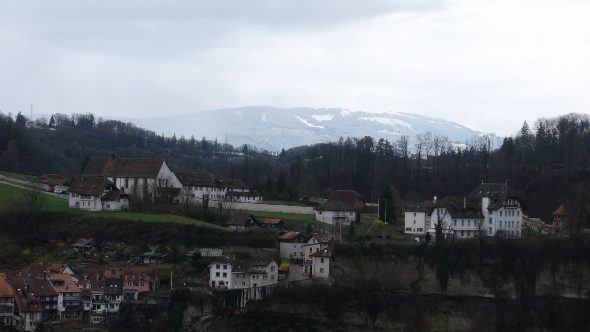 Beautiful Old Town Fribourg scenery, shot through a snowflake dotted lens.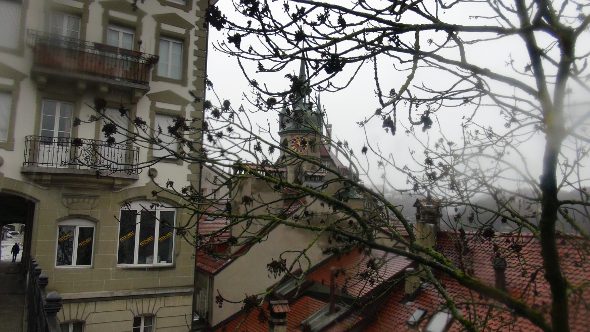 And with the arrival of Spring, of course, so too comes the kids …
… and for me a few new Swiss friends of the variety that you meet on a Gruyère Dairy Farm.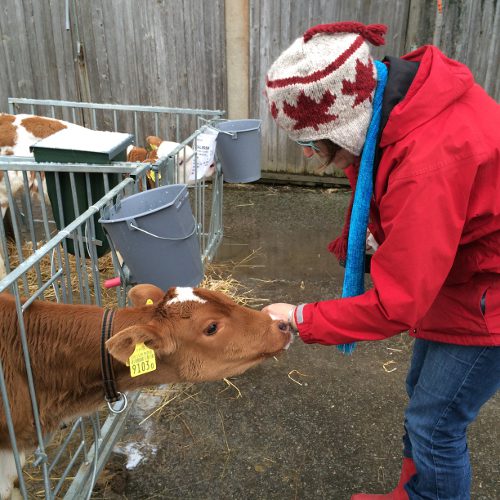 And with Spring in the air, Spring Fever did get the better of me, when it came to one Swiss chocolatey beauty!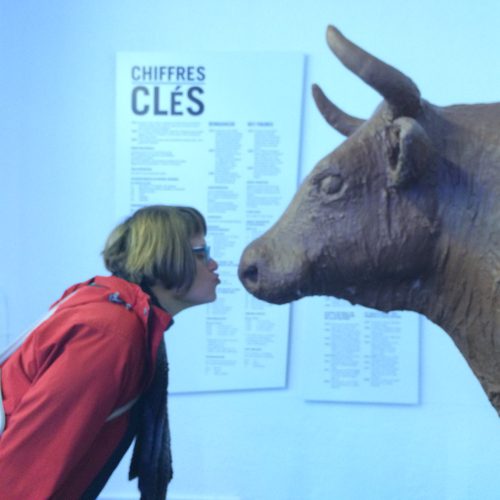 Nothing like waking up to freshly falling snow in Gruyère.
Even better … flowers and freshly falling snow …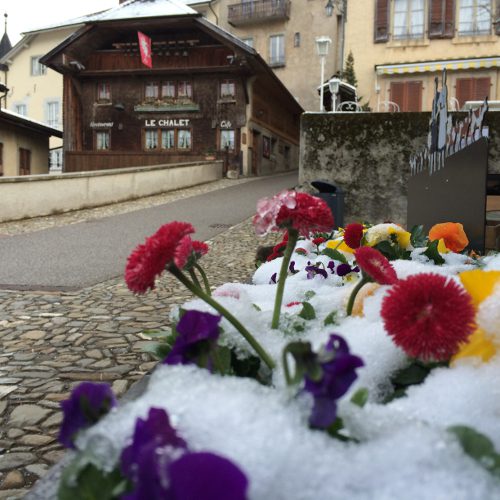 Nests built, awaiting a Spring brood!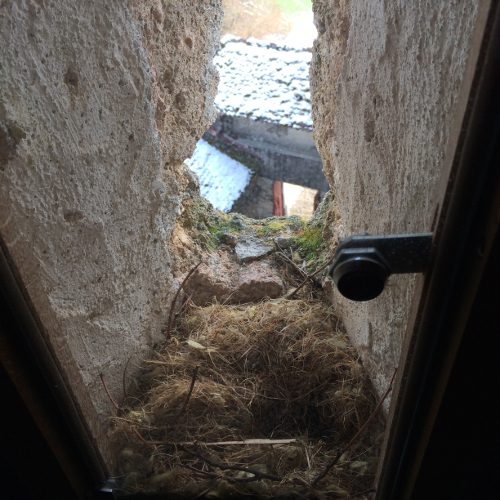 And with the warm sun shining down on us, the snow soon began to melt.
Hard to compare all the beauty that overwhelmed us in Switzerland, but this was certainly one of the more beautiful days!
Lavaux
Now the problem with Switzerland is that you just don't want to leave any one place, but then when you get to the next place, you simply wished you had more time there, and if any place in Switzerland that that was most true for for me, this past trip, it was Lavaux.
I may have been arriving early in the grape growing season, but I still found it to be simply beautiful!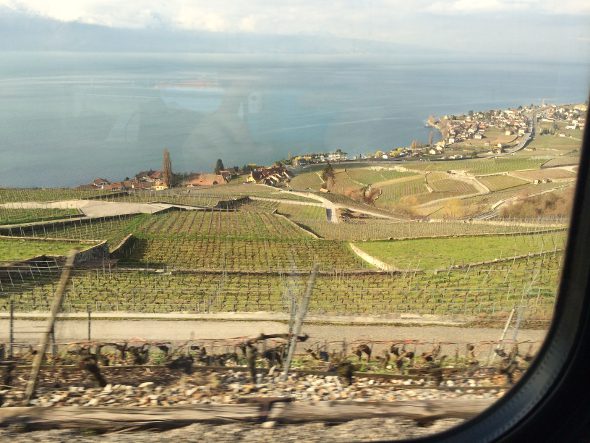 Everywhere I looked in the Montreux Region, I was rewarded with sights of the beginnings of Spring!  Including from my home at the Grand Hôtel du Lac in Vevey!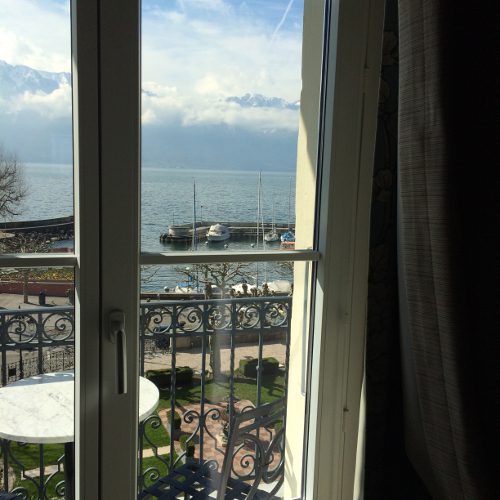 And it wasn't just my room that sported beautiful Spring views.  Here is the view from the other side of the Hotel du Lac: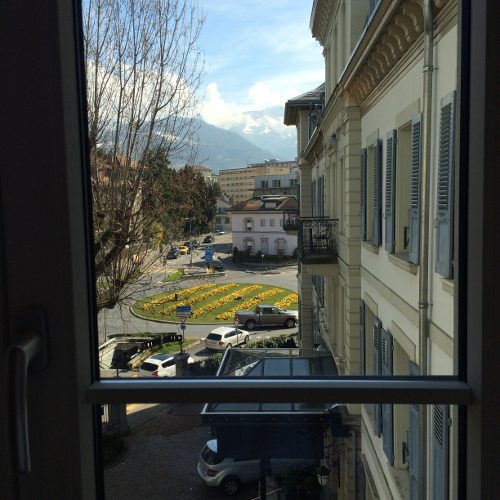 Really these were just a tease of what the region had to offer though, as look what awaited me in Chexbres and Rivaz, as we wandered in and out of the vineyards at the Lavaux UNESCO World Heritage Site on the Chemin de la Dame!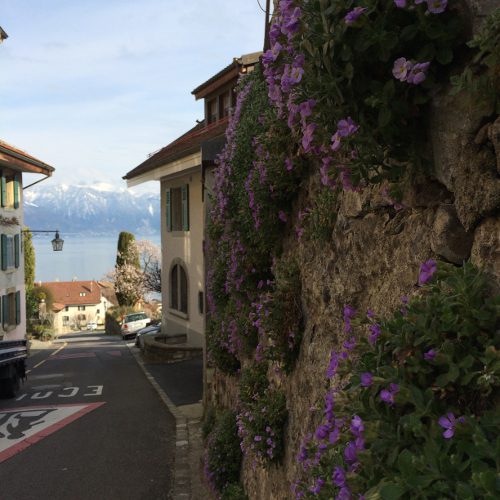 How does one tear themselves away from all of this?!?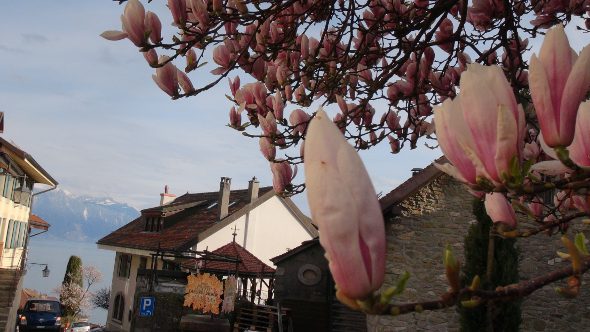 It was hard, let me tell you, but Spring in Geneva was beckoning and an old friend was waiting for me, so depart I did.
Geneva
The weather and fresh blooms in Geneva certainly did not disappoint!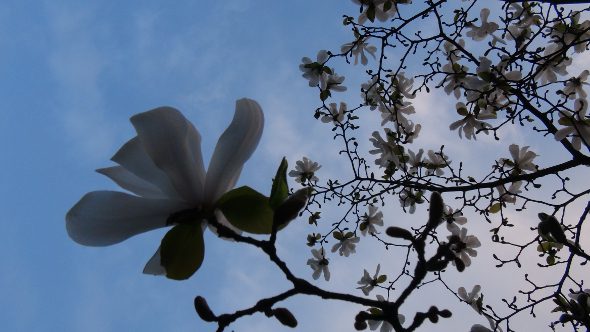 It seems that the rest of Geneva had been waiting for this weather too, as the Geneva waterfront struck me as one giant living room!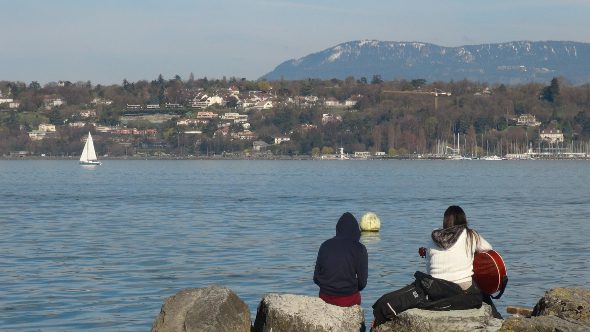 Was flabbergasted by how hopping les Bains des Paquis was!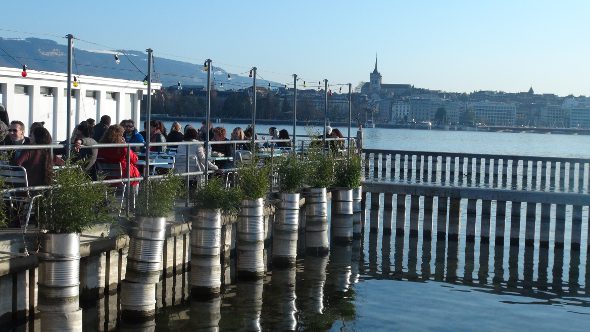 Yet, the locals still knew where to find some solitude, a short stones throw away, if so desired.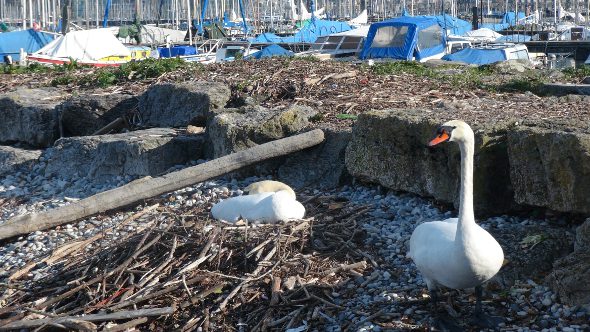 And as Emme gloated, it was even warm enough to frolic in your bra and underwear (which she demonstrated, to my great embarrassment, in front of CERN)!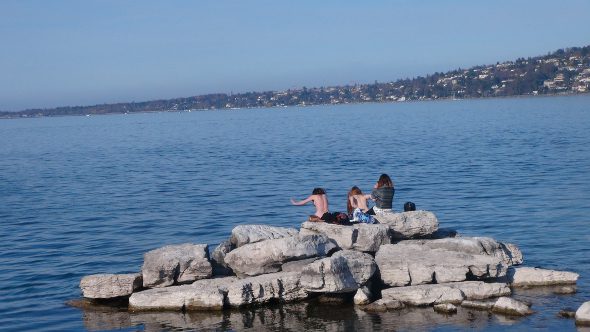 So after all of that, you can image the trauma that hit me, when this was my first view on Canada again …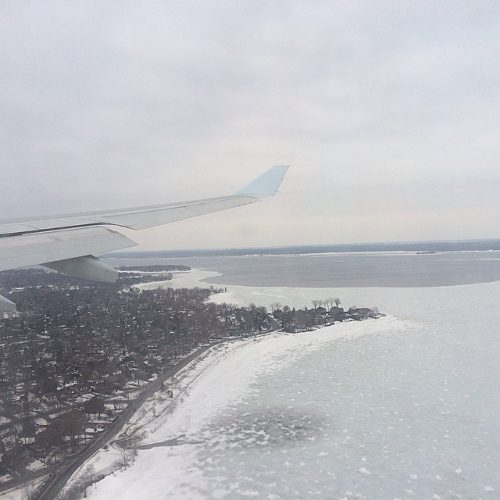 After my initial shrieks of disbelieving terror, I am now looking at this as an opportunity to enjoy the beginnings of Spring all over again this year, and am readjusting my wardrobe accordingly and patiently. At least that's what I keep trying to tell myself.