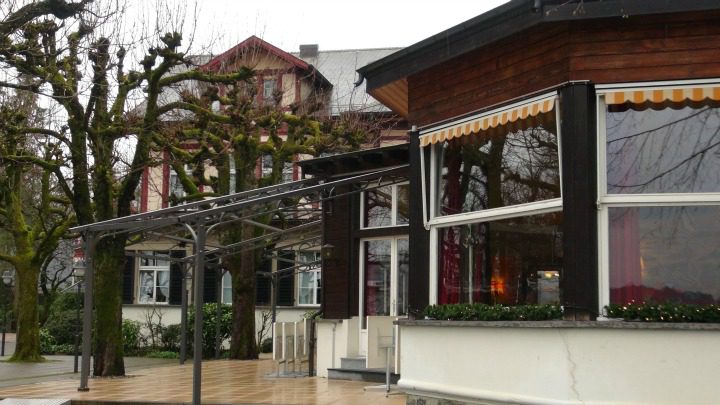 One of my great loves in life, as well as great comforts that adds a swing to my step and excites my synapses, firing up my imagination is good music.  In particular, I have a great fondness for jazz and the blues.  Aside from jazz and blues making me want to sway and dance to the music, it bridges the generation gaps, as really it is for everyone, and carries with it no pretence of class, but rather celebrates in its accessibility to all.  Most of all though, both jazz and blues fondly connect me to my Dad, even though he is now dead.  Whenever I listen to jazz and the blues, I imagine him sitting there beside me soaking in the music and capturing all eyes upon the two of eyes as we gleefully dance the night away to this great love of ours. So the second I entered Hotel Innere Enge in Bern, Switzerland, I knew Dad was there with me, ready to soak in all the jazz history that this historic hotel had to offer – jazz memorabilia and ghostly echoes of the jazz greats who had walked these halls in days gone by. I could see the huge grin that lit up my Dad's face up, as he took my hand and twirled me into the lobby of this historic jazz hotel! Yes, I think I was going to be quite at home here at the JazzHotel Innere Enge!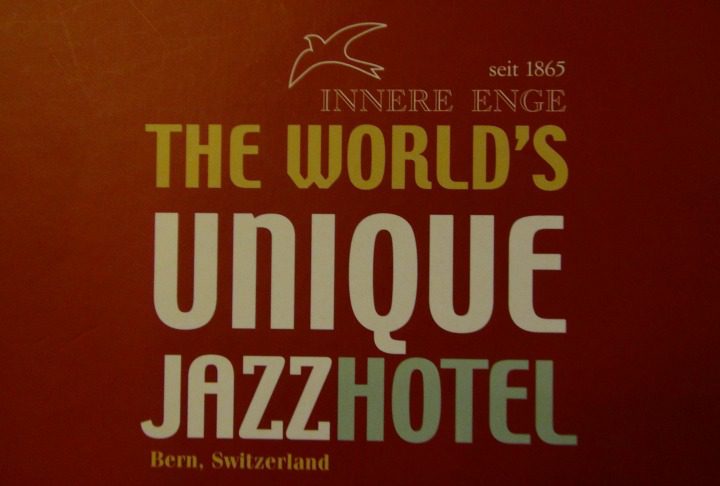 As I wandered through the lobby and into the piano room, it hit me just how many jazz legends must have entered this same room and sat at that piano to tinker with a tune.  This place was truly steeped in jazz history, dating back to the 1800s.  Even Empress Josephine (wife of Napoleon I) had stayed here in 1810, as the guest of honour at a Grand Déjeuner.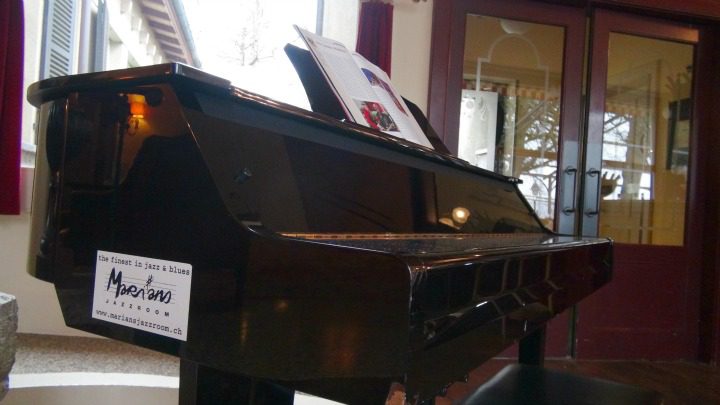 Despite it's rather grand history of famous guests, JazzHotel Innere Enge felt like I was being invited into the warm comforts of someone's country manor home. I smiled when I was handed an old fashioned, large clunky key for my room. I was on the second floor in a corner room of this 26-room manor home. There was an elevator, but in feeling as though I'd gone back in time for a weekend visit to a friend's manor in the less populated hillside, outside of Bern, I decided to ascend the red carpeted staircase to my room.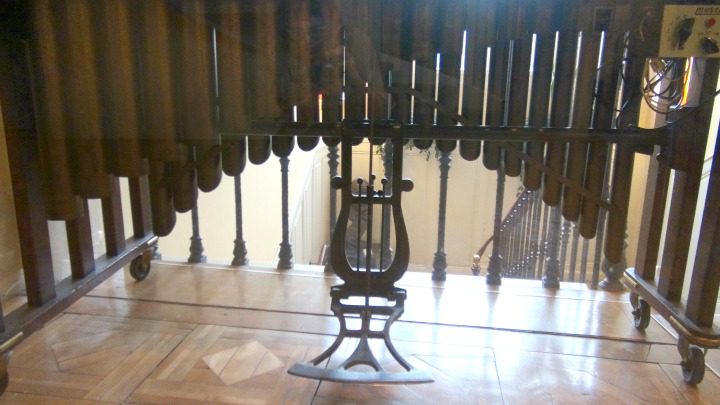 Hotel Innere Enge was renovated in 1992 to give it modern day comforts, but as I entered my room, there was no question about it, they had paid careful attention to keeping the comforts of a country manor home (at least in my mind) here. As I entered my spacious room, I kind of felt like I was returning to my grandparent's house (albeit larger), for a summer stay. Spotting a pear and pairing knife waiting for me on the side table, I thought, "Just as grandfather would have liked it."  As did I, being particularly fond of pears.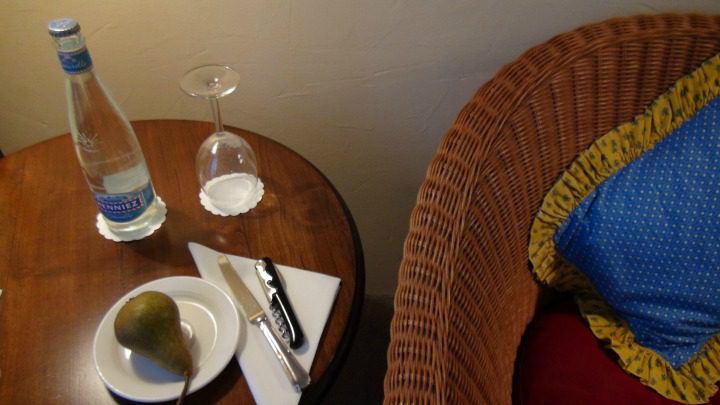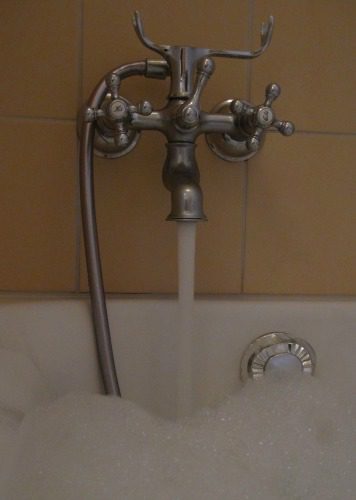 Oh, and I was thrilled that true to the time, the bathroom sported a great big soaker tub. I smiled as I climbed into it a night later, after returning from a rainy Saturday's exploration of Bern, soaked to the bone.  Sitting there, soaking in the bubbles, enjoying a peppermint tea and slices of pear, I hung my wet clothes to dry on one of the modern additions to the bathroom – a heated towel drying rack, and could not help but think how my grandmother would have approved of this scene (having had a particular fondness for long, hot soaks in the tub with creature comforts herself).
I knew I was home the next morning, when I walked into the breakfast room in the Park Pavilion, overlooking Bern and the garden, to be greeted by a cheese chest.  In unison with me, I almost hear the smiles and gasps of pleasure from the spirits of Dad and Grandfather, who so clearly must have joined my stay in this place that was so full of all of our passions. No question as to what I was having for breakfast, accompanied by one of the lovely, light, freshly baked croissants.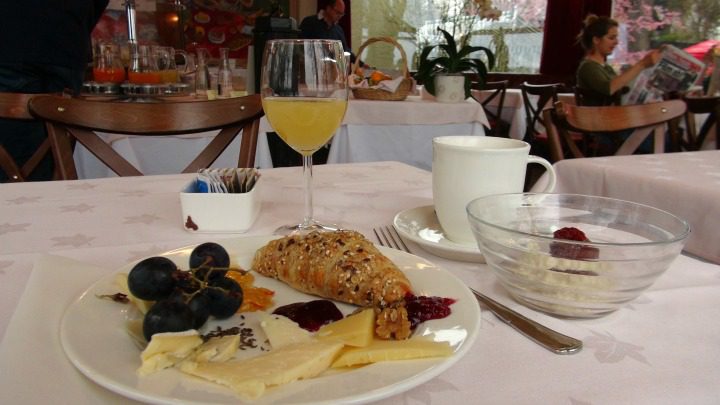 My one concern, being on the hill looking down on Bern, and having a somewhat tight schedule including a tour of the Old Town, Museum Night Bern, and Jazzfestival Bern, was getting around and everywhere on time.  Apparently, that need not have been a concern – this was Switzerland, after all – which means excellent transit. There is a bus that runs regularly day and night, right out the front door of Hotel Innere Enge to the main bus exchange in downtown Bern (right across from the tourist office). If you add the SBB App to your smartphone or tablet, you can have the times at your finger tips or ask for a bus schedule at the hotel desk. They even ran an additional schedule of extra late night buses for Museum Night Bern, which was good, as by the time I made my way back to the bus depot it was about 3 am, and after hoping and riding the wrong night bus for an hour, I made it back, thanks to the kind help of the bus driver, who redirected me to the right bus (which thankful was still running, picking up theMuseum Night Bern stragglers).
As for Jazzfestival Bern, to my delight, that was actually taking place at JazzHotel Innere Enge, and what a perfect spot for it!
You cannot ask for a more intimate and acoustically perfect spot to have enjoyed a Blues Hall of Famer, like Joe Louis Walker, than in Marian's Jazzroom at Hotel Innere Enge.  To say I was purring, would be an understatement.  Such an absolute delight! I may have even caught a few chuckles at my delight, as I couldn't resist but to seemingly dance the night away by myself, even though I knew Dad was dancing along with me!  I went back for both performances that night!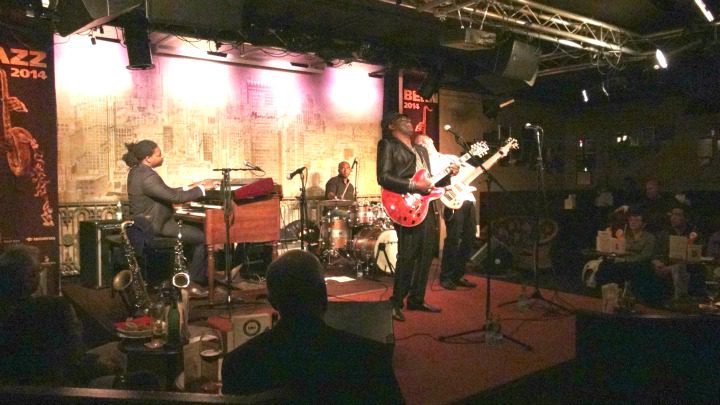 In between I wandered out to the big tent to take in some big band jazz music of the Swiss Jazz School students from Bern and New York. Loved the community feel that this free-for-all concert in the big tent provided. And while I never got to enjoy a meal in Josephine's Brasserie on this visit, I did get to enjoy the tasty concoctions of one of the chefs in the big tent, which fuelled my feet to continue stomping away to the music into the wee hours of the morning.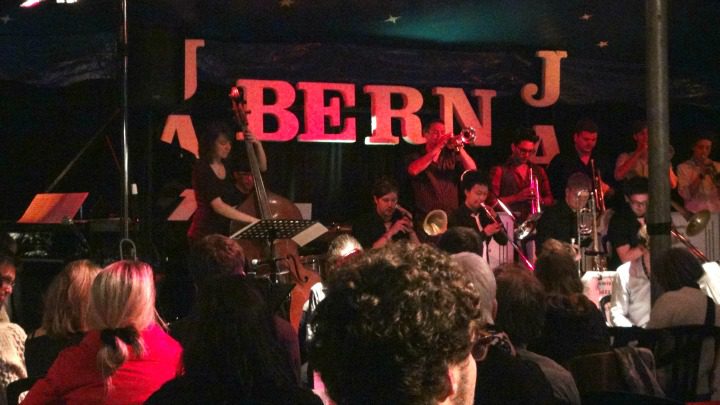 For those of you pondering a visit to Bern, I highly recommend staying at JazzHotel Innere Enge, and I highly recommend the weekend I went, when both Museum Night Bern (Museumsnacht Bern) and Jazzfestival Bern are on. This year, that weekend is March 18 – 20 (just be sure to be there on the 18th for Museumsnacht Bern, as it is one night only). Internationales Jazzfestival Bern lasts for the duration of March 12th – May 21st, 2016, so do go and enjoy a night or 2 or 3 or 4 … of it.  You will thank me for it.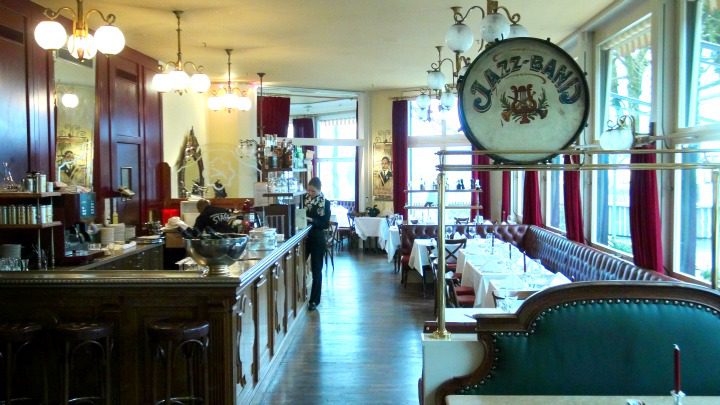 Meanwhile, I shall satisfy myself with dreaming of a return visit, both for the jazz and to experience a few of the many things I did not have time for on my last visit – Josephine's Brasserie, enjoying a stroll along the hillside, visiting Marian's Parc Cafe …  That's how I love to leave though, wanting to return for more good times.