Going on exchange to Munich has given me so many wonderful opportunities to explore all over Europe. Translation: I got to eat food all over Europe. From fresh moose in the mountains of Norway to tagine near the waterfalls of Morocco, I've tried some of the most incredible foods. The best of these meals elicited feelings and noises from me that my friends probably wish they could un-hear. But hey, you win some you dim sum.
So without further ado, here are my top four experiences to date!
---
Tuna Pasta
Location: Hamburg, Germany
Restaurant: Fachgeschäft für MeeresspezialitätenCost: Euro €10-15 (depending on drink) = $15-20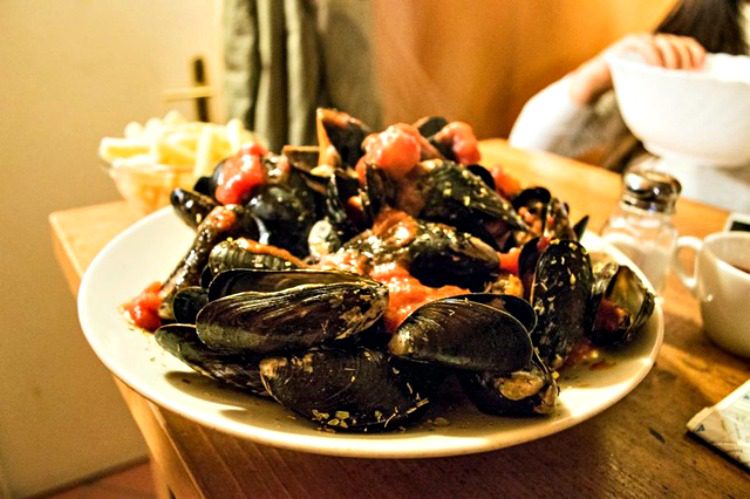 Thunfishfilet auf Rigatoni mit Tomatensauce und Pilzpesto & Muscheln
Tuna filet on Rigatoni with Tomato Sauce and Mushroom Pesto & Mussels (for the non German speakers)
My account:
This was one of the best damn meals of my entire life. Pardon my French.
To set the stage for this life altering event: it's winter in Hamburg, the first day of the Christmas markets. Twinkly stalls line the streets, chestnuts literally roasting on open fires, and a salty sea breeze in the air. Just down the street from the harbour is a small restaurant. Inside is a large wooden bar and behind it a display of wines accompanied by classical music. The sparse elegant walls are lined with gilded mirrors and a framed wine list. There are three tall wooden tables with no chairs and a menu with only 2 items per day.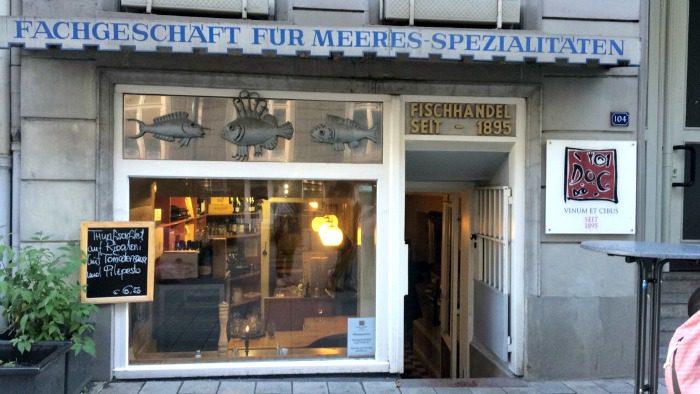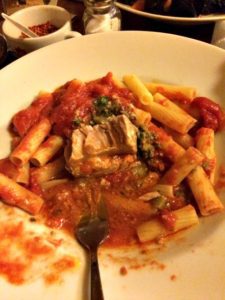 Now that the atmosphere is set we can move on to the food. Unsurprisingly, we ordered the only two items on the menu: mussels and pasta. I kid you not when I say we literally drank the mussel juice with a spoon when that was all that was left. Then, atop the pasta was a large piece of tuna that flaked perfectly with just a nudge of a fork and practically melted in our mouths. Last but not least, the aforementioned strange noises were caused by the undeniably fresh tomato herbed sauce that topped it all off.
Have you ever heard the saying "my blood is probably 3% pasta at this point"? Mine is more like 3.5.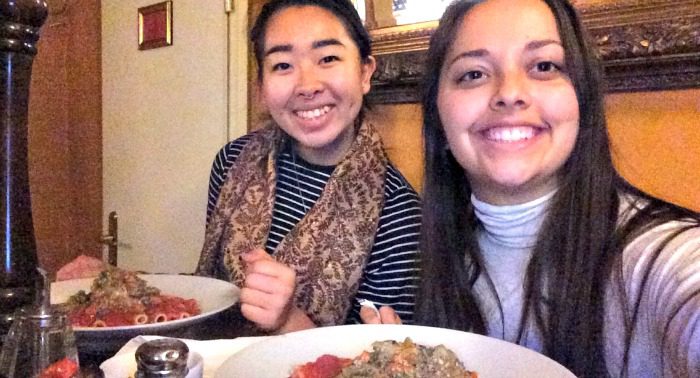 ---
Goulash
Location: Prague, Czech Republic
Restaurant: Pivov Marina
Cost: Czech Koruna 169= $9, Beer 35= $1.90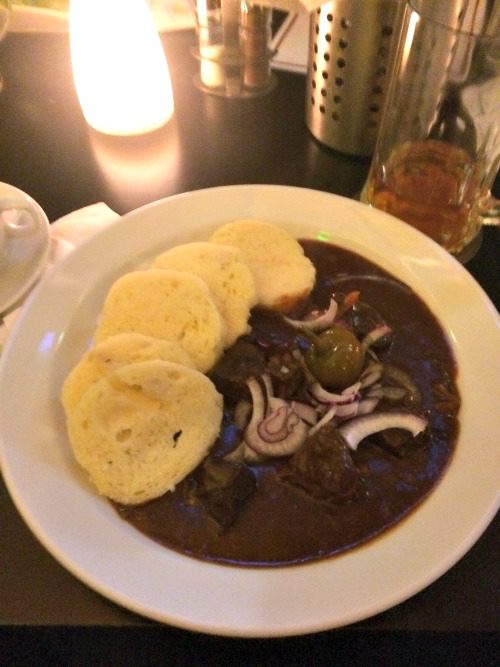 Hovêzí Gulášek Scibulkou Feferonkou a Houskovÿm Knedlíky
Beef Goulash with Bread Dumplings and Hot Pepper (for the non Czech speakers)
My account: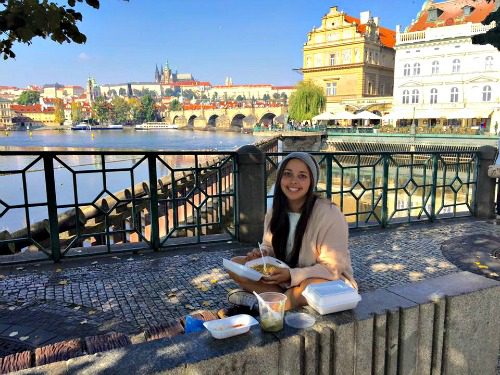 After a busy few days in Prague walking around the city, checking out 600 year old clocks and partying all night in a 5 story club we decided our overprivileged asses (thanks again mom & dad, I love you) deserved a sit down meal. At a local brewery around the corner from our hostel (Prague Plus, an amazing hostel only a 10 minute tram from the city centre) my exchange friends and I went for some traditional Praha (isn't that the most fun word? PRAHA!) meal. Walking into the brewery, you can see the giant coppery tanks the beer is made in through glass walls. Here you are offered two choices. This is your last chance, after this, there is no turning back (if you don't get this joke congrats on not being a nerd). Down the left hall is a fancy dining area, and down the right is affordable, casual dining. We went right, unsurprisingly.
From the very well priced menu I decided to order the goulash with one of their beers. It may not look like much from the picture, but do not be deceived, goulash tastes like Christmas and Thanksgiving had a baby unicorn… sorry, vegetarians. But I mean, if Voldemort eats it how bad can it be? Don't answer that. Anyways, the savoury gravy and tender spiced beef make for a rockin' holiday party in your mouth. The bread dumplings offer a complimentary texture and flavour to make a drool worthy bite. Surrounded by laughter and friends this was the perfect meal to end our whirlwind trip in Pra-ha-Ooh-ha-ha (say that out loud, you won't regret it).
---
Pot Pie
Location: Edinburgh, Scotland
Restaurant: Nicholson's – Greyfriars Bobby's Bar
Cost: Scottish Pound £10.75= $20, Cider £4= $7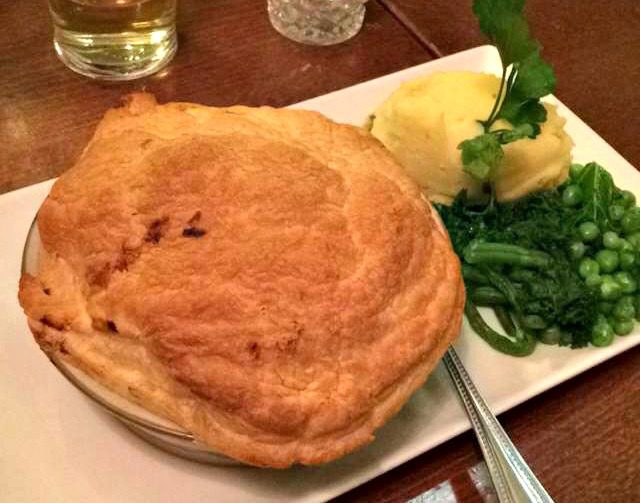 Chicken and Leek Pot Pie with Golden Puff Pastry, a side of Creamy Mashed Potatoes, Seasonal Greens and Parsley Liquor
My account:
Travelling to Edinburgh with two of my best friends (due to their notable height difference we'll call them Smol and Tol) we decided to have some traditional Scottish pub food on our first night. Before we dive in, I'd like to say how much I adore pub food. I honestly love it, and I REALLY love mashed potatoes. They've been my favourite since I was a child and my Grandfather often wondered if mash was the only thing I would ever eat (sigh, if only). So it'll come as no surprise to him (or anyone else who knows me) that this one made the cut.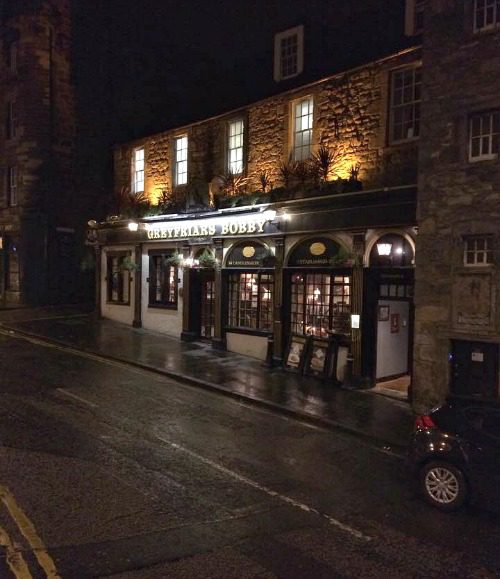 Choosing the adorable pub down the street from our hostel (Budget Backpackers – great hostel, terrible wifi) on Candlemaker Row was Greyfriars Bobby. To our surprise (and dismay) our waiter did not have a Scottish accent. Feeling slightly cheated we asked where he was from. He said Canada. Surprised, we told him we were too. When he said Ontario we, wide eyed, once again said we were as well. Finally, when he said Hamilton, we lost our bloody minds. Stepping back from our uproar he correctly guessed we were from the same city. Freaking WILD.
After we calmed down, Smol and I decided to share the haggis, neeps and tatties starter and Tol ordered some mac'n'cheese. Translation for non-Scottish speakers: haggis is a savoury pudding containing sheep's pluck, minced onion, oatmeal, suey, stock, and spices encased in sheep stomach. Neeps are turnips and tatties are potatoes. Mac'n'cheese is a gift from the gods.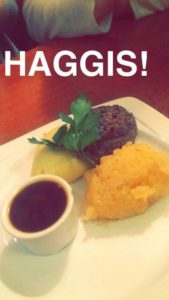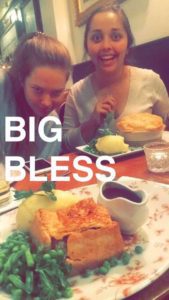 You already know how I feel about tatties. The neeps were good and the haggis was awesome. Haggis is honestly SO delicious and never let anyone tell you differently. To drink I ordered the Elderberry cider (which sounds like something from Lord of the Rings, so obviously it was fantastic).
Bonus Story:
(If this doesn't melt your heart, go see a doctor and inform them you are dead inside.)
The pub is named after a skye terrier named Bobby. Lil Bob was a police watch dog who belonged to night watchman John Gray. Sadly, Gray passed away in 1858 and was buried in Greyfrairs kirkyard next door. Faithful to his master, Lil Bob kept watch and slept on his grave for fourteen years. In 1872 Bobby was reunited with his master (cue tears) and was buried close to Gray.
This story has inspired books, movies and a statue.
---
High Tea
Location: London, England
Restaurant: The Orangery
Cost: British Pound £27.50 per person= $50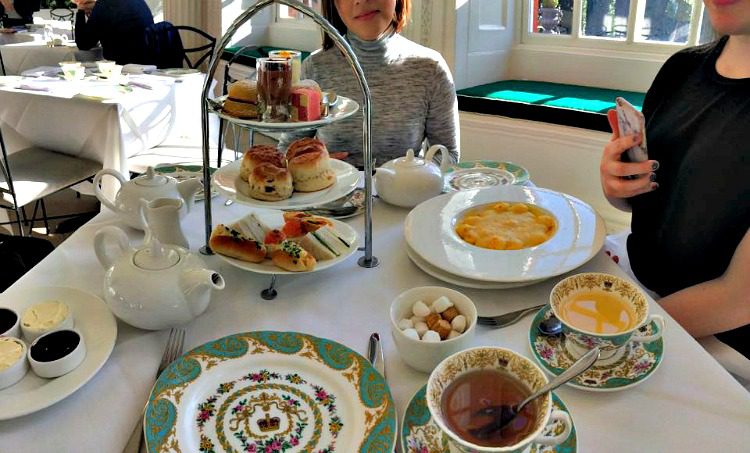 Egg Mayonnaise and Cress Bridge Roll, Smoked Salmon and Cream Cheese Mini Bagel, Coronation Chicken Wrap, Roast Ham and English Mustard Sandwich, Cucumber and Fresh Mint Sandwich, Orange-Scented and Currant Scones served with Cornish Clotted Cream, English Strawberry Jam and an assortment of Tea Pastries. Served with a range of Loose Teas (chosen: Royal Palace Tea)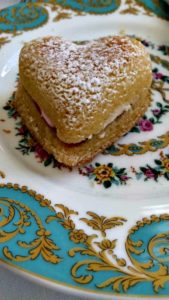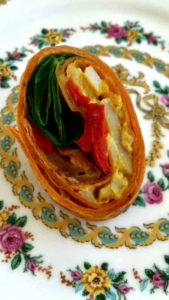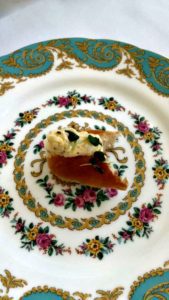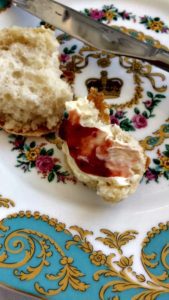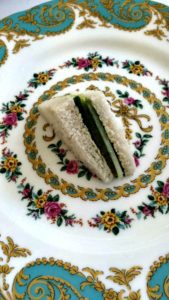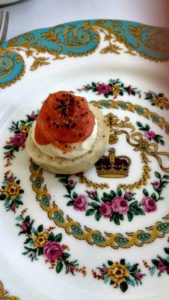 My account: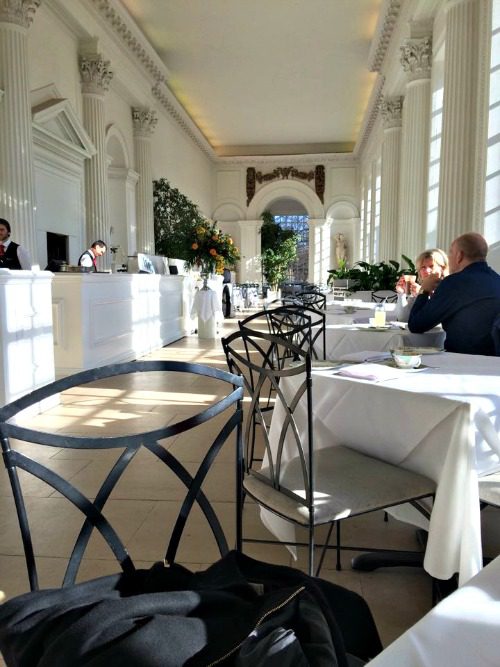 It's important to remember that when you travel, you're not doing it alone. Your parents and loved ones are sharing every adventure, mistake, and decadent meal right along side you. So when we decided to visit the Queen's motherland, Smol's father, who has been a huge supporter in our escapades, treated us to high tea! Having done his research, he suggested we do it in style in the Kensington Gardens (Nicky Hilton was married here, need I say more??) beside Kensington Palace. You don't get much more British than that. It also happened to be just around the corner from our wonderfully located hostel (highly recommend as it's decently priced and right off of Hyde Park!), The Astor Queensway.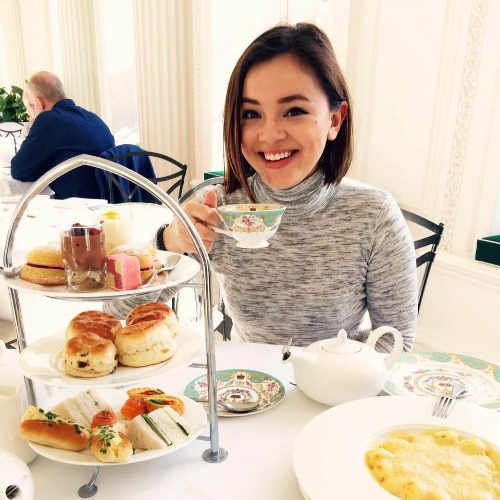 Back to the important things. Tol decided to get a cheesy ooey gooey gnocchi with her tea. Tol (who's real name is Madison, if you must know) loves any form of mac'n'cheese and was not disappointed. Also, you know how British people are weirdly obsessed with tea? We discovered it's not weird at all. Their tea is just a million times better than ours. It tastes like heaven leaked into a cup. That sounds weird, but you get the point.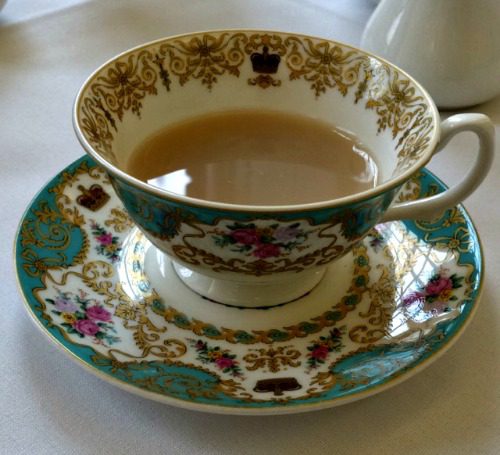 Thanks again Papa Frank for the luxurious treat!
---
So if you happen to find yourself in Hamburg, Prague, Edinburgh, or London I'd highly recommend these restaurants and dishes!
Or if you're at home and feel like spicing things up (pun intended), here are a few inspired recipes!
Goulash:
Moderate Moderate Hard
Pot Pie:
Easy Easy Moderate Hard
Afternoon Tea:
Easy– how to, and whatever treats you like!
Moderate Hard Hard