Tale old as time, a modern day Beauty and the Beast experience (I'm Belle).
I may not be as beautiful or as smart or as graceful as Belle, but I'm a brunette who loves reading, so close enough. After all, this is real life, not an excellent movie.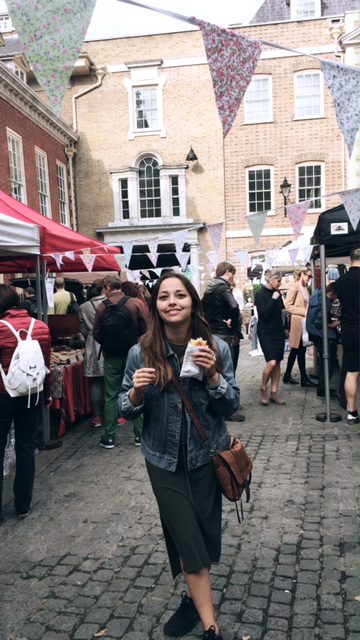 The Tinder Prince
I had just moved to the quaint little village of Sunninghill, where I was working at a French restaurant and pub. I was eager to explore the area and meet new people and I had a few single co-workers, but as my sister so delicately advised me, "don't shit where you eat". With that in mind, I turned to Tinder.
One right swipe and a few emojis later, I decided to meet George for a drink in Windsor. He was funny and hadn't given off any serial killer vibes. Off the cobbled street opposite the castle (I told you this was a fairytale), we met at an adorable old pub called the Horse & Groom. With slanted wooden floors and a cozy fire, I was living the British dream.
I was relieved when my would-be-serial-killer date arrived and was tall with baby blue eyes you could go swimming in. I didn't even care if he was a murderer.
We got on quickly, conversation and laughs flowing easily. After a few drinks with a slightly bashful smile, George pulled a small box out of his pocket with a ribbon on it. If it had been a wedding ring I probably would have said yes, but it was something even more precious – cookies! The stupid charmer had brought me shortbread cookies (my favourite, unbeknownst to him), that he had baked himself. To his great amusement, I began wolfing them down immediately. I was clearly a keeper (insert Harry Potter joke).
He then took me to his favorite burger place, assuming I was hungry due to my cookie monstering, which I was. Picking up his burger, juice dripping down his hands, he announced he would not be putting it down till he was done and that all first date rules were out the window. Laughing, mouth full already, I nodded my approval, completely smitten with him. Best first date ever.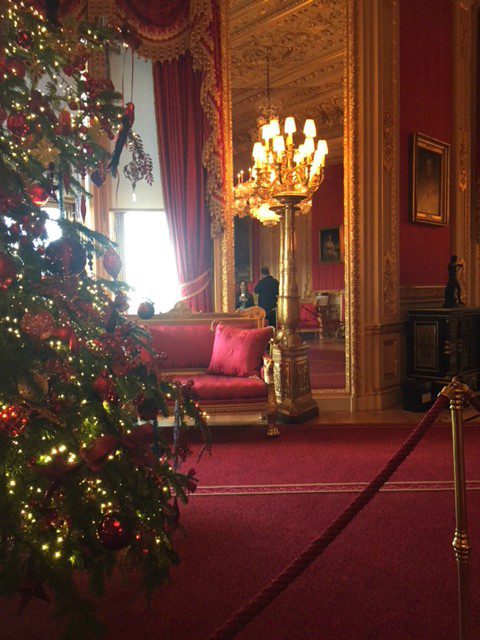 Our second date lasted almost nine hours. It consisted of dinner, me falling asleep with my mouth wide open during a movie (he has the picture to prove it), meeting his mates at the pub to watch a boxing match, and finally going out. We went out for a few more weeks and he was pretty much the perfect gentleman. He was funny and sweet and we always had a good time. Unfortunately, the more we saw each other the less romantic it became. It was apparent to us both that while we really liked each other, it was in a platonic sort of way. So we agreed to be friends.
And that's usually something you just say but don't actually mean, but as it turns out, George became one of my closest friends here! So I'm labeling this one a W.
The Enigmatic French Chef
Whilst transitioning into friendship with George (and ignoring my sisters good advice), I started to notice the head chef at work. I didn't think much of Percy at first, apart from the fact that twenty-six was rather young to be a chef already. After working with him for a while, it was clear why. He was extraordinarily intense. I couldn't help but admire the passion he put into his job. He would go from gently showing the dessert section how to properly set a macron to screaming at his sous chef that he didn't care if he burnt his finger, he had nine more. He could be terrifying. But whenever I entered the kitchen he made a point to stop me with a smile and a toe curling "ello, miss". And I wasn't the only one who noticed. He seemed to have his own centre of gravity. Everyone around him was drawn to him, whether to gain his approval, to share a laugh, or in my case, to shamelessly flirt.
Oh, and I should probably mention the girlfriend of five years who he was about to move to Australia for. Eye roll.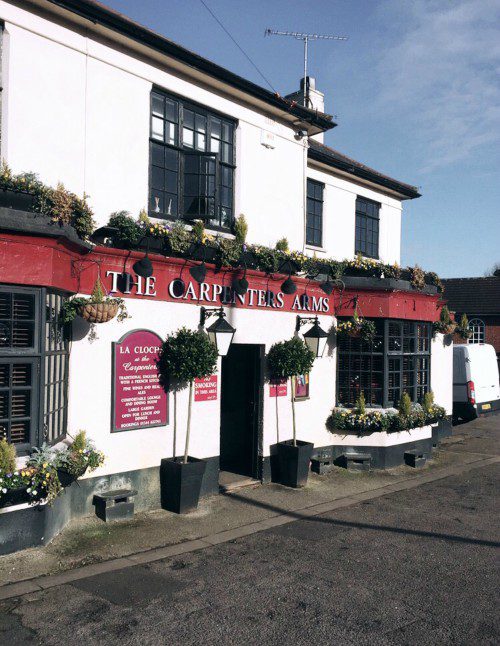 All of that wasn't even really a problem until he began flirting back. He took great satisfaction in making me smile or flustering me at work, and I was like a giddy schoolgirl whenever he was around. After I learned he had a large back tattoo I made it my mission to see it. When I first asked, he told me only women he slept with got to see it. I responded that his trips to the beach must have been exhausting. Eventually I convinced him to show it to me: two intricate dark angel wings, tattooed from the top of his shoulder blades and going all the way down his back. Lucifer also had wings; I feel the need to mention.
Things stayed mostly innocent between us, until the night before he left for Australia. At his going away party with the rest of the staff, he pulled me aside – "come ere, miss". He told me how much he appreciated me and that I was the kind of girl he would have been crazy about, along with a number of other completely inappropriate things that had me grinning from ear to ear. I could feel his gaze on me the whole night. Although that fueled schoolgirl Alex's crush, it also annoyed her. Mama didn't raise no homewrecker. He had a girlfriend.
Near the end of the night we found ourselves alone a few times (aka he was following me) of which I am happy to report I pushed him away not so gently reminding him of his girlfriend each time. I'm nobody's mistress and I have no interest in doing that to another woman, I say from my high horse, as I needed several scoldings from my roommate Ebony.
This did however enable me to have the sad but necessary realization that Percy kind of sucked. He left with an inappropriate hug and a lingering kiss on the cheek that had me rolling my eyes in annoyance. Go away.
The Bad Boy
The day after Percy left I was relieved. I didn't have to contemplate my morals over him anymore, and I could just chill out at work. I was taking a break from men.
Enter Dean.
He was the son of one of the pub's regulars. Our customers were all generally over the age of fifty, so you don't not notice the young, over six foot tall, extremely built hottie in a crowd of grey. You just don't. He didn't seem to have any particular interest in me, which was fine for all of about five minutes. I decided to play it cool and be subtle. The next day I told his dad to tell Dean I said to come in. So I need to work on being subtle, sue me.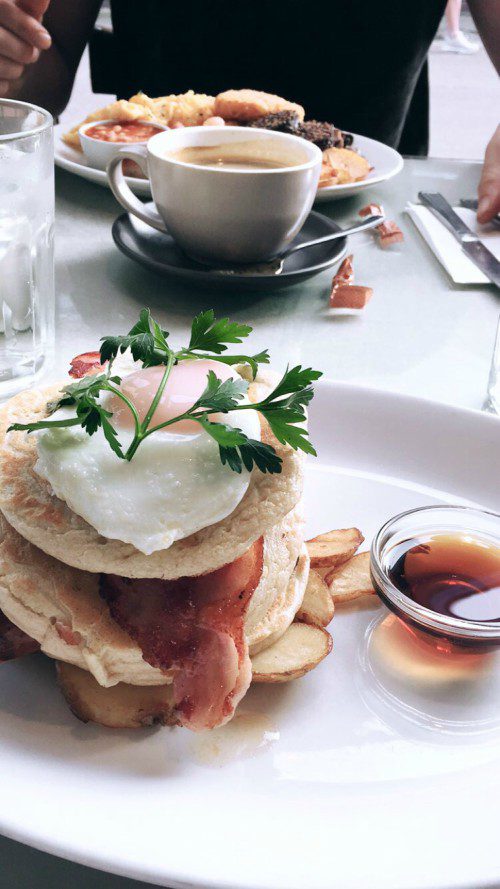 A week or two later I came home (I lived above the pub) after drinks with George. I went into the pub clad in colorfully knit slippers to request the heating be turned on. My friends behind the bar not so quietly pointed out Dean a few feet away. As if I hadn't noticed. They told me he asked about me, so being the cool, confident girl I am, I went over to talk to him (I was drunk).
After a few jabs at my quite frankly adorable slippers, I discovered he was the quintessential British bad boy. Kicked out of numerous private schools, bar fights, extreme sports. Even as a kid, where he almost died getting the scar that ran from his forehead down to his cheek. To my chagrin I found all of this ridiculously attractive. It didn't help that he was my match in stubbornness and arrogance with a sense of humor just as crude as my own (except I'm funnier). We ended up going out with another couple in the pub late into the morning.
I didn't expect to hear from him again and was surprised when he messaged me a few days later. I was even more surprised at how happy it made me. The problem with no expectations is that anything and everything exceeds them.
We decided to go on a hike, which turned into a pub-crawl, where he made it very clear he was not looking for anything. That sounded perfect to me because I was on a break from men, remember? Over the next two months we went on some ridiculously fun dates; crying with laughter over a steak tasting dinner, getting muddy hiking and kissing in the rain, and begrudgingly sharing food on a road trip to the coast. Of which the latter ended in a fight, because two hot heads probably shouldn't be together that length of time (obviously I made a point to ignore that red flag).
And to my great shame, I accepted that I liked the stupid bastard. He could be a royal dick, but like every good bad boy he had a heart of gold. I was annoyed by how charmed I was at his unexpected feminist views or the joy it gave me at the genuine stress it caused when I continued to interrupt his stories with inane questions. After each time I saw him I would declare I was over him, because I didn't want to get too attached (as if I wasn't already). I was constantly looking for any reason to stop liking him, while at the same time pathetically hoping he wouldn't give me one.
That was the real issue, not that I liked him, but that he didn't like me. And the only person who hated how much I liked Dean more than I did was Dean himself. Or maybe Ebony who had to listen to me complain all the while.
He became distant and I didn't see him for a while, until we went out on a goodbye dinner before I moved to London. The date felt totally off and for the first time since meeting him I felt uncomfortable. And what does a beautiful, funny, intelligent woman do after that? She messages the guy saying, "let's just be friends from here on out". So. Stupid. Clinging to the scraps of my dignity, I didn't want to leave any room for me to keep trying with him, because apparently self-control is also something I need to work on. He responded that friendship was actually all he had ever wanted with me. So good, great, that felt awesome. Asshole.
As much as that stung, I had meant it when I said I wanted to be friends. I wasn't interested in vilifying him for not being romantically interested in me. I mean, it's not his fault he's a complete moron. And I had known (as I'm sure everyone who read this knew) that it wasn't going to work from the start. But hey, that's how I make friends now: failed dating.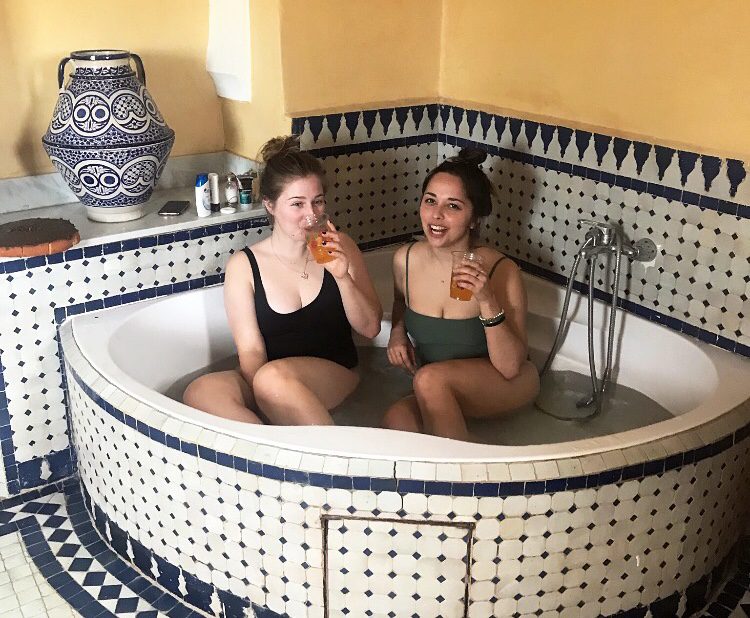 So, those are my romantic tales from my time living in a sleepy village in England. Not everyone is as lucky as Belle; in the real world you gotta date a few Gastons before you find your beast.
Here's hoping the next Gaston is at least filthy rich. Or well read. I'll take either.