Living in downtown Phoenix, Arizona I have witnessed and participated in the local Black Lives Matter protests that have marched right by my apartment building. I am only one individual, but offering up my protesting perspective may offer something other than what the mainstream media is showcasing.
Like so many others, I was shook by the video of George Floyd's fatal experience with police officers. It was that very uncomfortable, want to vomit feeling. What really hit me was how so many people were there trying to save him from the police brutality, yet still he died. I understand why the world reacted in anger. That is something powerful to see ~ to know that the world knows this was wrong, not just one ethnic group, but most of humanity knows. A reaction of this magnitude doesn't just come from one terrible act though, we also know it has happened far too often for far too long.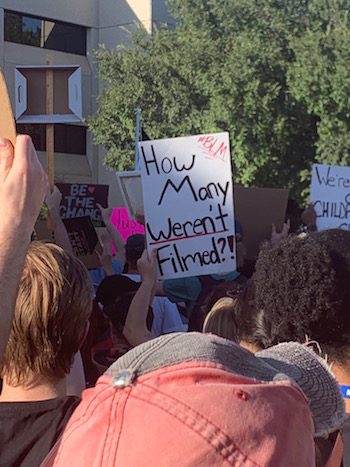 First Nights of the Black Lives Matter Protests in Phoenix, Arizona
The first couple nights of protests in Phoenix were mostly peaceful, but there were a few individuals who threw rocks and vandalized buildings, without lootings. In Scottsdale, about 20-minutes away from here, the largest mall was quite heavily looted. I understand that some people join in protests to turn them more into riots just for the sake of being destructive or stealing, but I also understand that some people are just very, very angry with no real outlet for their feelings or avenues to make themselves heard and noticed. My family watched it all from the safety of our home, but had many conversations on the topic. The first night the curfew was introduced, we watched from one of our windows. It felt apocalyptic and very much out of a movie. Not heard very well in the video below are the sounds of cars honking/alarms going off and people screaming. There were definitely rubber bullets and tear gas being used.
The following night the helicopters were still there, but everything was much more calm. We heard that the front of the line protest organizers agreed to leave peacefully at curfew if the police would kneel and be in solidarity with them. Still watching from our apartment balcony and reading what we could on social media feeds and footage shared by participants, we decided it was safe to participate a few days later.
Our Family's Experience with Racism
We are an interracial family and have experienced the different levels of treatment that go along with that. My children have experienced racism themselves in ways that are hidden to most. When we share stories, friends are generally shocked. We have been pulled over by the police for no reason at all, and have even had two partnering officers say that they were just bored. A family member has been approached by police just for being on the street on his cell phone because the reception in our house was bad. The confrontation was because they didn't believe that a black man could live in such a nice neighborhood so they thought he was suspicious. My son has been accused of stealing cafeteria food from his high school when he just went through the line like everyone else with his plate of pizza and a soda. They asked him what was in his pockets… which was nothing of course! We decided that this is a monumental moment in history that we would hate to look back on later and realize that we didn't act or actively participate in, like so many of our ancestors have done for women's rights and more ~ all under somewhat dangerous circumstances. What follows is my account of our experiences and the love and power created by thousands of people coming together.
My Experience Participating in the Black Lives Matter Protests
I learned how important it is to educate ourselves. Even when we think we have an awareness, there is still more to understand. There has been great purpose behind the protests and specific changes that the organizing groups are asking for within the system. To learn more about the movement please visit the Black Lives Matter website.
While this is a topic that we as a magazine are passionate about, it is quite personal to a few of our writers. As such, one of our other writers, Alex, has also been heavily researching and writing about the topic to educate a loved one in a letter. She kindly agreed to let us publish that letter in a 3-part series, that we have all been learning from. Read on with the following links to learn the Sobering Facts on Police Brutality, a brief History of Systemic Racism, and to discover the Positive Changes that have come from the Black Lives Matter Protests so far.