In this first leg of their adventures in Japan, Bjorn and his friends explore Tokyo on a budget, as a group of artsy, game loving, 20-something year olds. Read on for their itinerary and what did and did not meet with their expectations.
Tokyo Itinerary at a Glance
Accommodations: U-Hotel Takadanobaba
Day 1: teamLab Planets & Pokemón Center Tokyo DX

teamLab Planets experience in Koto
Lunch: bento boxes
explored Pokemón Center Tokyo DX in Nihonbashi
Dinner: in Shinjuku

Day 2: Asakusa & Akihabara

Asakusa

visited Senso-ji Temple
explored the vendors on Nakamise

wandered around Akihabara, playing crane games
visited Pokémon Center Mega Tokyo & Pikachu Sweets

Day 3: Shibuya & Harajuku

Lunch: Uobei Shibuya Dogenzaka
shopping in Shibuya, including at the Mega Don Quijote Store and the Nintendo store
piggy cuddle time at mipig cafe in Harajuku
sunset at the top of Shibuya Sky
Dinner: Ichiran

Day 4: Asakusa

Sanja Matsuri (festival for the Asakusa Shrine) at Senso-ji Temple

Day 5: Taito & Shinjuku

Nihonbashi

attempted to get into Pokémon Cafe

Taito

explored Ueno Park, including Ueno Toshogu Shrine and the Shinobazu Pond

Shinjuku

Dinner: food stall in Omoide Yokocho (Memory Lane)

Day 6: Chuo & Shibuya

Chuo

Lunch: Chukasoba Ginza Hachigou

downtime at the hotel
shopping in Shibuya
Our First Stop (recovering from our flight at U-Hotel Takadanobaba)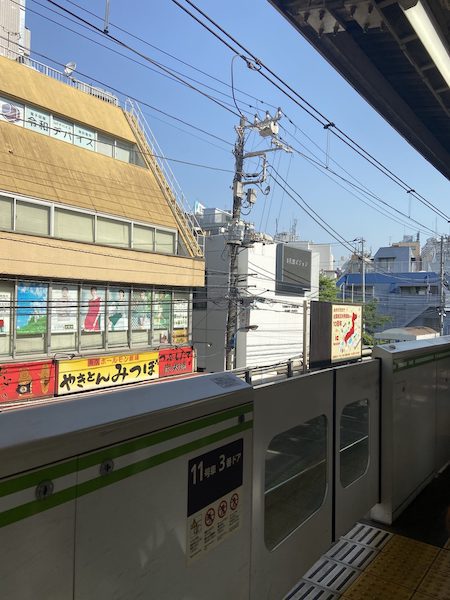 After such a long day of travel, flying from Vancouver to Japan, we didn't plan any activities for our first evening in Tokyo. Instead we got settled at our hotel, U-Hotel Takadanobaba. The check in process was completely self serve using a tablet in the entryway. This hotel was compact yet had everything we needed. It was within walking distance to trains, had a washing machine, a set of pajamas for each of us, dishes, cutlery, and even a hot plate if we wanted to cook anything. The bathroom had a shower, tub, and a toilet with a bidet. There wasn't much room to move around in the suite, but we really only needed a place to sleep, since we would be out and about, exploring Tokyo.
Day 1 in Tokyo
teamLab Planets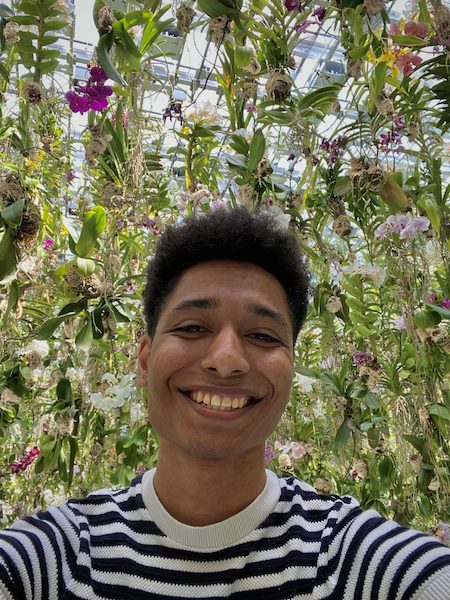 For our first real day in Japan, we began our adventure by visiting teamLab Planets, an immersive art experience in Tokyo. The images above don't feature all of the exhibits and the quality of the photos truly do not do the beauty of the experience justice.
As this was a sensory exhibit featuring instances of walking through water, we embarked on this adventure barefoot. To give a little tease the image on the bottom left of the gallery, shows a water exhibit where we waded through water with fish (koi) projected onto it. Occasionally they would all swim, and swirl so fast, resulting in the blur seen in the image. It was so cool to feel the water and be immersed in the art.
The other exhibits were also beautiful and provided plenty of photo opportunities. I felt most at peace in the floating flower garden where strings of flowers would rise up and down above you while calming music played. You could lie down on the glass floor and stare at the flowers as they lowered and surrounded you.
Pokemón Center Tokyo DX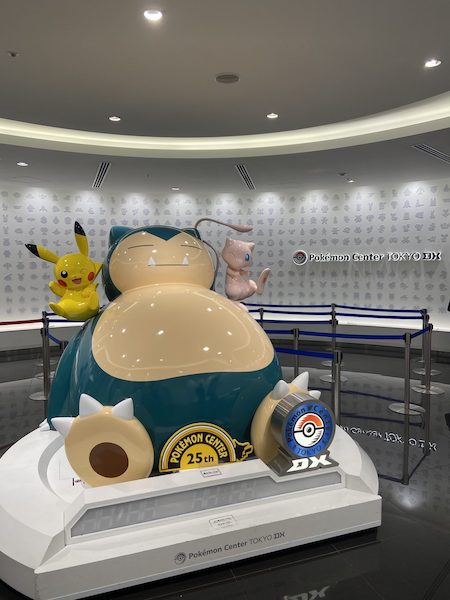 After grabbing some bento boxes for lunch, we went to Pokémon Center Tokyo DX, one of many Pokémon Centers in Japan. This one, as well as the others, features a store where you can buy as much merch as your heart desires. It also hosts a Pokémon Cafe, one of two locations, where you can eat Pokémon themed dishes. The cafe is reservation only and due to high demand, you need to book it a month in advance. I will elaborate more on this later since this was a brief stop for us with another planned for the future.
Dinner
After exploring different areas within Tokyo, we went to Shinjuku for dinner. There were people outside of a restaurant with signs displaying their prices for skewers and since it looked good, we went inside. It seemed like it would be a cheap and quick bite to eat, but we later learned that there was a seating fee and mandatory drinks. The servers came back multiple times to make sure that we ordered a drink before our food was brought out.
We had never experienced that before so it came as quite a shock, but some reading informed us that practice was typical for that area. Now we know not to be fooled by the base prices on the signs luring us in. Despite that, the food was delicious and honestly, worth it.
Day 2 in Tokyo
Asakusa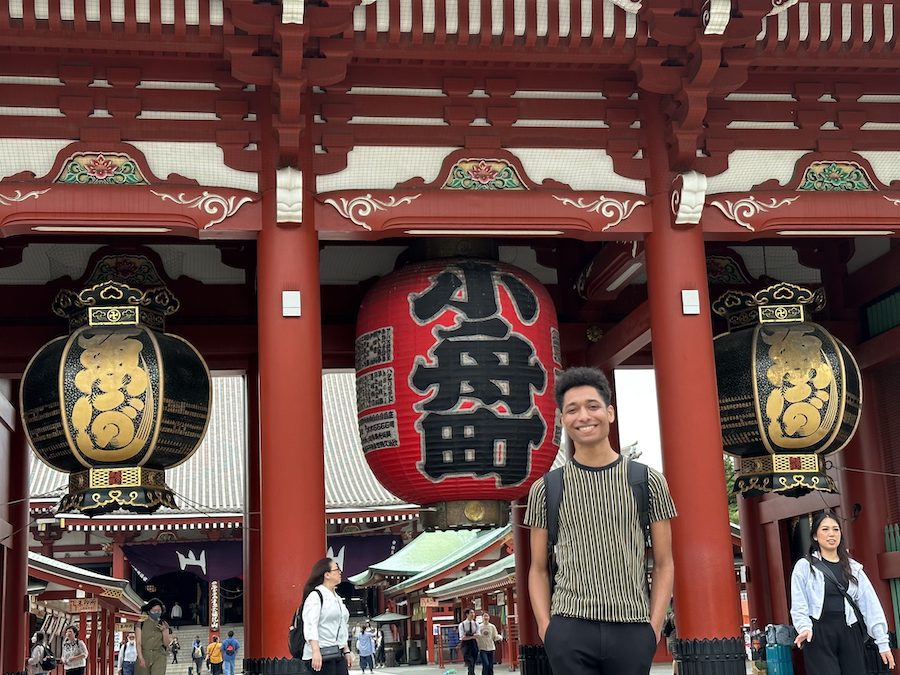 On our second day, we explored Tokyo's oldest temple. Senso-ji Temple, located in Asakusa, is an ancient Buddhist temple featuring gorgeous architecture and vibrant paint. The temple is well-maintained and hosts various events throughout the year.
Between the outer gate (Kaminarimon) and the second gate (Hozomon) lies a shopping street known as Nakamise. Here, you can buy Japanese food, snacks, traditional items, and souvenirs. It was fun to go through the different shops and be somewhat overwhelmed by the variety. Some shops had the basic souvenir items that can be found in almost any other shop and some had high-quality, hand made clothing, accessories, and decorations. As much as I wanted to taste all of the different foods, I was on a budget.
Akihabara
Later that day, we wandered around different shops in Akihabara, played crane games, and got some novelty items from Gachapon machines. I feel like we all know by now that crane games are somewhat rigged, if not completely, but I couldn't help but try to play for the items that I really wanted. While I didn't get the giant Quaxly or Cinnamoroll, I still won a tiny Pochacco plush.
Most of the crane games would pick up the item you wanted and then once the crane reached the top, the claws would open and drop your prize back inside the bin. How sad it is for the childlike wonder to vanish from your eyes as you watch that gorgeous, soft, fluffy plush of your favourite cartoon character fall back into the pit of despair (Sheesh Bjorn, calm down). Exploring this area was still a highlight of the trip.
Pokémon Center Mega Tokyo & Pikachu Sweets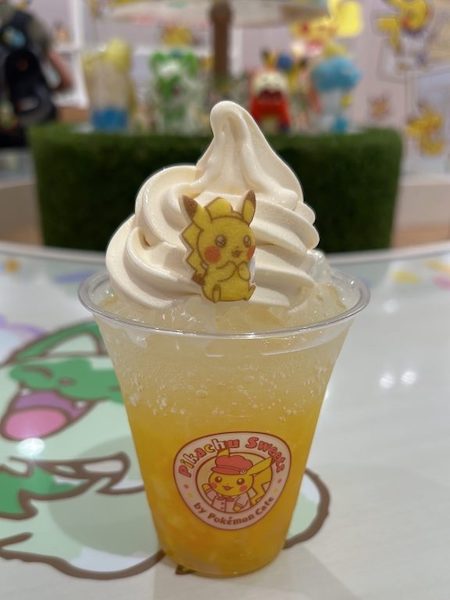 After enjoying a teriyaki chicken burger from McDonald's, we went to another Pokémon Center in Sunshine City Alpa. This one is massive with multiple shops around the mall floor and a Pikachu Sweets cafe that does not require a reservation, since it is take-out only. The confections and exclusive items here are overpriced, but that is expected for tourist traps like this. There were some attractions that we knew we would be spending more money at, and this was one of them. If you aren't a fan then, of course, please save your money.
Day 3 in Tokyo
Shibuya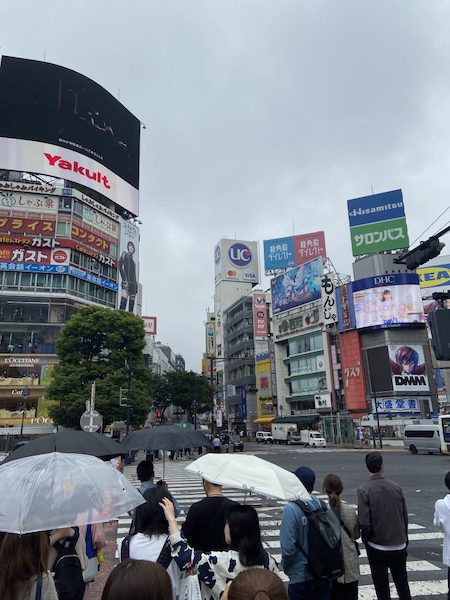 For most of our breakfast "meals", we grabbed something quick from 7-Eleven. Their selection was actually pretty good. I'm not someone who needs a big breakfast to get the day going, so it was perfect for me, especially since I was cutting costs where possible.
For lunch, we went to Uobei Shibuya Dogenzaka which is a conveyor belt sushi restaurant. I had always wanted to go to one of these and it was fun and cheap! We placed our orders on tablets and eventually our food came zipping down the conveyor belt and stopped right in front of us to add to our plates. The food was delicious and I would definitely go again if I get the chance.
We then went shopping around Shibuya, including the Mega Don Quijote Store, a famous gift shop with multiple floors of various Japanese products. My friend and I also got interviewed by staff for their channel, shown above in the third image. The next stop was the Nintendo store where you can buy novelty items related to your favourite Nintendo characters. I was in awe as I wandered down each aisle, and found far too many things that I wanted.
Piggy Cuddle Time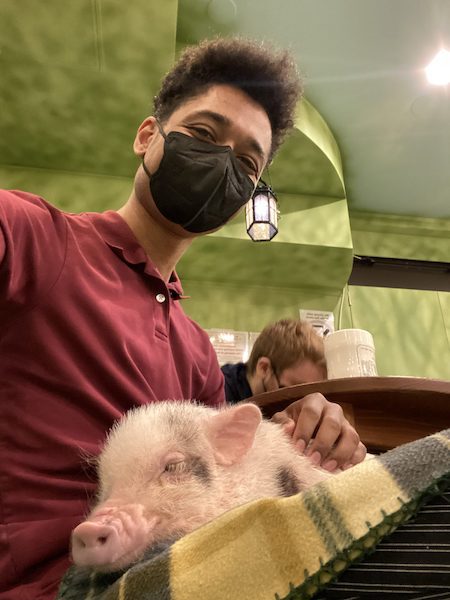 One of my favourite stops on our trip was at mipig cafe in Harajuku, where we got to cuddle with cute little piggies! Some of them were babies and others were grown, yet they all had love to give. Some even fought over who would get cuddled. I had the most precious moment when one fell asleep in my lap.
The handlers at the cafe made sure that everyone got some pig time. Some people seemed to be pig whisperers and had a bunch of them surrounding them and the handlers had to disperse the pigs so the people sitting without a cute friend in their lap wouldn't be left out. The facility was clean and they seemed to genuinely care about the wellbeing of the pigs.
Shibuya Sky & Ichiran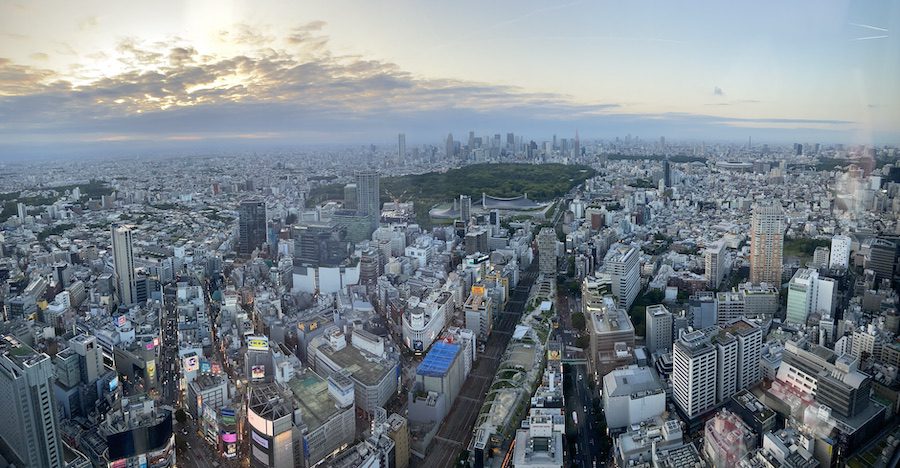 After the time with the besties (lil piggies) was over, we went back to Shibuya to enjoy the sunset at the top of Shibuya Sky. This peaceful rooftop gave us a moment to take in the city of Tokyo and watch as the city operated below us. I found comfort in watching the trains go by and the people below walking to their next destination.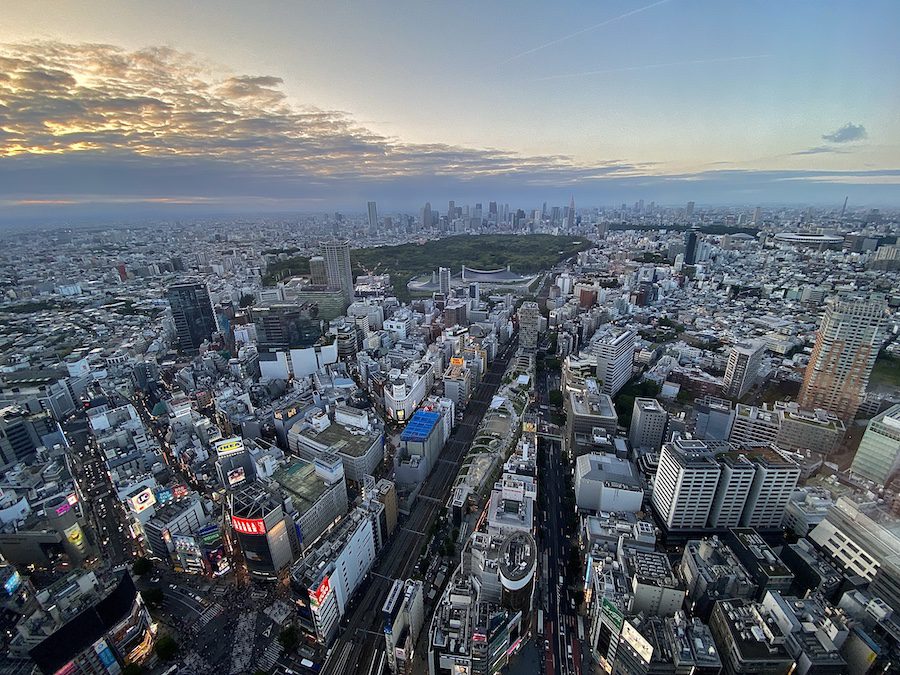 For dinner, we went to the famous ramen chain, Ichiran. The broth was rich and delicious with the noodles cooked to perfection. We used a digital screen to fill out our orders, paid in advance, and placed our tickets at the top of the table for the staff to take and prepare our meals. This famous spot usually has a line, but I promise it is worth it.
Day 4 in Tokyo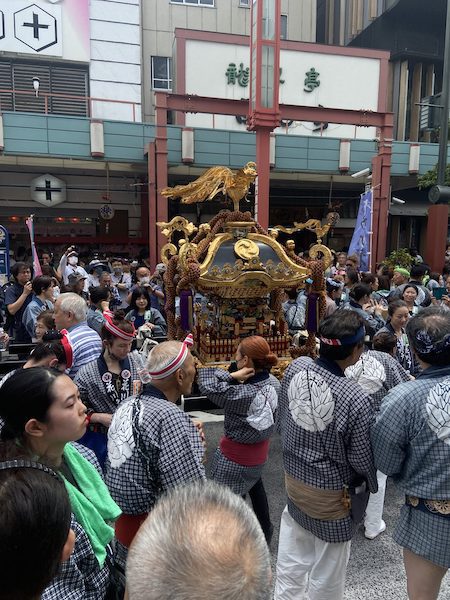 We happened to be visiting at the time of Sanja Matsuri, the biggest annual festival for the Asakusa Shrine. While the festivities can be seen throughout the Asakusa district, the festival is centrally located at Senso-ji Temple.
It was an amazing experience to witness this cultural display. We made sure to spectate respectfully from a distance, so as to not interfere with the events. Delectable food stalls had been set up on the temple's grounds with amazing prices and by the end, I was ready to enter a food coma. We spent the majority of the day around this festival and spent the evening to ourselves.
Day 5 in Tokyo
Since we were not able to book a reservation for the Pokémon Cafe, we tried to wait in the non-reservation line in the hope that there was a last-minute cancellation. We were dedicated and waited three hours, but eventually gave up. We decided to find a spot to eat in the area and went to Ueno Park to walk around and chill out for a bit. Unfortunately, the zoo was closed when we went. The park still had other sites to see including Ueno Toshogu Shrine and the Shinobazu Pond.
For dinner, we got some yakitori from a food stall in Omoide Yokocho (Memory Lane), a famous alley in Shinjuku with food stalls and tiny bars. Some of you may know it as Piss Alley, getting its colloquial name for its lack of restrooms. This narrow alley is a quick and easy tourist stop to add to your itinerary.
Day 6 in Tokyo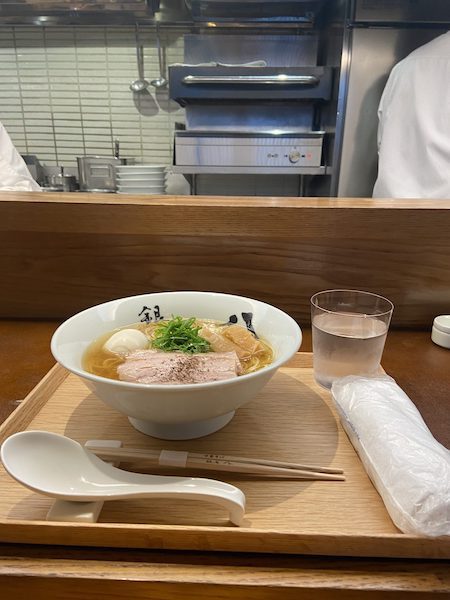 Today's big plan was to enjoy a meal from Chukasoba Ginza Hachigou, rated with one Michelin star. We arrived at 9:30 AM and were about 11th in line, with the restaurant only containing a 6-seat counter. Closer to opening, each person in line was invited inside to place their order and then return to the line. By the time the restaurant opened, staff had already placed a sign on the door stating that they were sold out for the day. By 11:30 AM, we were seated and ready to enjoy the most delicious meal of the trip.
As soon as I sipped the broth of my ramen, I could taste the years of expertise that went into creating the highly-rated dish. I am not usually one to wait in such a long line for food, but this was entirely worth it. The kitchen of this small and powerful eatery was spotless and the chef served our meals with the kindest smile. The intimacy of the space enhanced the experience.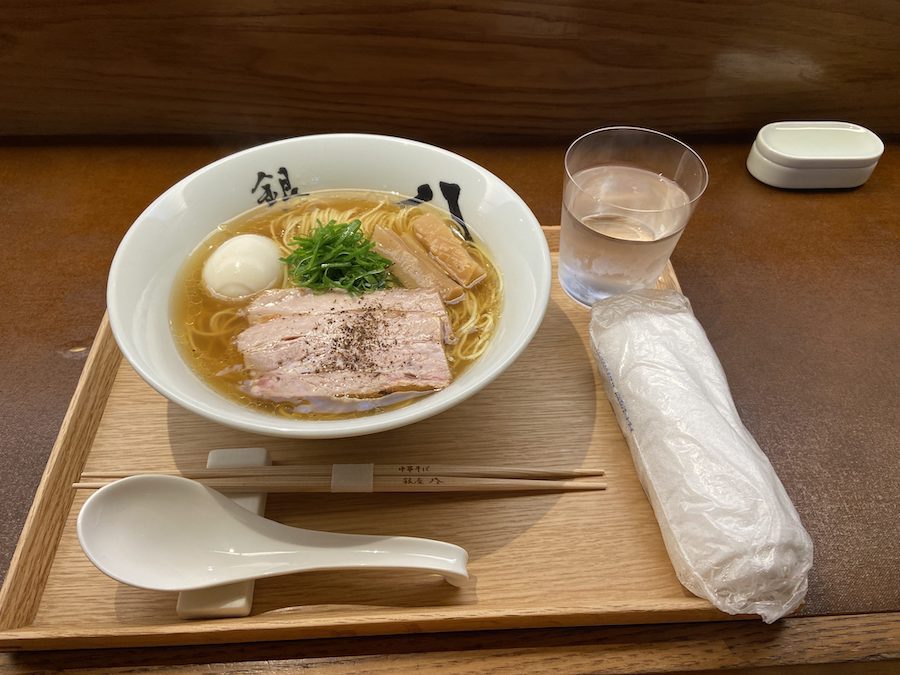 After relaxing at the hotel for a moment, we went back to Shibuya to do more shopping.
---
Tune in to the next leg of our trip to Kyoto.