Being an Italy lover, I have to admit I have never heard of either of these names before.
We left, as most tour groups do, in the early morning. Sitting inside the air-conditioned tour bus, the sunshine outside the window almost blinded my eyes. Our group guide played some Italian music, and the spirit was high.
For those of you that do not know, Sorrento is a small town in southern Italy. Facing the Mediterranean Sea, the climate is a little like here in Vancouver, and late June was the perfect timing for a visit.
Our first stop was a lemon stand on the side of the highway. Sounds strange? Apparently lemon constitutes a large portion of traditional southern Italian diet, varying everything from lemon gelato to liqueur made of lemon peel (called Limoncello and tasted funny). But it was not your average lemon from the supermarket – these ones were huge. I think they had another name, but I can't remember. Anyway, they cooled me down instantly, and we still had a half hour more to go.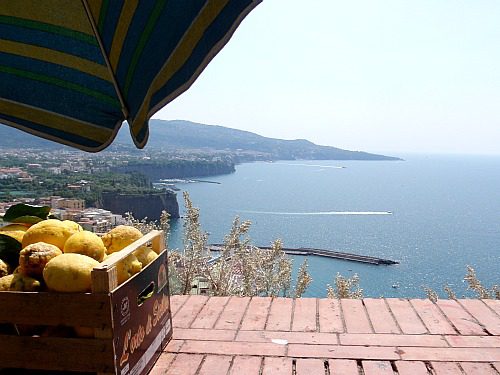 From Sorrento, we got on a ferry and headed to a close island – Capri. According to our group leader, it was quite a popular town among the rich and famous, who were willing to pay outrageous amounts of money for the land and the sunshine. And I have to admit: it would be worth it. There are few places where you can find a blue ocean and gorgeous sunshine better than Capri.
We set sail in a ferry that was just big enough for the group. The heat from the sun and the ocean breeze achieved a perfect balance between hot and cold, but as an inexperienced sunbather from Vancouver, I still got burnt. Lesson of the day: just because you feel awesome, doesn't mean the sun's not burning you.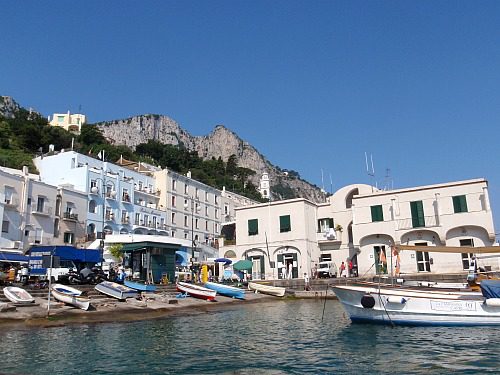 We had the afternoon free on the island. I joined a small group of newly acquainted fellow travelers and set out for adventure. Despite being a small and somewhat isolated (ferry access only) island, it was filled with world-famous brands. Chanel, Louis Vuitton, you name it. After hanging around and failing to spot a celebrity, we went on to have our daily gelato. According to our Italian tour leader, you had to have at least 2-3 "doses" of gelato per day during the summer to stay healthy in southern Italy.
The sun dried us out quite quickly, and the town wasn't very big. After that short yet thorough tour everyone was just dying to dive into the water. So that was what we did. The ferry took us snorkeling. We didn't see a lot of fish, but we did see tons of coral reefs. In fact there were so many coral reefs it was sometimes hard to swim around them.
We had a few swimming spots planned for us that day, but being somewhat athletically challenged, I was among the first few people to surrender. We waited on the ferry while the others kept on swimming, joking about how much we'd charge them for their cloths and towels once they got back onboard.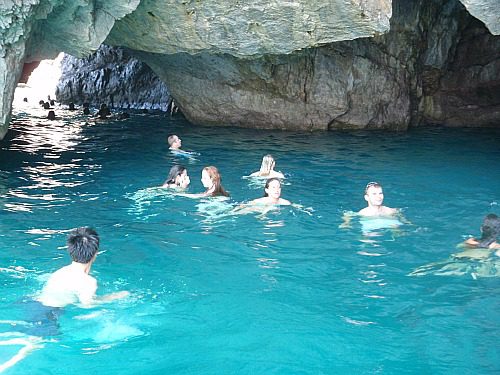 If I had to conclude the day, I'd say it was pure relaxation. And yet I was exhausted when I got back to the hotel, mostly from the sun. After a hot shower, I headed straight to bed. I had to get well rested and ready for what was to come. Pompeii, Sorrento, and Capri were all wonderful towns and great tourist spots, but I was not about to forget why I was here. The next day, we were heading for my favorite city in my favorite country: the home of many of the greatest artists and musicians, the birthplace of the Renaissance, the city that had been described as an "art of itself" – Florence.
I could barely sleep.