This was not the first time I had been to Seattle, but what made this trip special was the fact that I was going to have my first camping experience with my boyfriend, my first boyfriend.  It was to be a two-day road trip that unbeknownst to me, would end up including many of my "firsts".
It took me around four and a half hours to get to Seattle by taking the Greyhound bus. If I was not a new driver and had the guts to drive to Seattle on my own, without a doubt, I would have done that. However, I was not a brave girl!  Therefore, I needed to suffer from being stuck in a not-very-comfy, hot and agrivating bus for almost five hours without wireless access or a clean washroom. I do tend to avoid using public washrooms as often as possible.  Something was telling me that this camping trip was about to force me to change.
Upon arriving in Seattle it was time to commence the road trip, and venture off with my boyfriend for Olympic National Park.
Looking out of the window, I knew we were in trouble – it was cloudy. During the long car ride towards the Visitor Centre, it was already raining. I thought, "Great, how are we going to explore with this sucky weather?" As soon as I saw the big grey clouds in the sky flowing around, I just prayed.  I hoped that at least the sky would clear up a bit.  Although it was not the best weather, the visitor centre was filled with people. We got some information and planned our route for the day.  After all,  if all these other people were still going for it, how bad could it really be?
Our first stop: Hurricane Ridge
The old man who worked at the Visotor's Centre did warn us that there would not be much to see when we got up to the mountain, and he was right. It was foggy, and the snow had not yet melted.  The only thing we saw was an endless sea of whiteness.  Remarkably, on the way to the ridge, we were able to see a deer.  My first ever deer sighting! I always thought that a deer would look something like Bambi, but the one that we saw had darker skin without any white spots.
The second stop: Port Angeles
Many fast food chains filled this little town, providing us with many lunch options.  We went to Jack In The Box, an American fast food restaurant. At first I did not really want to go there, because I wanted fresh warm food, not junky. However, after a discussion with my boyfriend, he persuaded me to give it a try. Surprisingly, I have fallen in love with it.  I got their chicken strips combo with curly fries.  Curly fries have always been my favourite, and being able to have them again just made my day!  My boyfriend knew that I was cold, so he kindly ordered a coffee for me. I frowned when he came back with it because he should know by now I dislike plain coffee. However, he urged me to take a sip, and oh wow, Hawaiian coffee tasted super good.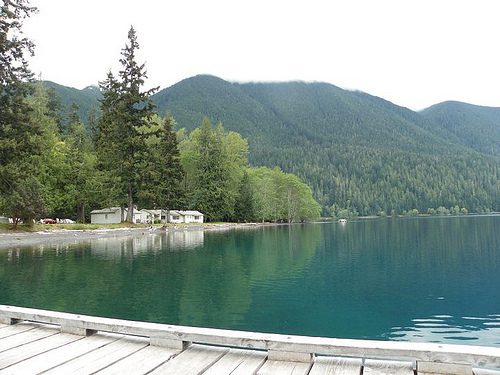 Visiting this quaint little neighbourhood is a must! We loved the old character houses leading to the lodge and lake. It would be a perfect place to raise your kids with this kind of natural environment. I could definitely imagine us having our family and a puppy here. Anyways, the clarity of the lake was beyond the one described in the Squamish post.  I could easily see to the bottom and make out the different sizes of rocks and pebbles. When I walked onto a little point, I could see that the lake was not blue like we suspected, but it was green. The different shades of green indicated the depth of the lake.  I could picture myself relaxing with a good book here. There was also a little theatre stage where people could perform. The setting of the whole town remind me of how relaxing country life must have been back in the old days. The lodge itself was old-fashioned in style. The walls were painted in dark marble red and purple, which gave the lodge a slightly classic look which I really liked. There was one little thing that disappointed me. I went to their washroom, and really, if they spent so much time and money to modify the lodge, why not the washrooms too? It was clean, but I expected something prettier. However, my boyfriend seemed to enjoy his time in the washroom. He did take a bit longer than he usually did (go figure why).
The first thing we saw as we drove in was the Sol Duc Hot Spring Resort. I had a few hot spring experiences when I was travelling in Japan; however, something smelled completely different here. It was not a smell conducive to romance!  It smelled like a toilet to me, and according to my boyfriend, it was the smell of sulphur.  When we looked inside the hot spring pools though, both of us just wanted to jump right in. They just looked extremely comfortable and welcoming, especially during the rainy cool weather. The waterfalls here took the prize for me. Despite a long walk to get to them, the combination of three falls proved worth it. I could hear the powerful water rushing down from the mountain against the enormous rocks clashing against the stones at the bottom. At that moment, I felt like lightning struck through my body, creating a huge thunderstorm inside. My heart was leaping in my rib cage, because of the loud energetic sound hitting every single nerve.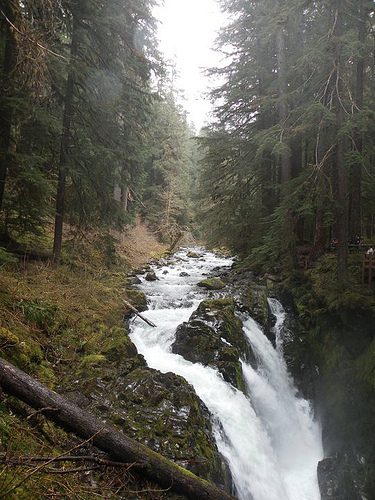 Forks is another small town, and honestly, if I did not see all the stores with signs related to Twilight, I would have no idea this was where the story was set.  Neither my boyfriend nor I are Twilight fans, which left us feeling overwhelmed that posters of Edward Cullen were everywhere. It came as no surprise to us that there were Twilight tours. We had only stopped in Forks for dinner, as we hadn't really come prepared to cook a meal in the campground. Also, it was a good place to stop for a little washroom break. Yes, it could be rather dirty, but it should be better than anything we would find on the campground. No kidding.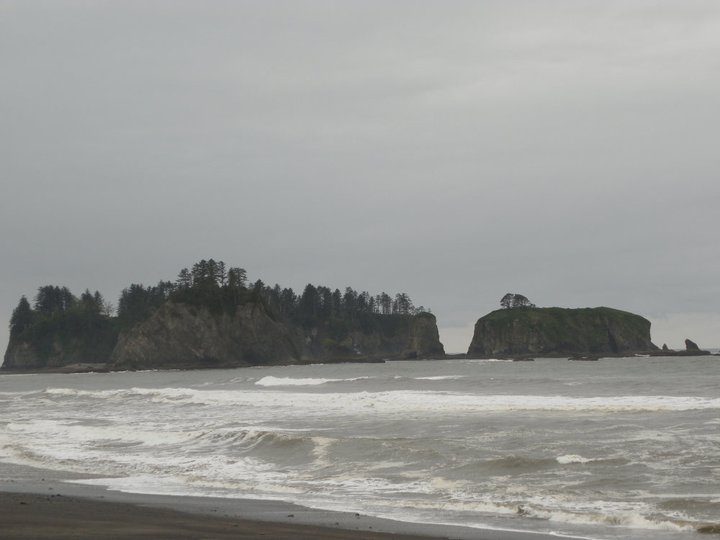 As this was my first time really camping, I imagined we would probably set up tents in the middle of forests under the protection of the gigantic trees. However, anyone who has camped at Rialto Beach before will know that the campsites are more like a barbecue site, with bushes and trees separating one from another. My boyfriend had never gone camping without his family, so this was his first time to set up a tent on his own. I helped too, but of course, there was nothing much I could do since I had no knowledge of setting up a tent. I am sure though after this time, I would be able to do this on my own, as it didn't seem very hard to do. Well, except for nailing the tent firmly into the ground, as I really don't have much strength. Then, we had to pump up the air mat to ensure a comfortable sleep. Although it seemed like a pretty easy thing to do, the pumping did require a great deal of energy and muscle.  As a result, we did spend quite a while setting up.
After all the hard work and a long day of travelling, both of us were extremely tired.  Although I felt sleepy, one of my usual habits is to use the bathroom before my beauty sleep. However, without seeing any washroom on our way, and the fact that it was dark, we decided to just go in the woods. I am not sure whether that is the usual way  people do it during camping, but it was ours. I did not really like the idea of it since we might get caught by security who drove by, our bums might get mosquito bites, and it might be stinky for the grass.  At this point, we did not have a lot of options. Therefore, in order to fit into the camping culture, we just did what we had to do.  It is unbelievable how I changed from disliking public washrooms to peeing in the woods! To think…this was only our first day.