This is the first part of a 2-Part Series by travel writer Jacqueline Swartz on Vienna's MuseumsQuartier. This first part, introduces us to the MuseumsQuartier on the Celebration of it's 10th Year.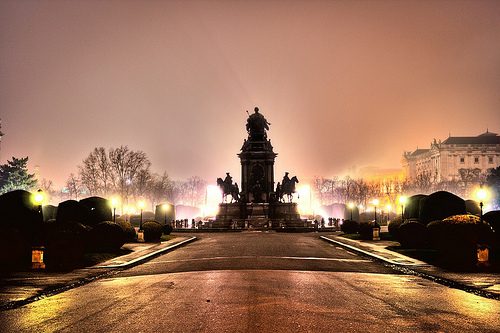 Vienna, Austria has long had the reputation as a dreary city stuck in the past, getting by on Mozart and Sachertorte.  But, as I found out, anyone who has been there in the last few years will tell a different story. Vienna has transformed itself into a city humming with creative energy. The grand l9th century buildings that so define the city, now feature street level stores and boutiques with cutting edge design, crafts and clothing. This small, walkable city now has a feeling of openness, all the more inviting because prices are lower than in many other major European capitals.
In music, electronica, which began in Vienna, coexists with Opera. Chefs are using the plentiful local produce to make creative versions of old classics, while some go so far as refusing to make that old standby, Weiner schnitzel.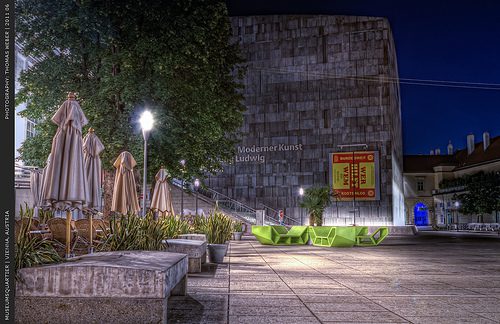 Nowhere is the new, dynamic Vienna more evident than the MuseumsQuartier. Called the largest museum district in Europe, it opened in 2001, with museums, restaurants and performance spaces in an area of over 90,000 square meters, with cobblestone quadrangles tying it together, and the former Emperor Franz Joseph's baroque cavalry building as the flagship. The location is ideal. Just beyond is the Museum of Fine Arts and the Imperial Hofburg Palace; behind the MQ, as it is called, is the trendy 7th district, with its avant-garde shops and boutique hotels.
What luck: an iffy area that at one point was going to be turned into a bland convention centre became, thanks to persistent visionaries in the arts and in government, a must-see place for Vienna visitors – and a place for the Viennese themselves.
It's large, but hidden by buildings and trees, and its cobblestone plaza and mix of old and new buildings give it an almost cozy feel: you're not merely on a street with a lot of museums.
"It's our urban living room," explained Executive City Councilor for Cultural Affairs and Science, Dr. Andreas Mailath-Pokorny.  He was speaking at a press conference to celebrate the 10th year of the MQ. It was delightfully shocking to hear him and other politicians say that funding the arts is good for the economy – and for the soul of the country. Today, the MQ draws 3.8 million visitors a year, and it's hard to imagine Vienna without it.
To get the lowdown on what is happening, check out eSel Rezeption. It's on Electric Avenue as soon as you enter the MQ. It describes itself as an art information office and "a micro museum shop for the dissemination of art in everyday life and on the forms of intelligent conversation."
Did I forget to add that the MQ is a friendly place, where you can talk to a stranger?  Perhaps the mixing up of glitz/grunge, high/low, baroque/modern has the effect of loosening things up. All I know is that it's a great place to spend time, even if you're alone.
And I want to return. First to the 2112 mega exhibits of Klimt in museums all over the city. Then to check out what's being called the Year of Fashion at the MQ. And, of course, just to hang out.
For details on the restaurants, shopping and MUSEUMS, stay tuned for Part 2: Great Eats, Local Finds & the MUSEUMS of the MuseumsQuartier, to be posted on Tuesday January 17,2011.