With tickets going on sale tomorrow, March 19th, for the 2012 Season of Bard on the Beach running from May 31st – September 22nd, 2012 in Vancouver, BC, we thought it was the perfect time to share a post Alyzee Lakhani wrote at the end of the 2011 Season, on her experience at Richard III.  And without further adieu, I give you Alyzee …
I want to thank Dr. Katherine Sirluck for teaching me to appreciate Shakespeare and love theatre. It is her brilliant instruction that gave me the sensitivity to be so moved by Richard III and other plays. Richard III was the first play I studied in her class.
Richard III is one of my favourite tragic heroes from Shakespeare, so I made sure to see one of the performances at the Bard on the Beach Shakespeare Festival this past summer. Even though going to watch a tragedy may not sound like the most summery of activities — especially while the beaches beckon as they do  — I was thoroughly glad I went. Not only because it was a beautiful performance, but because I think theatre has the power to change something within myself; create a little shift in how I view the world, treat myself and others, and in some way perhaps difficult to describe. This may not apply to all theatre, and all plays of course — but I do find it true of much of Shakespeare, even simply in the reading of his plays. I know that Shakespeare was trying to change society through theatre, and he is such a masterful stirrer of emotions that I cannot go to a well-done play of his without feeling somewhat changed by it.
That's why I think it's important to watch tragedies (comedies too, but for different reasons) — because they change something within the audience through the emotions it stirs up.  Richard III elicits compassion for nearly everyone involved in the play, particularly the 'villainous' protagonist. Though it is his cruelty that is the focus of the plot,  we cannot but appreciate how it arises from Richard's profound hurt. From what we learn in the play, he has been shunned, ridiculed, villainized, and isolated since, it seems, the day he was born — even his own mother, in a heartbreaking moment, jeeringly imitates her son's congenital limp and bent posture. How can we blame him for being absolutely livid? How often has a kind word been said to him? Certainly we see very little kindness offered to Richard in the play, except by those who fear his power or want to share in it.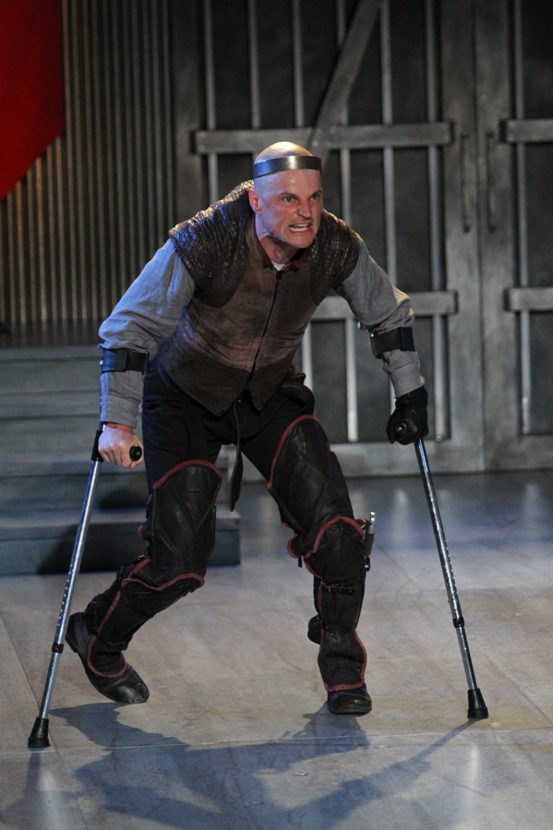 But this one of the most endearing things about Richard: he doesn't want power for it's own sake, like many other political figures in the play. Rather, he chases it to fulfill some kind of gnawing restlessness, that I'm sure even he can't quite name. When he gets the crown he is visibly baffled about why he still feels insecure, dissatisfied, unloved, and angry . . .  frustrated, he continues to kill and destroy, trying to find something to satisfy him in self-aggrandizement and destruction. And why shouldn't he? Everyone hates him already: why not play the villain? It seems the only recourse he has to some amount of respect and and friendship, however warped, is plotting and being dangerous.  Perhaps it is the only way he knows.
Soon after the play begins, we are aware that it is too late to avert the the series of events that lead to one disaster after another in the play — at the beginning of the play, his pain is already so acute that he is full of the hate that pushes others away from him. While real kindness might help Richard, his villainy removes the possibility of receiving kindness from those around him: kindness is probably a near-impossible response in a grieving mother to her children's murderer. The play's action is driving itself — we see few moments, if any, where the fate of its characters could have been changed. Meanwhile Richard thinks he is acting in his own best interests, when it is not until the soliloquy in the final act that inadvertently reveals to himself that he isn't even on his own side. The following lines are, in an exquisite nutshell, why I feel for Richard so strongly.
What do I fear? Myself? There's none else by.

Richard loves Richard; that is, I am I.

Is there a murderer here? No. Yes, I am.

Then fly! What, from myself? […]

Alack, I love myself. Wherefore? …

O no, alas, I rather hate myself

For hateful deeds committed by myself.

I am a villain. (5.5 136-145).
At this moment in the play, even repentance cannot save Richard from his fate — one that was created by an anger that I think arose from the consistent mistreatment of others.  In this way even Richard is not fully responsible for his own actions. He is not a 'villain' alone — his anger, hunger, blood-lust, were cultivated by the insensitivity that surrounded him.
Needless to say this play produces a deep regret that things end up the way they do.  The important part of this play, and what I think is the important part of watching tragedies in general, even when it's sunny out — is that it makes the audience desperately rack their brains about how the play's disasters could have been avoided.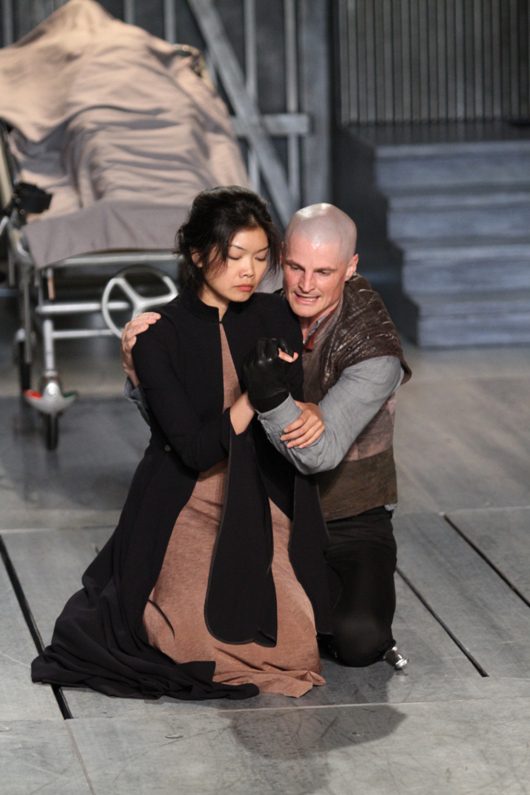 It begs the questions: When did it go to far? What, if anything, could have been communicated, and when? What are the reasons that this character wanted to commit violence in the first place, and who or what is responsible for his being so hurt as to want to hurt others? Perhaps the point-of-no return is not even anywhere in the play — this gives me something to contemplate. And it definitely influences the level of empathy I am able to extend to others — even if their actions seem cruel or malicious. It makes me wonder about any 'villains' — what more is there to their story? And it reinforces the life-giving belief in myself that people are ultimately good.
I have to admit I was a little bit apprehensive about seeing Richard III performed. Because I love the the play, it would hurt to see a disappointing production. But Kathryn Shaw's production at Bard on the Beach was wonderful — in so many big and subtle ways, it brought the play to life. Seeing this performance has emboldened me to watch Macbeth at Bard on the Beach next year — predictably, another play and protagonist that has a special place among the things I love. And the Witches! The Witches! There, I'm already excited about next summer.