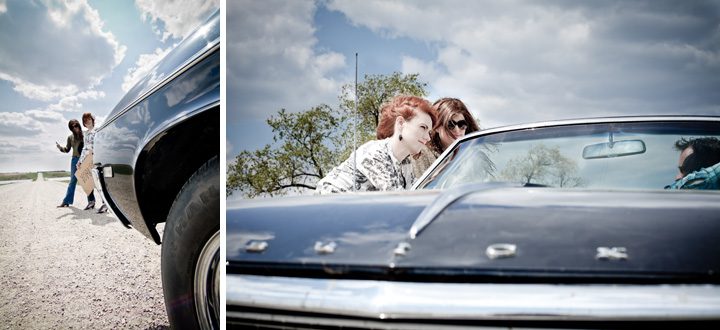 For the past decade, much of my travel has revolved around Film Festivals, and hands down the most hilarious, most entertaining and best bonding film festival I've been to is the Yorkton Film Festival.  Is it because of the exclusivity, red carpet affairs and paparazzi?  Absolutely not.  It is because of the people, great characters who are stories in their own right, and hilarious events that really could only be pulled off as they are in the middle of the Canadian Prairies.  More on those in a future post, as for now my focus is on three particularly great characters introduced to me by the Yorkton Film Festival and one fabulous road trip through Saskatchewan.
Meet the fabuloso Katrina German, dry witted Dave Schultz, and our talented shutter bug Hemant Naidu. A road trip that rather than ending in disaster, ended with Kat and I being presented with the keys to the city (who knows maybe that does spell disaster for Yorkton).
Still chuckling when I think back on how our road trip made it onto the CBC Morning Show, Saskatoon's Chop Chop Salon got Kat and I dolled up for the drive (thanks again ladies), everybody saw my underwear and pink handcuffs before we'd even pulled out of the parking lot, and I discovered if ever trying to impress a guy, don't highway drive in a convertible with Kat (she looked fabulous the entire time and I looked like I had a tangled rat's nest sitting atop my head).

Love how the locals get excited for the Chinese Diners, and even though this was no Vancouver authentic Chinese cuisine Toto, there was a definite charm to it.  Learned something that day, as Katrina finally switched on the lightbulb as to why every small town across Canada has a Chinese Diner.  They are all situated on the rail line, that the Chinese built.  Thank you Lanigan for enlightening me, even though no one would let me stop at Potash Museum.
And I love how relaxing and beautiful it is driving through the Saskatchewan and past the fields of golden sheaf. But most of all I love the people of Saskatchewan, many of whom (including the three in this car) will be hit hard by the recent elimination of the Saskatchewan Film Employment Tax Credit (SFETC).
You can help this wonderful community of storytellers by:
Volunteering:  helpsavefilminsask@gmail.com,
Sharing your voice: Tweet using #skpoli as the hashtag,
Writing a letter,
Sharing your Story: Tell your friends on facebook about your experience with film and TV in Saskatchewan,
and this Friday, show Saskatchewan Filmmakers you care by promoting Saskatchewan-made film, television and interactive projects and/or their artists / creators on facebook and on twitter using the hashtag #FilmFriday.  If you need help brainstorming Saskatchewan-made projects, check out SMPIA's Pinterest Boards or follow @KatrinaVision and @SMPIAOffice's tweets.
Better yet, come and join me at the 65th Annual Yorkton Film Festival in Yorkton, Saskatchewan from May 24th – 27th, 2012 and help to celebrate this community while having one Hell of a good time.  More on the party to expect in some coming posts.

Toodles!
Emme  xoxo