Though there are only a few days left to see Ben Jonson's, The Alchemist, at the Jericho Arts Centre, I thought it was an important play-experience to share with theatre lovers in Vancouver. I say this simply because it is rare to find Renaissance theatre in the city that a) is written by a playwright other than Shakespeare, and b) feels like some sort of bizarre amusement park ride with elaborate schemes that go impossibly far, long tracts of fabulous lies improvised by lovable rogues, especially delightful word play and a few real explosions besides. Ensemble Theatre's production reminds us that Shakespeare was one of the many great playwrights of his time, Ben Jonson being another popular contemporary and rival.
The Alchemist tells the story of a few conning masterminds (Face, Subtle, and the beguiling Dol Common) working together to gip anyone who will believe into handing over their cash for the promise of boundless riches to come. All three undertake whirlwind of character changes throughout the play as part of their scheming. Each sorry client that knocks on their door is conned with individual attention paid to their particular dispositions, desires, and weaknesses.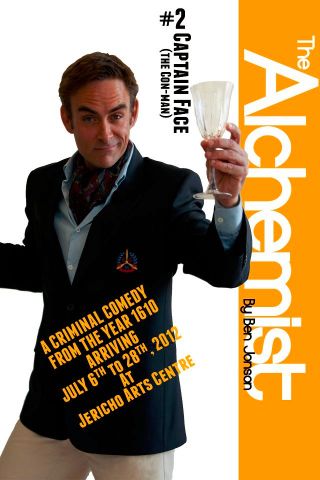 I loved how the director and cast altered some of the characters to look like caricatures for the modern audience to laugh at. I particularly enjoyed the weed smoking surfer dude who fell for promises of lucky trading, all with the calm, good-natured optimism one can only put down to help from the magic root.
Dol Common spends most of the play in some very attractive lingerie, making sure the men do their part in the gold-getting scheme with a whip, and a tongue that acts much like one. As the professor that spoke at the talkback after the show pointed out, we are never invited to feel sorry for the characters getting cheated, as they do so while blinded by their own greed, or gullibility, or desire for an impossibly easy ride. Instead we laugh at them, enjoy their little weaknesses and overreaching ambitions, and recognize our own weaknesses in the easily-cheated folk. Rich or poor, none are immune to the promises of greater wealth and prosperity, even though it is delivered by means of some incomprehensible magic, explained in colourful pseudo-scientific, mystical language in the play. Freedom from the tyranny of hard work and tough circumstance unites many of the characters, including the alchemists themselves. Some are even drawn into their promises from easy circumstances for dreams of more, and even more plenty. Appetites grow to accommodate the offering, and this is the secret to the con artists' success.
I think we don't feel sorry for the defrauded because it seems to me that Face, Subtle and Dol earn every penny in the tireless, customized performances they give to everyone who approaches them with the hope for more. Sometimes they have to change in and out of character so quickly I can barely keep my head on straight. Face's many hats and personas alone would have been enough to entertain me for several evenings. The cast is energetic and engaged in this spirited performance, and when I went the house was friendly, entertained and laughing as the plot lurched into areas of greater and greater improbability.  I'd recommend this play to anyone who wanted to spend a light evening being amused, tickled, titillated frequently shaking with laughter. And to top all of that: somehow, the director and cast found a way to bring out a Dora the Explorer Snuggie as one of the props during one of the play's more serious moments.
Thanks to Ensemble Theatre's cast and crew for a highly amusing ride. Particularly memorable in the cast are: Tariq Lesie, Trevor Devall and Joey Bothwell  (as Face, Subtle and Dol Common), William Hopkins (as Dapper the lawyer), Aaron Turner (as Drugger the dispenser), and Matthew Bisset (as Sir Epicure Mammon, a knight).
Ensemble Theatre's The Alchemist runs nightly at 8 pm until Saturday July 28 at the Jericho Arts Centre in Vancouver.