When we last left off, yesterday, I had successfully arrived safely in Tofino, having hitchhiked from Vancouver, in Part 1 of A Solo Girl's Guide to Hitchhiking to Tofino. This was not the end of my hitchhiking adventure though, just the first leg of the trip. The adventure continues here … with Part 2 of A Solo Girl's Guide to Hitchhiking to Ucluelet …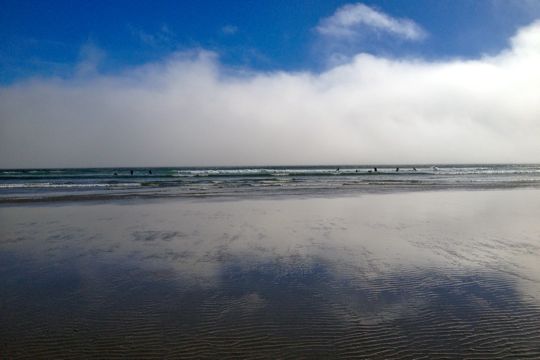 Part 2: Tofino to Ucluelet
After being in Tofino for a few days, I needed to make my way to Ucluelet, a town about 30 minutes away. Although I already planned to hitchhike again, I still asked the front desk of my hostel in Tofino what was the best way to get to Ucluelet. They informed me that there was a bus but that it only left twice a day and that if I was comfortable with it, they would recommend hitchhiking as that's what most people did. Secretly, I was thrilled to hear it and have the chance to hitchhike again.
They recommended hitching outside of Surf Sister Surf School, as it was at the end of the main road leading out of town. I walked out there, armed with a fresh cardboard "UCLUELET" sign. It was a good spot: there was a wide shoulder where I could stand and easily be spotted and there was enough room for a car to pull over. I held up my sign, put out a thumb, and almost immediately a car pulled over.
Two men in a station wagon offered to take me to the junction where the Pacific Rim Highway turned towards Port Alberni and the smaller Tofino Ucluelet Highway continued on to Ucluelet. Since I had only just started, I declined and decided to wait and see if I could find a ride all the way to Ucluelet. In truth though, I declined the ride because it didn't feel right. The two were quite big and in the back of my mind, I couldn't shake the feeling that if something were to happen, they would be able to overpower me in a second.
I continued standing by the side of the road. As cars passed me and people gave me disapproving looks, I started to feel discouraged again, just like in the vehicle deck of the ferry. After what seem like ages (in reality, it was probably ten minutes), a black sports car pulled over. A young guy sat at the wheel. He offered to take me all the way to Ucluelet, even though he was actually on his way home to Port Alberni.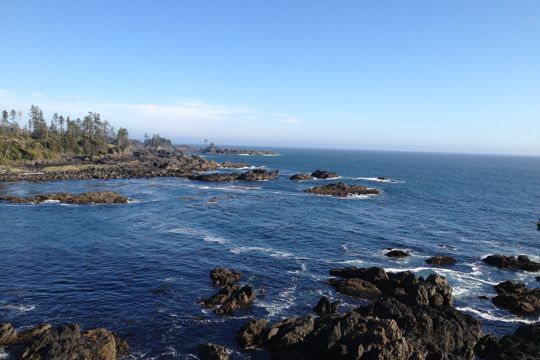 He was extremely chatty, telling me about his life in Port Alberni, his girlfriend, his friends, and his plans for school in the Fall. He had just dropped off a hitchhiker in Tofino even though he had only been heading to Port Alberni from Nanaimo, and was once again going out of his way to drop me off in Ucluelet. I soon discovered he and his girlfriend of four years had broken up that morning and as a result, he just wanted to drive around and avoid going home. I got the feeling he also just wanted to talk to someone. Sometimes, it's just easier to talk to a stranger.
I arrived in Ucluelet feeling lucky and grateful for my experiences. The first time I had hitchhiked in Europe, I had been amazed by the kindness and generosity of strangers. Now, hitchhiking halfway across the world, I felt no different. Hitchhiking isn't for the faint of heart, and it can be exhausting and frustrating at times, but it can really restore your faith in humanity. There are kind, generous people everywhere.
My tips for hitchhiking:
Never hitchhike after dark. If you don't want to be dropped off somewhere after dark, don't get in a car after dark. If it doesn't look like you're going to make it to your destination, leave yourself plenty of daylight to find somewhere to sleep for the night.
Text a friend the license plate number of the cars you're getting in. If you are able to, this is probably the best thing you can do for your safety. And just like any activity in the great outdoors, always let someone know where you're going. Text them at the end of the day to let them know you're all right and where you are.
Don't hitchhike off the highway. In most places in the world, it's illegal and hardly anyone will pull over for you. Ask for rides at a gas station or other rest stop area.
If you must hitchhike off the road, make sure there's space for the car to pull over. I can't tell you the number of times I've seen hitchhikers thumbing it where there's nowhere for the car to stop. I always wonder how they get picked up.
Ask for rides. If you're at a gas station, approach people and ask for rides instead of just putting a thumb up. People don't always consider taking hitchhikers until they're asked. Talking to people will get you picked up faster.
Always have a sign with your destination. Cardboard signs work fine, but a whiteboard is even better because if you're not getting picked up, you can change the sign to somewhere closer or to the highway number.
Bring a road map. Just in case you get lost or get dropped off somewhere unexpected.
Travel with a small bag. People won't always have room in their car for a giant bag. Carry a small bag and if you make a pit stop at any point, take it with you to avoid losing your bag.
Carry bear spray. Personally, I've never done this, but if it makes you feel more comfortable you can always pick up bear spray at any outdoor goods store. Just make sure you know how to use it to avoid accidents.
Trust your instincts. If it doesn't feel right then don't get in the car. Another ride will come along.