I hopped out of the truck and climbed the hill towards my hostel, so giddy I was almost skipping. 'I did it!' I thought, 'I hitchhiked to Tofino!' Not only had I successfully hitched a ride from Nanaimo to Tofino, I had made it there by 2pm with the rest of the day to spare. Not too shabby.
My sister was getting married in Ucluelet in four days and since I had never been to the west coast of Vancouver Island, I had decided to go up to Tofino a few days early to explore. It had been a last minute decision and as a result, very few people knew I had left early. Not even my sister and her fiancé knew I was already on the island.
As I checked into my hostel, I noticed a woman walking out the door of the hostel towards her car. 'That looks like… no, it couldn't be,' I thought. I ignored the thought as I finished checking in and the woman came back in and headed upstairs. I chatted with the receptionist about my trip to Tofino and all the things I wanted to do, namely surfing. I had never been surfing before and was eager to try it. The receptionist offered to book me a lesson with a local surf school, but having just arrived, I wanted to sit down for a minute before deciding anything. I thanked him and headed upstairs to my room.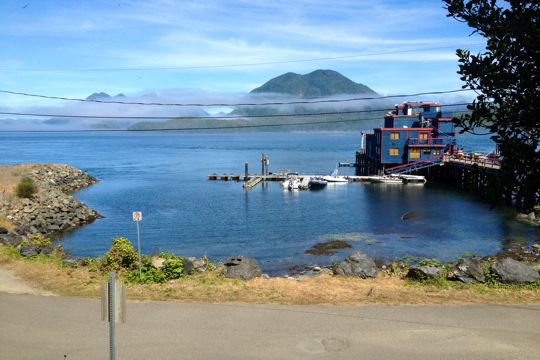 I had just reached my room and when I spotted the woman again. This time, I was sure. "Claudine?"
She turned around, and sure enough, it was my soon-to-be brother-in-law's sister. A teacher from Moose Jaw, she had driven all the way out to BC for the wedding. We had only met one week earlier at my sister's bachelorette party in Vancouver but there we were, in the same hostel, and as I soon discovered, the same room, and the same bunk bed! It was an absurd coincidence.
"What are you doing right now?" Claudine asked me. "I have a surfing lesson in half an hour, do you want to come?"
I hesitated. No, I couldn't… I had just arrived, I wanted to sit down, put my feet up. Then that old feeling, as it always did when I was travelling, crept into my mind. But why not?
"Okay, yes, I'll come!" I threw on a bathing suit, stuffed my backpack into a locker, and dashed out the door. The spontaneity felt fantastic.
And that's how, half an hour after arriving in Tofino, I was in a wetsuit, ready to surf. We went out to Cox Bay, where the fog almost obliterated the beach, and learned to paddle and hop up on our boards. Thankfully, no one else in the lesson had ever surfed before either, so we were all in the same boat. While I was excited, I was also a touch nervous. Athleticism was never my strong suit.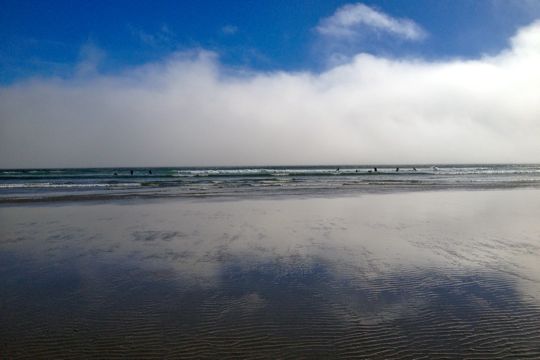 Turns out: I loved it. While I spent most of the time falling off the board onto my face, I loved being in the ocean and moving with the waves, attempting to balance the surfboard. The few times I managed to stand up on the board and glide along felt so rewarding. The whole experience was exhilarating. I found myself sorry that the lesson was ending, and debating if I could squeeze in another surfing lesson before I left Tofino.
The next day was full of adventures again. Claudine and I were up early for an early morning boat tour to the Tofino hot springs. Hot Springs Cove is located about 30km north of Tofino but as there is no road, it's only accessible by boat. It was a foggy morning but we were still able to spot sea otters, seals, and sea lions on our way to the hot springs.
At the cove our guide/boat driver dropped us off there for a few hours as she headed back to Tofino to pick up the next group. We had to walk half an hour into the woods to reach the hot springs, along a boardwalk engraved with names and messages.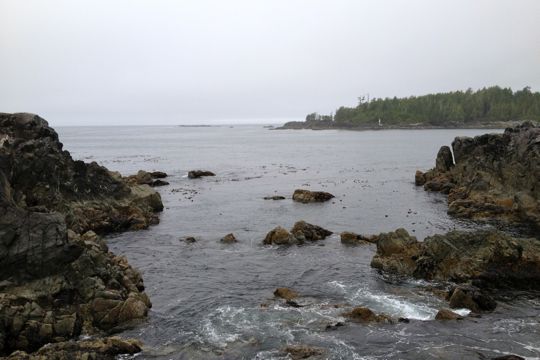 The natural hot springs emerge from the rocks at 50ºC, cascade down a waterfall and run along the rocks before mixing into the ocean. We took in the sights at the top of a cliff, before stripping down to our bathing suits and easing ourselves into the hot water. We explored the rocks, going down lower to find cooler water. The best spot was right where the hot water hit the ocean; you could be sitting in warm water and then a wave from the ocean would hit you. The ocean water was so refreshing, and then you could just warm back up in the hot springs water again.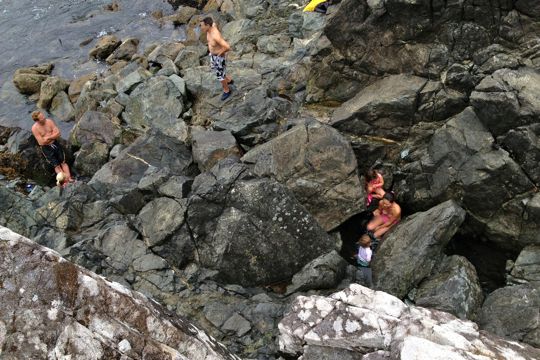 After a couple of hours, we headed back to the dock where our boat was back to pick us up. On the way back, we did a little whale watching. I'd only seen the occasional orca before on the Vancouver to Victoria ferry route, so I was eager to see something new. I wasn't disappointed: our first spotting was three grey whales. They were thrashing in the water, splashing about, and according to our guide, mating! We couldn't believe what we were witnessing. Three grey whales, mating? Evidently, grey whales mate in threes, with an extra male to help the other two along. Takes wingman to a whole new level!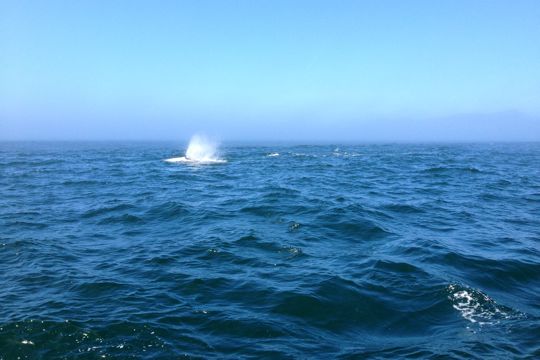 The fog rolled back in, making it difficult to spot anything in the distance. But another boat radioed over to let us know they had spotted a mother and a baby orca! They were swimming among some rocks, so they were unsure if they would come out. I stood at the stern of the boat, scanning the water. I was so focused that when they did break out of the water, I whooped in delight. Though I'd seen killer whales before, I had never seen a baby in the wild.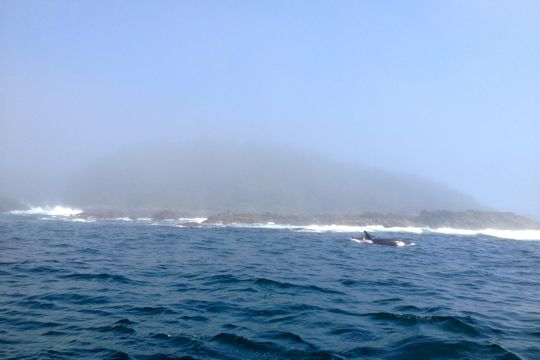 I was elated with what we had seen. The whole trip – whales, hot springs, surfing, hitchhiking, etc – made me realize that I had been missing out on some incredible beauty right on the island. I've lived in Vancouver my entire life but never visited Tofino before. It was a perfect example of not exploring or visiting places where you live. I've been to so many places around the world and done things there that locals have never thought to try, just because they live there. Taking 20+ years to finally visit Tofino wasn't much different. But now I know, and though it may have taken a long time to get me to the west coast of the island, I know I'll be back.
Now … to find a ride to Ucuelet … there is after all a wedding awaiting me!