One of my favourite Canadian cities is Ottawa!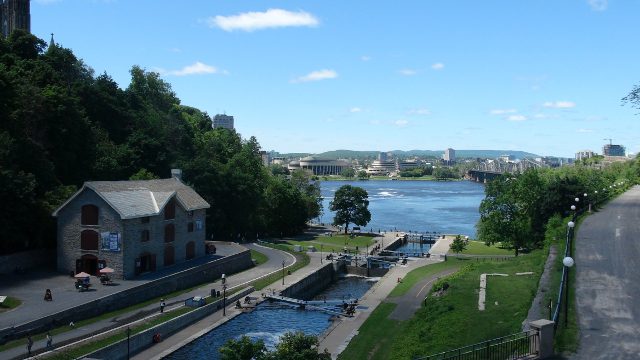 I love that Ottawa has a certain European charm to it, with it's historic buildings, under the city tunnels, and in places cobblestone streets and courtyards.  I love that it boasts a diverse and interesting mix of residence that don't shy away from a deeper discussion or debate. I love all the culture and theatrics (whether in theatre or parliament) that Ottawa offers at every bend! I love the diversity of cuisine that acts as a salacious temptress to the taste buds in Ottawa!  But most of all I love that Ottawa is such an active city, making it easy and utterly desirable to lead a healthy lifestyle.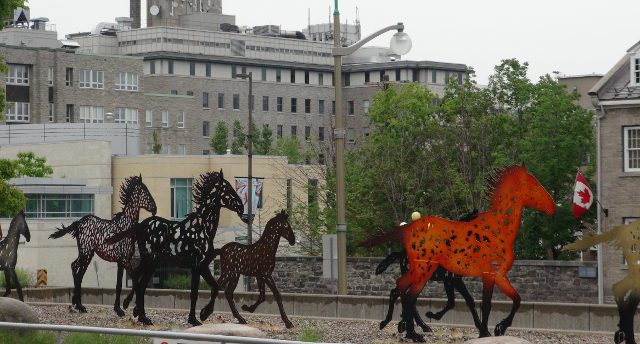 Best of all, this activity is beckoning you from the outdoors, and for those you that know me well, you know that while I struggle with making it to preplanned exercise classes on time and hate the smell of indoor gyms and swimming pools, I can never get enough of outdoor activities, and as I enjoy them so much, I forget that I'm exercising.
Now while I cannot speak from experience of all four seasons in Ottawa, I know I want to go back to Ottawa and experience them: the Autumn with the beautifully changing leaves that beckons you for long outdoor rambles through the parks and along the Rideau Canal; Winter with its skating along the canal and cross-country skiing through the cities network of trails; the Spring with it's cycling paths all over the city, not to mentions parks for walking in and yoga on the Hill (yes, Parliament Hill!); and Summer that I envision like Zürich, where everyone heads for the water!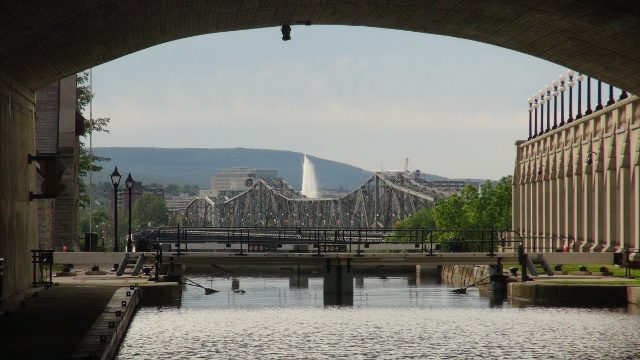 For me, it is the Ottawa Spring that I have been currently 'roamanced' by!  The Spring with it's perfect weather … sun shining … warm enough for short sleeves, but not too hot … perfectly balmy!
So what sort of outdoor fitness teases does Ottawa have in store for the active traveller?
Walking
Walking is one of my guilty travel pleasures.  'Guilty' I guess that I don't go walkabout more at home.  It's also one of the reasons why I love exploring Europe – it's great for walking, and so is Ottawa, as I discovered.  Below are just a few my steps on my first day in the city!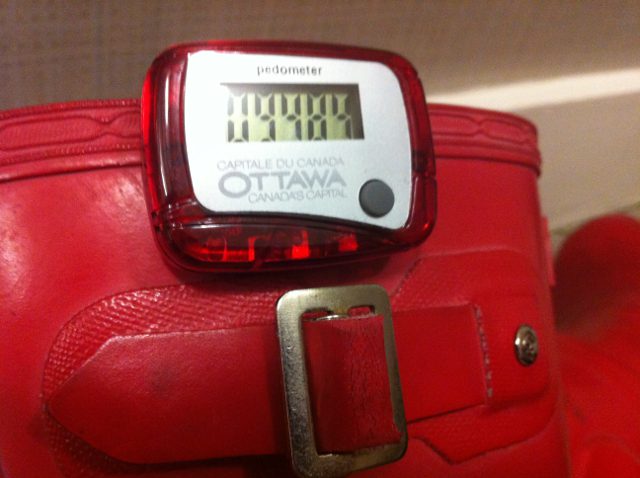 … and I left Ottawa wanting to do more.  I feel like I only got the smallest of teases as to what Ottawa has to offer.
Impromptu Dances With a Character Awaiting Around Every Corner
I'm not sure if it was the beautiful Spring weather or the fact that I was falling in love with Ottawa, but I just couldn't help myself, Ottawa made me want to dance!  And apparently I wasn't alone …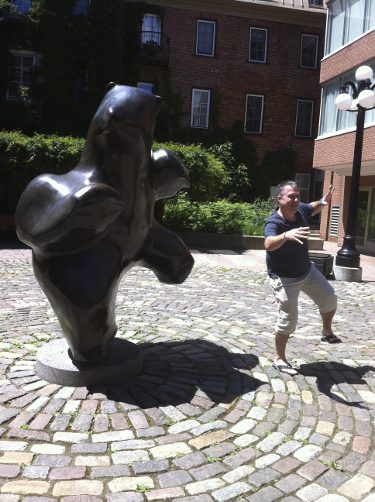 If this is what happens in Ottawa without any music, I hate to know how infectious the dance urge gets at one of Ottawa's many festivals!
Cycling
I am so impressed by how bike friendly Ottawa is – both for locals and travellers.  Seems like cycling is one of the best and most beautiful ways to get around the city in the fair weather with all of Ottawa's excellent network of bike paths. Just get a load of this google map of Ottawa Bike Paths!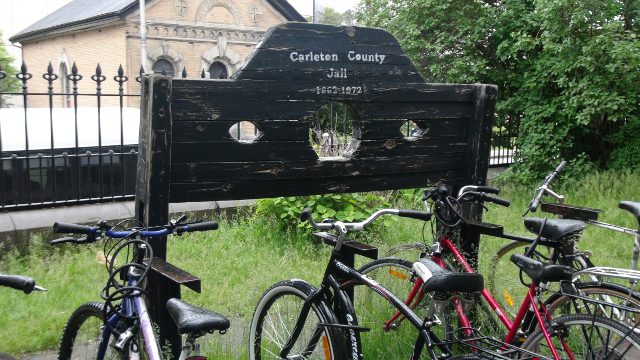 It's also cheap transport and entertainment!  We got our bikes from RentABike, which only charges $10/hour, $40/day, or $95/week.
There are no shortage of other bike sharing options in Ottawa either, including Bixi Bikes, RightBike, Cycos, The Bike Dump, and La Maison du Vélo.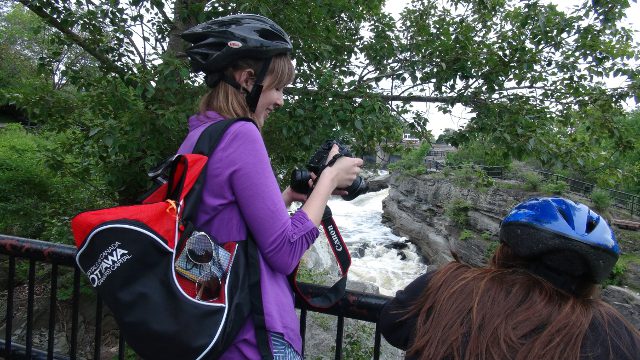 Ottawa even has Sunday Bikedays in which on Sunday mornings from late May through Labour Day, Ottawa's River Parkway, Colonel By Drive, Rockcliffe Parkway and Gatineau Park's Champlain and Fortune Parkways are all closed to traffic for Alcatel-Lucent Sunday Bikedays. Would love to experience that!
Parks to Explore
Nothing I love more than wandering through the parks in and around the cities I visit, and just get a load of this wiki list of Ottawa parks.  There's absolutely no shortage of green spaces to explore and quiet, reflective spots like the one below to discover!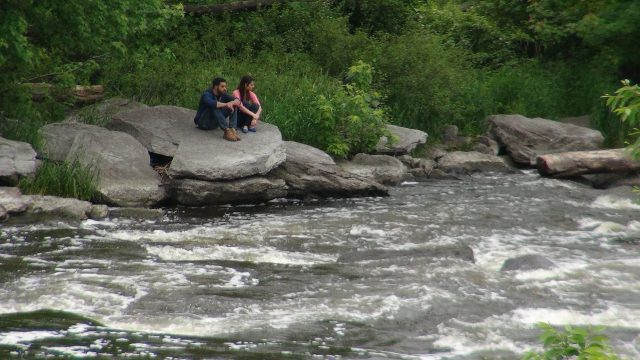 Yoga on the Hill!
I did a lot of pretty gosh darn cool things during my stay in Ottawa, but Yoga on Parliament Hill was definitely the most memorable!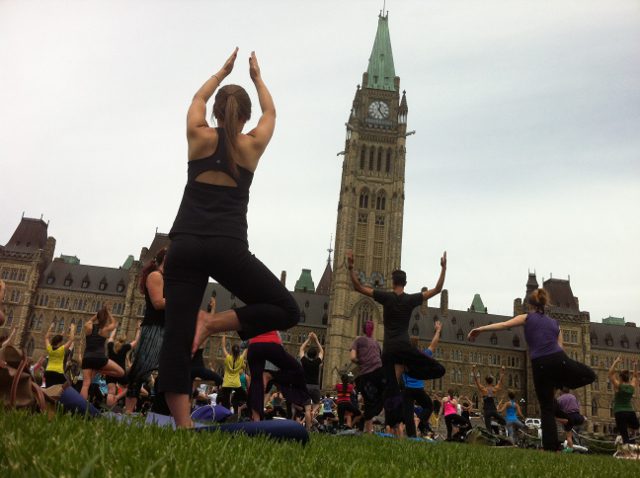 Such a fun experience, doing yoga with so many others on the lawn of our Canadian Parliament!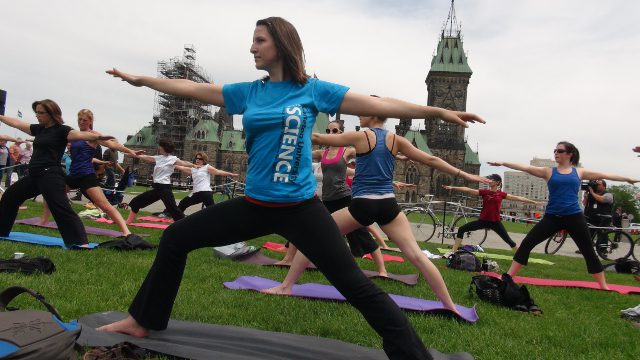 If you are heading to Ottawa, you can join a free yoga session on Parliament Hill every Wednesday from noon to 1 pm, weather permitting, from late May to September!  And don't be surprised if it is not just yoga that you will be treated to in the course of that hour …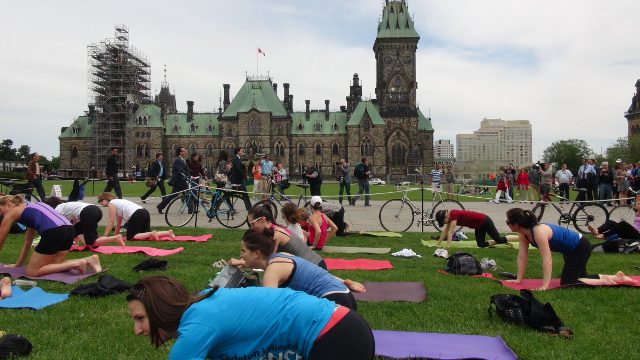 Waterways to Play On
With so many lakes, canals and rivers in and around Ottawa, there is no shortage of water experiences to be had, from paddling to rafting to sightseeing to sailing to diving on in, once the water is warm enough!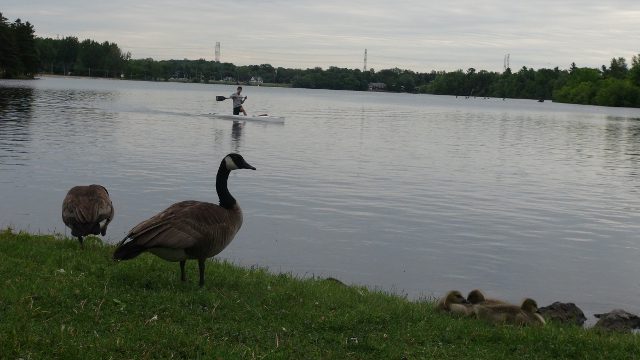 I truly owe Ottawa a huge thank you, as these were my most recent travels prior to my accident in 2013, and got me on an active, exercise addicted path before I was injured.  Thanks to this, I was that much more determined to get outdoors and try my best to start moving again.  So last summer while this was a tortoises race of slow and steady, thanks to the path that my visit to Ottawa put me on, I kept at it, with short dips in the pool and light walks at first, to by the Autumn getting back on my bike again, and being able to once again feel the wind in my hair.
Thank you Ottawa!  I can only imagine that this last year's battle would have been that much harder had you not had me in shape before, and hungry to get outside and be active!
I look forward to discovering the host of other outdoor active allures that your other seasons hold in store!