Among many other benefits of traveling anywhere and making connections while you do it is gaining a sense of perspective that helps you to more concisely appreciate your home. But sometimes, you don't have to travel very far to accomplish this. I'm talking about local treasures. These are the places, the events, the venues that make our home special to us, and where we make some of our most treasured memories.
This leads me to Deer Lake Park, and specifically how it serves as one of my favourite local destinations, and certainly one of my most beloved music venues in the Lower Mainland. It is where many musical, cultural, and personal connections have been made, and not just my own.
A Verdant Place, Full of Life
Deer Lake Park is right down the street from me, about fifteen minutes by bus or by car. That hooks into one thing I look for in a destination, and certainly in a community. I love that things that bring me enjoyment are not that far away. I can't imagine anyone not appreciating that, even the most seasoned of travellers.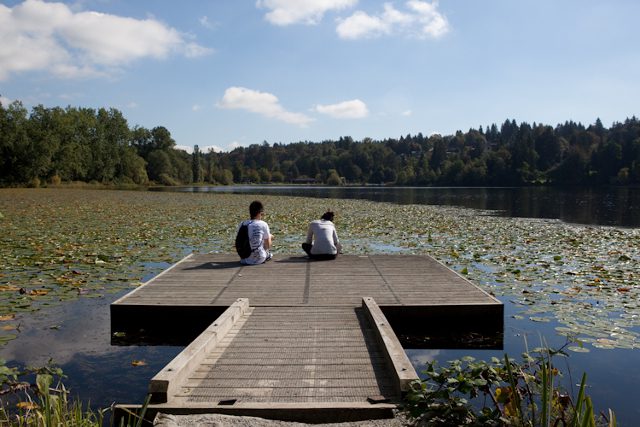 I regularly take walks in Deer Lake Park, have picnics with my daughter, and take to paddle boating there with her in the summertime. It is a verdant place, full of life. That's not just referring to the sun filtered through the trees and gleaming on the surface of the lake, the chatter of birds, the hum of insects in the brush, and the frogs leaping to and fro among the waterlilies.
As wonderful as all of that is, the vitality you'll find there is about the people, too. When people gather in places of ecstatic natural beauty, thoughts of celebration are usually not too far behind.
The Blues Amongst All the Greenery
A stalwart event in Deer Lake Park for me, and for many other people more and more every year it seems, is The Burnaby Blues & Roots Festival. This event is held on the grounds of Deer Lake Park annually. Along with the internationally awesome level of talent that the festival attracts, what often strikes me each year is the mix you'll find in the crowd. It attracts all kinds of people.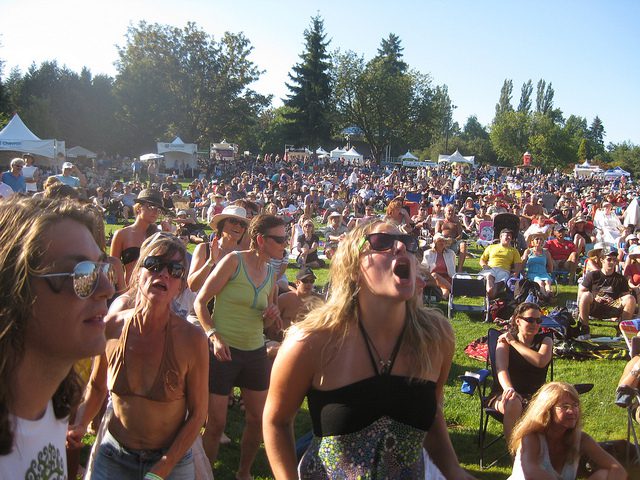 The blues is an ancient and mysterious art form, historically taking hold in the early 20th century, and having adapted quite successfully by 2014 as a living, breathing pan-cultural musical tradition. But, there is something about the blues that is older, much older than those historical roots. It appeals to our humanity at a primal level no matter how old we are, or how young.
I think the setting at Deer Lake Park helps with this; close to nature and in the open air, with people of all shapes sizes, ages, genders, orientations, with kids, without kids, and in varying states of undress on a hot summer day. You'll find them all sitting back, wandering around, dancing, flirting, listening, chatting, laughing, eating, and always living in the moment. No one stays in their seats when it's time to RAWK!
During that event and in that place, it's pretty easy to get ourselves 'back to the garden', as the song says.
Celebrating Talent, Artistry, Culture
In Canada, we celebrate artists not because of their divine-like states of being, or because they've pulled themselves up by their own bootstraps in the way that some of our American cousins might better appreciate. We celebrate them because they are among us, springing from the same communities, cultures, and landscapes that make up our country. In their work, they express some of our own experiences, and embody our cultural consciousness too.
As a people, we are aware of our connection to our surroundings, to our country that is historically steeped in natural resource economies, and defined by amazingly diverse ecosystems. These are the things that drive our creative impulses. And perhaps that's one of the reasons why Deer Lake Park was such a compatible setting for the CBCmusic.ca Festival this year, surrounded as we were by the natural beauty of that particular landscape, and a selection of Canadian talent deserving of our attention.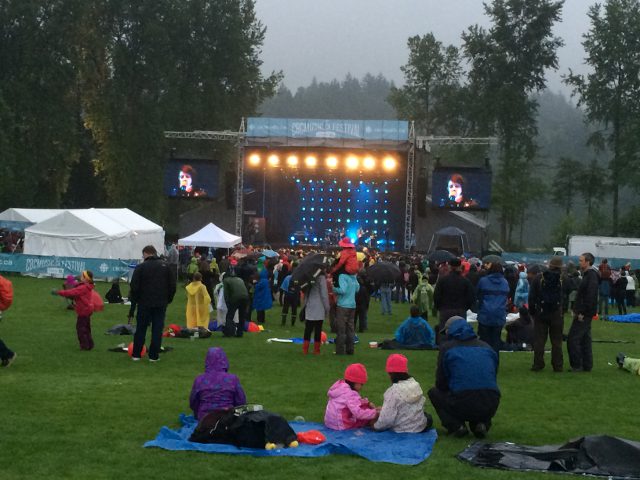 Binding Us Together
As it happens, that event was my daughter's first concert (she's eight as I write this, about to turn nine …), the main draw for her being Tegan & Sara, who put on an expectedly great show. But Spoon (from Austin Texas, and the only non-Canadian act), Dan Mangan, The Arkells, and newcomers Lauren Mann & The Fairly Odd Folk turned in some fine performances as well. My daughter and I were both a part of an important creative exchange, and in a unique environment that encourages that exchange better than most.
We found a crowd connected by a love of live music, with their ages, subcultures, and various origin points on the local map all being wonderfully represented. To be able to interact with the energy of that crowd, and in a natural setting is always a real privilege. We were also reminded of how important the CBC is to binding us all together under a common banner, with all of our diverse backgrounds making up the living grains of a bigger cultural picture.
Our Quest
We Canadians are a nation not with a dream, but rather with a quest. That quest is to find our national identity, and seek a way to define it within a cultural mosaic that is constantly and vibrantly in flux. And our national landscape informs that quest, tied up as it is with music, theatre, art, comedy, drama, and any number of other forms of creative expression you can think of. Sometimes, you really don't have to go very far to get that psychological kickstart I mentioned earlier that comes with the act of travelling.
Sometimes the path to the quest we're on is the one outside our door.
Deer Lake Park is a natural setting for that journey in more than one sense of the word. It's a place to commune with nature, but also a place to provide a seamless fit into that naturally Canadian pursuit of self-awareness, discovery, cultural connectedness, and the sheer joy of celebration in one place together.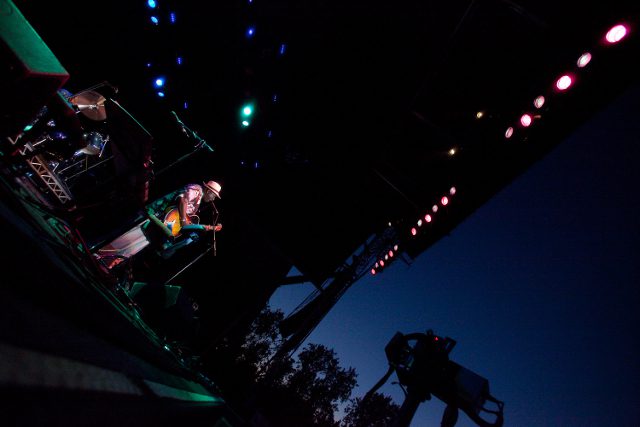 The music helps!
To find out more about Deer Lake Park as a location for hiking, parks and museums, visit the City of Burnaby's Deer Lake home, and for Concert In The Park information, be sure to visit Deerlakepark.org.