If anyone ever asks you to join them to do The Colour Run, you need not hesitate, simply shout, "YES!" My daughter wanted to do The Colour Run Los Angeles at Dodger Stadium with some friends of hers. When I found out a couple other parents were going, I was on the fence between "Oh good, she'll be safe with them.", and "Well, if these parents can do it, I should do it too." Little Miss Mason's enthusiasm was so contagious that her encouragement for me to participate won me over! Once she showed me their promotional video, I knew there was no way I could just experience something so exciting from the sidelines. I knew this would be just the kick in the butt I needed to get into the gym and train too. Little did I know though, there would be one more leap to take come race day… running in a tutu!
We ran the 8:15am wave of the 5k course. They had a separate start time of 8 am for serious runners and ours was for those who wanted to try running, but might prefer to walk, dance, twirl or cartwheel their way along! There was a 2 pm start time as well, but we thought it would be too hot for fun then. We had to be up really early to get down to Dodger Stadium, so when that alarm clock went off I was definitely questioning my choice. As soon as we arrived to the music and festivities the adrenaline and excitement took over. I was super pumped! I was also relieved to see that there were many crazy outfits around, instantly setting the tone for a good time.
We thought we were pretty cool wearing our numbers on our backs. We didn't know that they had a professional photography company taking photos along the course though and they catalogue any photos of you by your bib number seen in the photo. This means that we have had to scroll through thousands of photos after the race to find ourselves! Oh well, something to do different for next time.
Don't worry, they didn't release all these people at the same time. They would send many people on their way and then the rest of us would creep up. Although this wave started at 8:15 our group probably didn't get off until about 8:40. I'm pretty sure we weren't in line exactly on time either.  They had music and bubbles and giveaways to keep everyone occupied.
"ARE YOU READY LA?! 3…2…1… GO!" Woohoo, we were on our way! This was really happening! It was a bit of a slow start as the crowd got going, but then we held a steady pace. It turned out to be a difficult course to try and run, because of the amount of people and especially the overall crowd determination to just be a part of it and have a good time (meaning, there were many walkers.) We rounded our first corner and saw a beautiful plume of color…the pink station! The way this run works is that at every kilometer marker there is a different color station. Volunteers blast you with a cornstarch concoction in their loaded squeezy bottles.
Our group had made a pact to stick together the entire time. Every time we hit a colour station we lost each other though. The colour is so captivating that you find yourself twirling around in it. By the later stations you find yourself picking colour up off the ground and throwing it up in the air yourself. Some were even rolling in it! There is so much to look at that by the time you come out of your colour daze you realize you don't recognize anyone around you. This happened to us every single time! One of the girls said she picked up a handful of colour to throw on us and when she turned to throw it, none of us were there. It's really hard to find each other again because everyone there looks the same. We were all able to stick together in between stations and then wait just past the clearing of the colour clouds after the station to regroup. We partnered up because it wasn't too hard to keep track of just one other person.
Here's how I fared after going through some of the stations:
Pink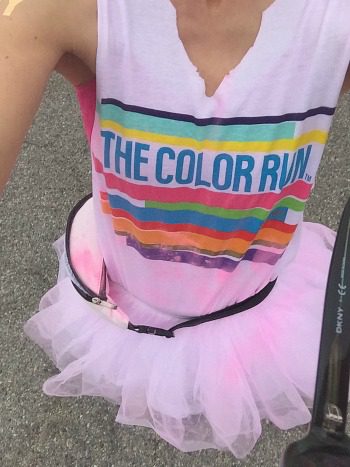 Orange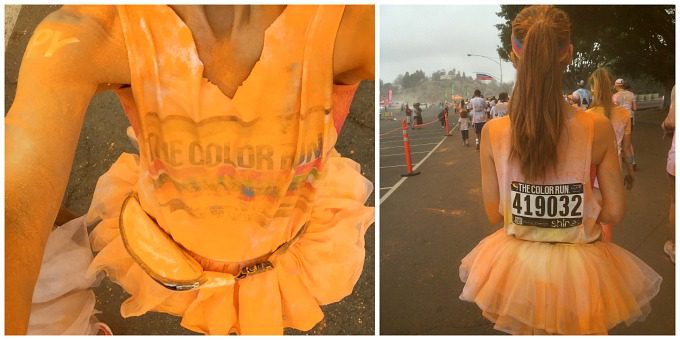 Blue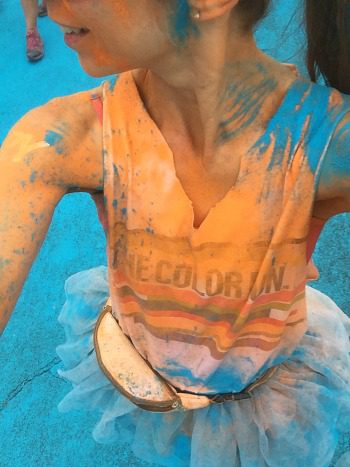 There were five stations in all: pink, yellow, orange, blue and sparkles. Yes, there was a sparkle blasting station and it was fabulous! I would like to note here that my photos were taken with my phone, which was wrapped with saran wrap to protect it from the color dust. I'm pretty impressed, because the photos are really clear and it doesn't look like there's a layer of plastic wrap blurring the shot. This is a must-do, because your hands get full of colour as well, so just touching your screen will make your device pretty dirty, not to mention the amount of color that would get into every nook and cranny.
The sparkle station sends you off into the last kilometer of the course. We ran the whole last leg, because we wanted that triumphant moment of crossing the finish line! Unfortunately the finish was all backlogged with people so everything just kind of stopped and we really didn't get that moment. That really was the only disappointment to the day. I think we were hoping for big blasting machines of all the colors going off at once and that dreamy image of running through a big finish ribbon to mark our accomplishment. Let's face it though, our big accomplishment was having the time of our lives; no one would be able to call us athletes of the year, that's for sure! The whole reason the finish was backed up was because they gave each and every person a medal and colour packets to take to the after party. There was still great fun and celebration to come!
Upon finishing The Colour Run, some people are exhausted and some are high on life.  We were in the later group. We seriously ran towards the stage and music as we heard once again, "ARE YOU READY LA?! 3…2…1…GO!" Followed by the most amazing site of everyone throwing their colours up in the air at the same time. The hype is unreal. My son did not participate in this run. He said he does not like to run and he really doesn't like people throwing things at him. He came to watch with one of the other moms, who also sat out. During the after party he said to her, "My mom's in there and I can't get her out! She is having way too much fun!"
There was a lot more to participate at these festivities than we could even get to.  We hit up a refreshing shaved ice truck and that was about it, but there were several booths of fun activities and photo taking opportunities. By the time we stopped partying, they already had zamboni-like trucks sweeping up the color mess to get ready for the afternoon crowd. I couldn't be happier with my decision to participate in this experience. The kids had so much fun that they wanted to return right away at 2 pm to do it all again. We will definitely be back again next year and who knows, we might go for The Color Run Night, the night time glow in the dark version!
Tips to Know Before You Go
You will probably do more running in the training you do than at the actual run, but use it as a motivational training tool anyway, especially if you want your legs to look good in a tutu!
Go down to the check-in party they announce before the run. This will be a designated place where you can pick up your race pack. You will save a ton of time on race day by doing this! Plus, you will have time to customize your t-shirt, (we cut the sleeves off ours and cut the collars to create a V), and you'll have your tattoos to apply at home while you get ready.
We purchased their fanny packs so we could have our phones, ID and car keys on us without having to carry anything. This was especially important for the kids in case we got separated.
Bring old sheets and towels to lay on the seats of your car when you park at the run. You don't want to ruin your seats when you sit in them all full of color at the end!
Wear sunglasses. We did and our eyes were very happy. During the after party there is so much color dust falling on you that even with sunglasses I still got some in my eyes and it stuck to my contacts so I had some really cloudy vision until I could blink it all out! It would have been such a disappointment if I couldn't see during the main run.
Glitter lasts forever! If you are going to decide to roll around in any color, I wouldn't go for the sparkles. They are fun to get blasted with, but even with just that, we had sparkles in our hair that didn't wash out, sparkles down our sports bras that didn't even brush off with a good shower scrub, and sparkles stuck to the dog just from our residual sparkle. We sort of looked at this as a badge of honor to wear out in public. When anyone would point out that we had a sparkle on our face we'd say, "Oh… is that still there? I did The Color Run this weekend!"
Take before and after photos. At the end of the run look back at your camera and try to pose everyone back the same way as you were in your before photos. This will make for cute sharing. For taking photos or videos during the race make sure to protect your phone by covering it in saran wrap as I mentioned above.
When you get back home undress on top of towels. Color and sparkles will come flying out as you take off your clothes.
Set aside any proper adult ways you have about you, allow your inner kid to come out and enjoy the boost of life you'll get from this experience!