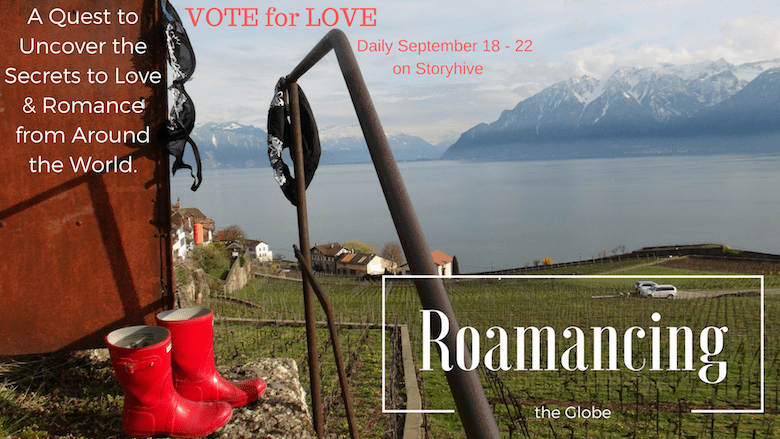 Our Dream
We have a dream!  No seriously, we do. Our dream has always been to hopefully spread a little more love and understanding through this big wide world of ours by sharing adventures and experiences in different cultures around this rock that we call Planet Earth.
Due to the name 'Roamancing', some people think we are on a quest to find our single storytellers, like myself and Emme, a husband. We've decided why fight this misconception. We are lovers, not fighters, after all. So we are planning a quest to unlock the secrets and mysteries to love and romance in as many different cultures as possible from around the Globe.
Your Vote
As we would like to film this with the stunning cinematography of Kelly Conlin (who shot the first Season of Naturally Ours), we are entering the Storyhive Web Series Pilot Competition and could use your help. This week, between September 18 – 22, we could use your votes daily in the Storyhive competition. You can find Roamancing the Globe on Storyhive by clicking here, and can vote for 4 other additional projects too each day. No sign-up is required, and you can vote from anywhere on Planet Earth. With any luck, we will be one of the 30 projects picked (15 from Alberta and 15 from BC) to receive funding to shoot our web series pilot episode.
The Story
For those of you curious to learn more about the series, here is a synopsis of the story we wish to tell …
At a time in history where we see and hear the echoes of the past, what the world needs just now is a whole lot of love!

Following in the footsteps of our imperfect heroes of the past, and perhaps those of our favourite works of fiction, we've decided to take on a quest of our own, to strike out and explore the world around us – both near and far – to uncover the elusive mysteries and secrets to love and romance.   An adventure to see how common, different and unique cultural practices are around the world and within different communities in approaching love and romance.

Let's face it, no matter what or who we all identify with / or as, at the end of the day we all want to come home to a loving environment and often a warm embrace. Our host or heroine on this quest is certainly no different, and while she gets that from family, friends, and a rather loving little kitten, as of yet, she has not found that special someone that she wishes grow old with.

Now don't get us wrong, our host is not searching for her 'happily ever after', as she's already figured out she can create that for herself, but is excited to discover just what she might be missing out there.  As a bit of a history and science buff, she loves uncovering knowledge, so rather than staying where she feels safe at home and fearing the other and the unknown, she wants to dive in and uncover the mysteries and secrets in the wide world around her.  By learning the mating rituals and secrets to wooing of different cultures from around the world, can our host transform herself from the nerdy science loving chick, who ultimately sees the brain as the sexiest organ, into Indiana Love?!? Will this change her perception of love, romance, relationships, and the cultures that she visits along the way?
Thanks for your help in making our dream a reality, and voting for love!
~ Erica