What Did I Get Myself Into!?!
I see a few rocks falling down the mountainside towards me and my heart rate picks up speed. I could actually die here. Working my bike through the mudslide, I understand why the van that was supposed to follow us for emergencies, had to go back and meet us at the end. I flex my ice-cold wet fingers as best as I can and alternate taking them off the handlebars to shake out. Squelching through the last of the thick mud I make it back onto the rocky cliffs edge road.
I could actually die here.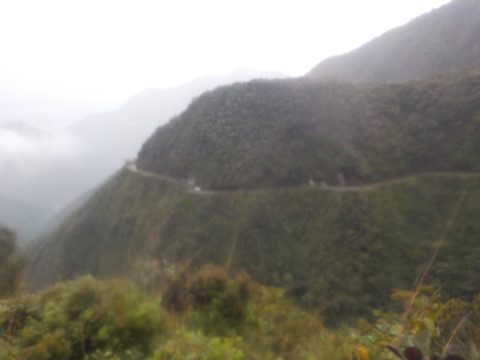 Welcome to Death Road!
… or Yungas Road, as it is more formally called. My mountain bike easily rides down and over the rocks in the path now and I relax, deciding to trust that the bike can handle whatever the road throws at it. As it is bumpiest on the inside of the road, we're advised to stay to the left (the bloody death dropping edge) for a smoother ride. We pass tight corners with little monuments and shrines to those who died there. The salty chicken broth we had for breakfast churns in my stomach a little.
We pass tight corners with little monuments and shrines to those who died there.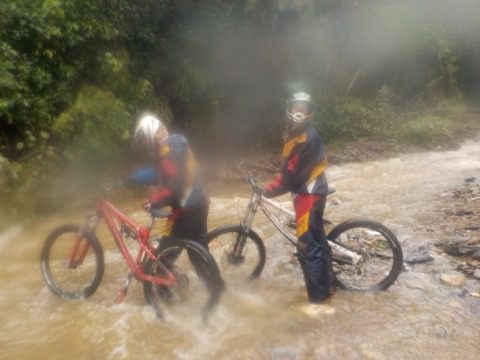 "This is where the path gets playful!"
Stopping at a roaring river going over the path by a few feet as least, we're forced to carry our bikes through. My arms shake with the weight of my bike above my head. The cold water goes to the top of my thighs. I wonder, if I slip, how fast I would go over the edge? Sopping wet and covered in mud, I'm grateful for dry ground again. I bark out a laugh as I see Mads' pristine white hiking boots are now a dirty clay brown. My amusement dies and turns to alarm when our guide says, "this is where the path gets playful". The road is steeper and full of bigger rocks, but also much wider. As my bike begins to pick up speed, I call out to Mads and Tristan that I'm coming through the middle. The rocks quickly grow larger and I'm going much too fast. I'm just telling myself, "the bike will make it through", when I hit a large rock straight on. Shit. Vaulting over my handlebars I cartwheel through the air. Instinctively, I cover my head and try to tuck and roll out my landing. With a loud thud, I land on my back and reach out to grab my bike before it falls on me. It still does. After what I'm sure is just a second or two, I sit up, wide-eyed, and let out a manic laugh. Well, that hurt.
---
Tune in for more of Alex's Adventure Diaries!
… and give this post a pin to remind yourself how exhilarating life can be!